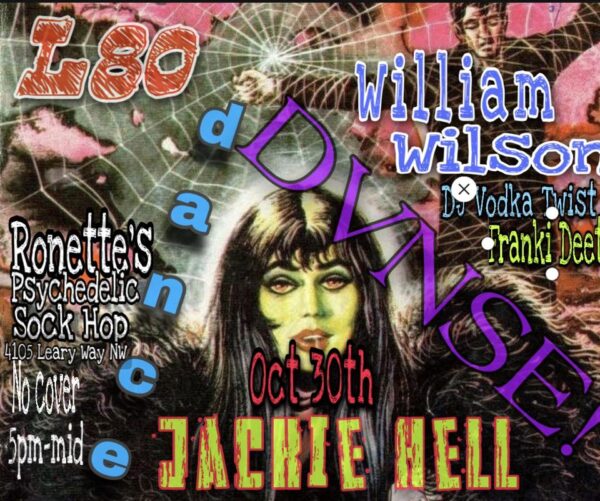 There are a lot of Halloween themed events happening on Sunday, October 30th including CREEP CONTEST, a sexy fun party and costume contest at the Cuff Complex and SAPPHOWEEEN, one of Sapphic Seattle's terrific dance parties for ladies who love ladies at Supernova.
But, one party we're SUPER excited about is all the way over in "FreLard" that strip of Leary Way that connects the northside of the water Seattle neighborhoods of Fremont and Ballard. It's the oddly named "dance, DVNSE Halloween Party" at a new venue called Ronette's Psychedelic Sock Hop, 4105 Leary Way NW (the FreLard branch of Drunky 2 Shoes BBQ used to be in this space).
"dance, DVNSE Halloween" is definitely your alternative Halloween Party option this year with its terrific line-up of guests including alternative drag legend MS JACKIE HELL along with the fun queer band L80 plus a whole lot more. From the invite:
Get ready Ghouls and Voids, you are going to have your Psychedelic Socks Rocked!! Special performances by Jackie Hell! L80! And William Wilson!! DJ Vodka Twist and Franki Deetz playing most anything that will keep you groovin spooky and check out our Go-Go dancers!! We have a few tricks up our sleeves, so block off the date! It's also starting early at 5 and ending at midnight so you are less likely to wake up with last night's costume makeup on your face!
Other great things: NO COVER!!!!!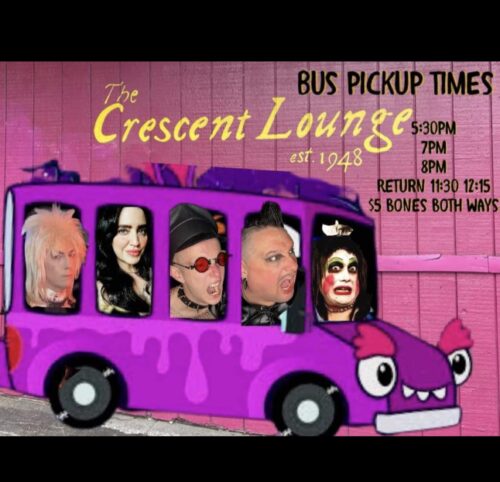 And, they've even arranged for a shuttle bus from Capitol Hill to the venue! It will use the Crescent Lounge at 1413 East Olive Way as the Capitol Hill departure point with shuttles scheduled to leave at 5:30pm, 7pm and 8pm. (And, departures BACK to the Hill at 11:30pm and 12:15pm). The shuttle is $5 EACH way so still way cheaper than Uber/Lyft!!
SWEET!!!!…..but in horrifying sort of way because after all, it's Halloween….
This is HIGHLY recommended by us because we love all these things…no cover, new venues, and that line-up. I mean, why wouldn't you want to spend Halloween with the one and only JACKIE HELL??!?!?!?! Beyotch is a Satanic Legend!!!!!
Also: Clexy.
(Visited 8 times, 1 visits today)