SO many great events happening this Halloween Saturday, October 29th in LGBTQ+ Seattle!
We have them on our Seattle Gay Scene Calendar AND check out all of today's event's down below!
Have fun and be safe out there! Lots of scary things in the shadows…
Like vampires, werewolves, monkeypox, fentanyl and too many drunk fools!
AND, check out our calendar ALL the time to find terrific LGBTQ+ events for Seattle and the greater metro area!
https://seattlegayscene.com/calendar-2/
12:00 PM
October 29 @ 12:00 pm – 6:00 pmSeward Park, 5902 Lake Washington Blvd S
Seattle, 98118 United States + Google Map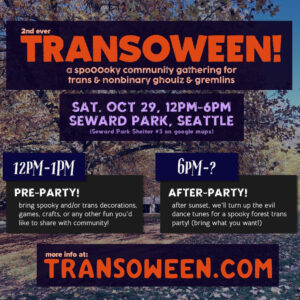 Transoween 2022, Sat Oct 29, 12pm-6pm, Seward Park Seattle. 🎉 IT'S TRANSOWEEN TIME!!The very first Transoween in Seattle happened in October 2021, and now we're doing it again! Last year, we had over 300 trans & nonbinary people visit in costume, enjoyed some candy, transy costumes,This time we have a awesome small group of trans […]Find out more »
1:00 PM
October 29 @ 1:00 pm – 3:30 pm|Recurring Event (See all)The Unicorn, 1118 E Pike St
Seattle, WA 98122 United States + Google Map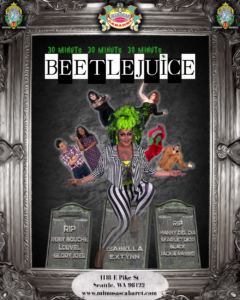 Mimosas Cabaret is Dinner Theater during the day, it's Brunch Theater, featuring: ISABELLA EXTYNN RUBY BOUCHÉ LOUVEL SKARLET DIOR BLACK MANNY DEL DIA GLORY JOEL JACKIE RABID Directed by ISABELLA EXTYNN Choreography, Sound, Lighting and Projections by RUBY BOUCHÉ Info: ****21+ ONLY. Unfortunately, due to the liquor laws in our state, we are not able to accommodate anyone under the […]Find out more »
5:00 PM
October 29 @ 5:00 pm – 7:00 pm|Recurring Event (See all)Oddfellows West Hall, 915 E Pine St
Seattle, WA 98122 United States + Google Map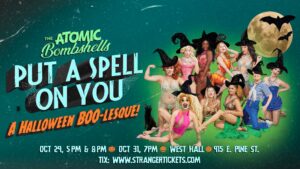 COMING THIS HALLOWEEN, TWO NIGHTS ONLY: Must be the season of the WITCH….Seattle's "most dazzling burlesque troupe" (Seattle Weekly) return to the stage to cook up some seriously sexy spooky magic in their glittery cauldron with the return of their smash sold out BOO-lesque spectacular: The Atomic Bombshells…PUT A SPELL ON YOU! Join these internationally […]Find out more »
5:30 PM
October 29 @ 5:30 pm – 9:30 pmRenaissance Seattle Hotel, 515 Madison Street
Seattle, WA + Google Map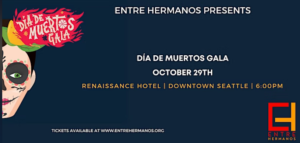 Join us to celebrate the 31 year anniversary in honoring beloved ancestors and continuing the fight for LGBTQ+ and immigrant rights! About this event Día De Muertos Gala 2022 Entre Hermanos wants to celebrate their 31 year anniversary with you! Honoring beloved ancestors and continuing the fight for LGBTQ+ and immigrant rights! Since 1991, Entre Hermanos has […]Find out more »
6:00 PM
October 29 @ 6:00 pm – 9:30 pmKremwerk, 1809 Minor Ave
Seattle, WA 98101 United States + Google Map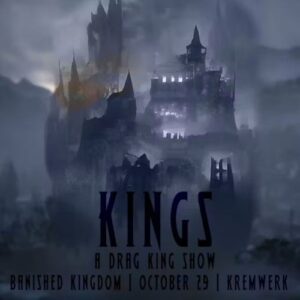 Join the Kings, Things and Supremes on the outskirts of your imagination. Tickets: https://link.dice.fm/g24673875bea $10 Limited GA Presale $15 Advance Seating $20 at Door Time: 6pm Doors 7pm Show RSVP for Lineup Drop …………………………………… SAFER SPACE The following actions or displays of behavior will not be tolerated: bigotry, racism, sexism, transphobia, homophobia, misogyny, and ableism. […]Find out more »
October 29 @ 6:00 pm – 10:00 pm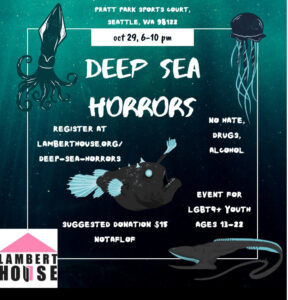 We are very excited to announce our Halloween Dance, planned by LGBTQ youth for LGBTQ youth: Deep See Horrors! Saturday, October 29th 6-10pm at Pratt Park Sports Court. Calling all Seattle (and beyond) queer youth, it's spooky season! Join Lambert House for a night of candy, costumes, and dancing. Wear a costume or warm party […]Find out more »
7:00 PM
October 29 @ 7:00 pm – 8:30 pm|Recurring Event (See all)Julia's on Broadway, 300 Broadway E
Seattle, WA 98102 United States + Google Map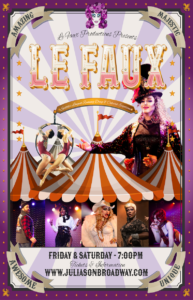 LE FAUX SHOW A celebrity impersonation/burlesque show featuring a full cast of professional impersonators, choreographed dancers and completely outrageous acts. You and your friends will have the time of your lives seeing our Las Vegas style productions. We are concert-like performances that are truly unbelievable. Le Faux is the largest cabaret-style celebrity impersonation show in […]Find out more »
October 29 @ 7:00 pm – October 31 @ 3:00 amThe Cuff Complex, 1533 13th Ave
Seattle, WA 98122 United States + Google Map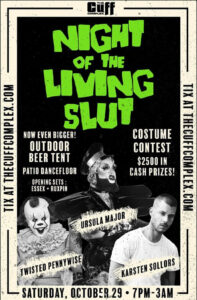 NIGHT OF THE LIVING SLUT | Saturday 10/29 cum cut to the chase this Hole-oween and let's get fucking nasty 😈 We're closing off the block for our biggest bash yet with a beer garden, patio party DJ, celebrity special guests @karstensollors playing the dance floor, Dragula sensation @theonlyursulamajor hosting the Costume Contest judged by TikTok star @twistedpennywise for a total […]Find out more »
October 29 @ 7:00 pm – 9:00 pmHighline Performing Arts Center, 401 S 152nd St
Burien, 98148-1107 United States + Google Map

Join us for an evening of thrills, chills, and trills as the Rainbow City Concert Band kicks off its first performance of our 25th Anniversary Season entitled, "Play On!" Our first concert of the season will be an evening of light frights and spooky delights as we discover what goes Bump in the Night! This […]Find out more »
October 29 @ 7:00 pm – 9:00 pmHistoric Roxy Theatre, 270 4th Street
Bremerton, WA 98337 United States + Google Map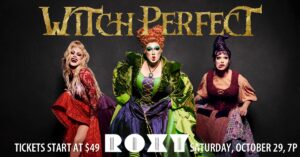 "The hysterical spooktacular, Witch Perfect, is a live-singing, comedy parody based on the cult-classic and audience favorite Disney film, Hocus Pocus and features Emmy-winning stars from RuPaul's Drag Race: Season 13's Tina Burner as Winifed, Season 11 and All Stars Season 6's Scarlet Envy as Sarah, and Season 12's Widow Von'Du as Mary. The show […]Find out more »
October 29 @ 7:00 pm – 10:00 pm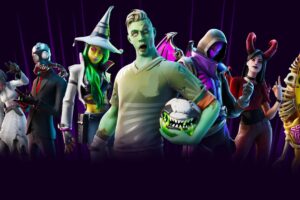 Join the Rain City Soccer Club for a Halloween bar crawl! This is a great opportunity for people to meet others from the club! CRAWL STOPS – led by Charlie Daniels and Abbey! – 7 pm – Optimism Brewing (pizza provided by the club) – 8 pm – Wild Rose – 9 pm – Madison […]Find out more »
8:00 PM
October 29 @ 8:00 pm – 10:00 pm|Recurring Event (See all)Oddfellows West Hall, 915 E Pine St
Seattle, WA 98122 United States + Google Map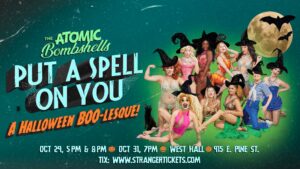 COMING THIS HALLOWEEN, TWO NIGHTS ONLY: Must be the season of the WITCH….Seattle's "most dazzling burlesque troupe" (Seattle Weekly) return to the stage to cook up some seriously sexy spooky magic in their glittery cauldron with the return of their smash sold out BOO-lesque spectacular: The Atomic Bombshells…PUT A SPELL ON YOU! Join these internationally […]Find out more »
October 29 @ 8:00 pm – 2:00 amCc Attle's, 1701 E Olive Way
Seattle, 98102 United States + Google Map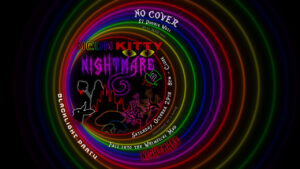 CC's Seattle will transform into a Mad Whimsical Blacklight Nightmare. Come explore Wonderland; which has fallen into the madness of the Kingdom's new herald, the Cheshire Cat! The White Rabbit is dead by the Axe of the Ace of Spades (Dirk the Executioner). The Queen, King, Mad Hatter, and others are also missing. Fall into […]Find out more »
October 29 @ 8:00 pm – 12:00 amSouthgate Roller Rink, 9646 17th Ave SW
Seattle, 98106 United States + Google Map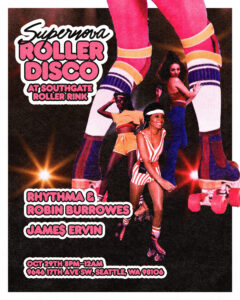 Wear your Halloween costume or Disco threads and roll with us to Southgate Roller Rink for a Halloween Roller Disco like no other! Groove and glide as resident Supernova DJs spin Disco classics and NuDisco favorites live from the center of the rink! Tickets include skate rental and there is a "double header" ticket option […]Find out more »
October 29 @ 8:00 pm – 2:00 amCafe Racer, 1510 11th Avenue
Seattle, WA 98122 United States + Google Map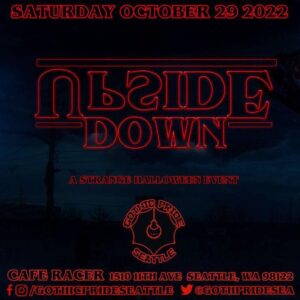 On Saturday, October 29th, , Gothic Pride Seattle is going to turn Halloween… NϺOᗡ ƎᗡISԀՈ Things are gonna get…strange. 21+ $10 ($5 with Patreon membership) Featuring dark 80's and synth music by DJs JQ & Daemon Chadeau with a live performance by US3R (http://www.imtheus3r.com) + A Costume Contest sponsored by New York XChange & The […]Find out more »
9:00 PM
October 29 @ 9:00 pm – 3:00 am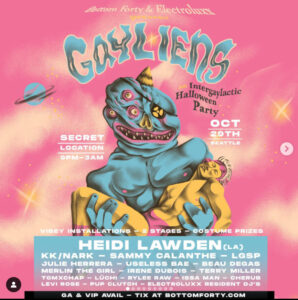 Halloween is for secrets and raging- join us 10/29 – presented by @bottom_forty and @electroluxxprty Bottom Forty and Electroluxx Present- GAYLIENS An InterGaylactic Halloween Party One of us! One of us! Join up and bust out your craziest wildest and/or most intergalactic alien space fantasy this Halloween as we roll out this mega party for you! Featuring […]Find out more »
October 29 @ 9:00 pm – 3:00 amQueer Bar, 1518 11th Ave
Seattle, 98122 United States + Google Map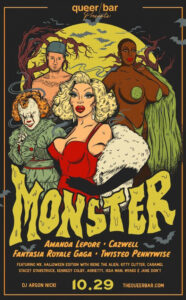 ON SALE NOW 🚨 MONSTER 💋 10.29 we're flying in all of your favorite party monsters from across the globe for a for our sexiest Halloween to date. Performances by legendary nightlife icon @amandalepore , Hot Haus Winner @fantasiaroyalegaga , renowned recording artist and father figure @cazwellofficial , and TikTok phenomenon @twistedpennywise along with all of your fave MX babes. After thee body-ody-ody […]Find out more »
October 29 @ 9:00 pm – 2:00 amThe Woods, 1512 11th Avenue
Seattle, WA 98122 United States + Google Map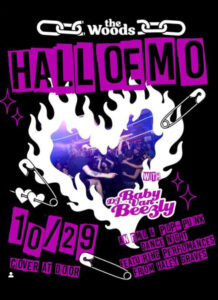 Join us Saturday 10/29 for 🦇 HALLOEMO 🦇 Seattle's busiest girlboss @babyvanbeezly takes over The Woods for 3 Floors of Emo Pop-Punk partying 🔥 Featuring a pop-up performance by @haleygravesofficial , this is one Emo night you don't wanna miss 21+ w/ID A party for everyone!Find out more »
October 29 @ 9:00 pm – October 30 @ 6:00 amKremwerk / Timbre Room Complex, 1809 Minor Avenue
Seattle, WA 98101 United States + Google Map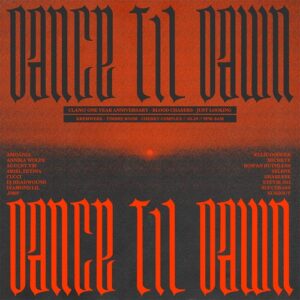 DANCE TIL DAWN On October 29th, The Complex is ready to CLANG all those living, dead and in between, during this all-night affair. We are JUST LOOKING to devour your hearts and spill your throats across three dance floors of blood pumping electronic music. The death dance begins at 9PM with discounts for BLOOD CHASERS […]Find out more »
October 29 @ 9:00 pm – 1:00 amRose Temple, 1801 East Olive Way
Seattle, WA 98102 United States + Google Map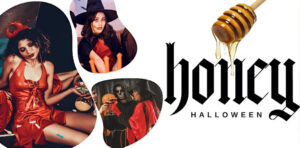 This is a women-focused event that welcomes all girls, gays and theys, prioritizing space for BIPOC women, trans women, women femme, masc, but includes all gender diverse individuals. This event is coordinated by black & brown women FOR black & brown women. DJ LADY COCO our resident DJ will be playing all of your favorite hits. […]Find out more »
October 29 @ 9:00 pm – 2:00 amThe Unicorn, 1118 E Pike St
Seattle, WA 98122 United States + Google Map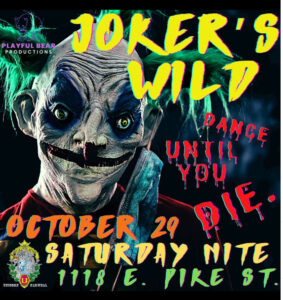 OKER'S WILD‼️ Dance Until You Die‼️ GoGos Galore + NO COVER‼️ A Halloween Weekend Dance Party with popular hits, obscure underground tunes, a bit of creepy crawly sounds and other on brand themed music to dance the night away‼️ @unicornseattle 9p-late .Find out more »
October 29 @ 9:00 pm – 2:00 am|Recurring Event (See all)Union Seattle, 1009 East Union Street
Seattle, WA 98122 United States + Google Map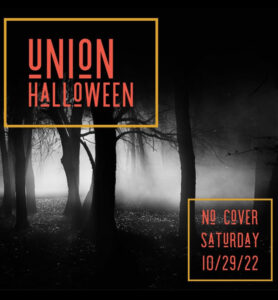 Join Us At Union For Halloween Weekend 🧟‍♂️ Saturday 10/29/22, Photographer at 9pm Dress Up, Drink Some Brew, and Howl at the Moon Until 2am Monday 10/31/2022 🦸🏾‍♀️ Celebrate the Gay High Holiday, Halloween at Union! Drinks Features for All You Ghouls All Weekend LongFind out more »
October 29 @ 9:00 pm – October 30 @ 4:00 amSupernova Seattle, 110 South Horton Street
Seattle, WA 98134 United States + Google Map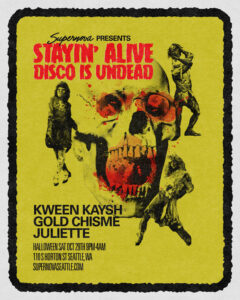 This Halloween, Disco isn't dead… it's undead! Zombie Disco is the vibe, but we encourage you to wear any costume you like! Stayin' Alive is the past, present and future of Disco! Guest and resident DJ's spin classics and NuDisco favorites accompanied by our resident live musicians and in-house band, Universal Peoples! Be dazzled by […]Find out more »
October 29 @ 9:00 pm – 12:00 amAdmiral Pub, 2306 California Ave SW
Seattle, WA 98116 United States + Google Map
Join us Halloween Saturday for a spooky Halloween Drag Show & Costume Contest. Featuring the legendary Queen Andrew Scott and Sneaky Boo. It will be packed so please grab a free ticket or table reservation at https://www.eventbrite.com/…/west-seattle-halloween…. Or just show up early and grab an empty seat Cash Prize for 1st place and other prizes for […]Find out more »
10:00 PM
October 29 @ 10:00 pm – 3:00 amThe Comeback, 1950 1st Ave S
Seattle,, WA 98134 United States + Google Map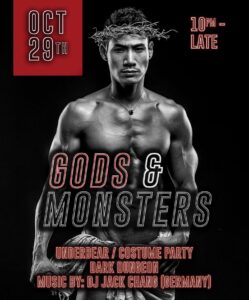 Gods & Monsters Underbear / Costume Party The Comeback creates a dark hunting ground for Gods and Monsters. Will you hunt or be hunted? Beats by Jack Chang from Germany. 21+ w/IDFind out more »
October 29 @ 10:00 pm – October 30 @ 4:00 am|Recurring Event (See all)Neighbors Nightclub, 1509 Broadway
Seattle, WA 98122 United States + Google Map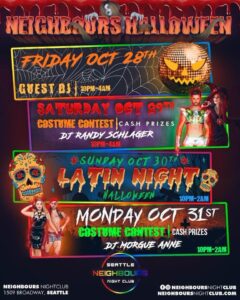 Halloween Costume Contests with prizes on both nights! On Saturday, Oct 29 w/DJ Randy Schlager 21+ until 2am 19+ from 2am to 4am On Monday, Oct 31, w/DJ Morgue Anne 21+ w/ID only. Open until 2am Find out more »
October 29 @ 10:00 pm – October 30 @ 5:00 amMonkey Loft, 2915 1st Ave S
Seattle, 98134 United States + Google Map
Uniting Souls Music presents… ((( ZOMBIE DISCO @ MONKEY LOFT ))) SATURDAY 29 OCTOBER, 2022 21+ 10pm-5am | Multiple rooms of music! Celebrating Halloween & Ramiro's birthday! Featuring local + international DJ guests Adv tickets available now on Eventbrite, grab yours to skip the general admission line and enter via Ticketholders: https://www.eventbrite.com/…/zombie-disco-at-monkey… Sign up on […]Find out more »
(Visited 66 times, 1 visits today)