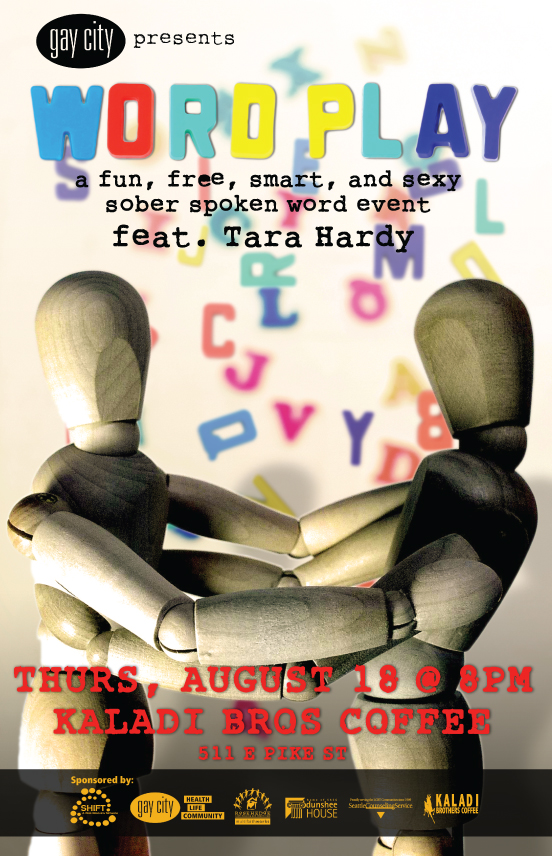 It's a busy Thursday…lots to do.
Ian Bell's Brown Derby Players are back with their third installment of this year's Stephen King series of parodies of films based on King novels. This time they take on the gruesome "Pet Sematary" which centers on zombie dead babies…FUN! Dusty Warren, Scott Shoemaker, Freddy Molitch, Basil Harris, Lisa Sanphillippo, Erin Stewart, and Spencer Thorson head the cast for the travesty which opens tonight at Re-bar and runs through Saturday night with doors open at 7pm and show at 8pm. It's 21+ and CASH ONLY and tickets are $16 and only available at the door.
We talked about it the other day, but here's a reminder about Gay City's "Wordplay" event. Here's the skinny:
Billed as a "fun, free, smart, and sexy sober spoken word event", Word Play is sure to please even the most discerning fan of queer spoken word.

Word Play continues the tradition of Shifting Words, providing an outlet for queer spoken word artists in recovery to share their experiences with living with addiction. The evening will include performances from such notable queer spoken word artists as Maya Hersh, Jodie Knowles, Jack McCarthy, Okanomode, and Gay City's own Susan Rees, as well as featuring the incomparable Tara Hardy from Bent.

Thursday August 18
8pm – 10pm
Free
Kaladi Brothers Coffee (511 E Pike)

Word Play is sponsored by the Shift Peer Recovery Network and Kaladi Brothers Coffee.
Meanwhile, The Wildrose is getting all hot and spicy with "Fuego!" a Latino night for Queer Peeps and those who love us… "with Lady Jane DJ spinning Salsa, Bachata, Merengue, Reggaeton, Latin Club Dance and top 40" The Cover is Free and they have some awesome $3 drink specials…check it out.
Finally, if you have tickets for the Deadmau5 show at The Paramount, goody-goody for you, 'cause it's SOLD OUT! Have fun, kids!
Tags: Brown Derby Players, Deadmau5, Fuego, Gay City Health Project, Kaladi Brothers Coffee, Pet Sematary, Re-bar, The Wildrose, Wordplay