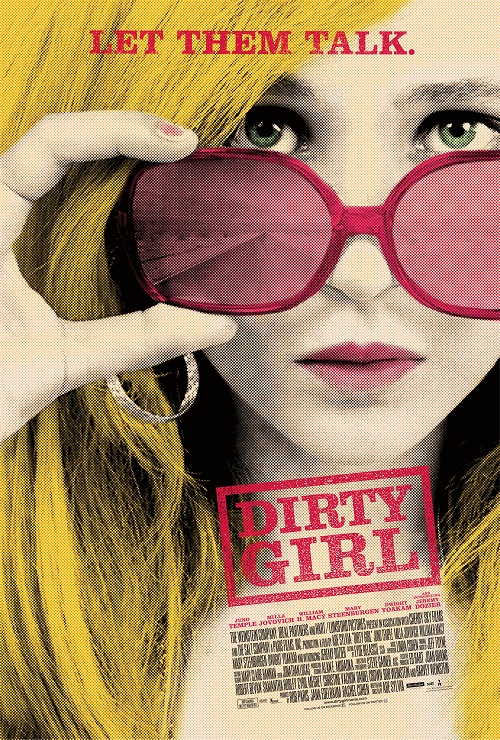 Oh, boy…it's almost October which means it's time for the Seattle Lesbian & Gay Film Festival to begin taking over our lives for 10 days, October 14-23. It's the 16th anniversary of the beloved festival which means it's now old enough to drive and kiss boys and wear make-up! (Or, kiss girls and wear mullets, as the case might be…)
The official line-up announcement and ticket sales don't begin until next week, but the folks at Three Dollar Bill Cinema, the producers of the festival, got antsy and let us know what they have scheduled for the big gala events: Opening, Closing and the two Centerpiece events. Check'em out!
Opening Night – DIRTY GIRL
Friday, October 14, 7:30 p.m., Egyptian Theatre
When the local bad girl gets paired with a frumpy gay boy, sparks fly, wheels spin, and the good times roll in this wild and rockin' road trip comedy. Directed by Abe Sylvia and starring Juno Temple, Milla Jovovich, William H. Macy. Mary Steenburgen and Dwight Yoakam.
Centerpiece – LEAVE IT ON THE FLOOR
Sunday, October 16, 7:00 p.m., Egyptian Theatre
Strike a pose for this high-energy, modern mix of PARIS IS BURNING and Rent, set in the underground drag ball scene of L.A. and featuring fierce dance sequences that will leave you floored. Directed by Sheldon Larry and starring Ephraim Sykes, Andre Myers and Phillip Evelyn.
Centerpiece – WISH ME AWAY
Friday, October 21, 7:15 p.m., AMC Pacific Place
Winner of the Outstanding Documentary Feature Award at Frameline 35: The 2011 San Francisco International LGBT Film Festival, WISH ME AWAY chronicles the arduous and very public coming out story of acclaimed country music star, Chely Wright. Directed by Bobbie Birleffi, Beverly Kopf.
Closing Night – VITO
Sunday, October 23, 6:30 p.m., Cinerama
An emotional and inspiring tribute to the legendary Vito Russo, groundbreaking author of The Celluloid Closet, founding father of the gay liberation movement, and outspoken AIDS activist in the 1980s. West Coast Premiere! Directed by Jeffrey Schwarz, the director of "Wrangler: Anatomy of an Icon".
More After the Jump!
Add to that list, the already announced premiere of the locally made film,
Heart Breaks Open
 from director Billie Rain, and producers Basil Shadid and Brian Daniels (aka Mama Tits/Sister Stella Standing). The film screens Tuesday, October 18th at 7pm at the Egyptian with an after party to follow at Lobby Bar. The plot of the film:
A model queer activist and poet, Jesus (Maximillian Davis) prides himself in his work with the Seattle LGBT community. At the same time, Jesus is having unprotected sex and cheating on his long-time partner Johnny (Samonte Cruz). Jesus's world implodes when he discovers that he is HIV positive, forcing him to confront his innermost fears, his relationship with his ex-boyfriend, and a future living with HIV. Faced with the unknown, Jesus is pulled from the brink of self-destruction by Sister Alysa Trailer (Brian Peters), a drag nun who leads him down a path of self-discovery.
In additon, a new Spotlight feature has been added to the festival focusing on "HIV@30" marking the anniversary of the HIV/AIDS epidemic. The documentary WE WERE HERE "documents what was called the "Gay Plague" as it hit San Francisco in the early 1980s. Focusing on five survivors of the epidemic and their gripping recollections of the ordeal, WE WERE HERE is ultimately a story of compassion, support and hope."
Rachel Brister, the Executive Director of Three Dollar Bill Cinema believes the 30th anniversary of the LGBT community living with HIV/AIDS has provided SLGFF an opportunity to highlight a series of films related to this still very important issue. "It is profound and almost unbelievable to me that HIV and AIDS have been in existence for 30 years," she says.  "It is rare that we have one film to present on the subject of HIV and AIDS, but this year we have five. I am very proud we will be screening this series  with the help and support of HIV30: Take Action Seattle, a collaboration of Seattle HIV/AIDS organizations working together to commemorate the 30th anniversary of the epidemic."
We're going to have EXHAUSTIVE coverage of the 16th Seattle Lesbian & Gay Film Festival, including some special coverage, in the weeks ahead. Stay tuned for more info as it develops and gets released.
Tags: Dirty Girl, Heart Breaks Open, Leave It On the Floor, Three Dollar Bill Cinema, Vito, We Were Here, Wish Me Away