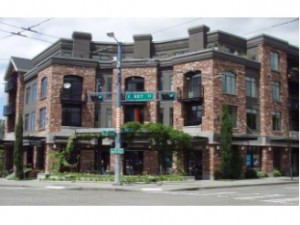 Capitol Hill Seattle has the story. The Seattle Police Department is investigating an alleged rape at a Broadway apartment building involving two men. From the SPD report, via CHS: 
On November 14th at around 4:50 a.m., East Precinct patrol officers responded to an area hospital to investigate a sexual assault. The adult male victim told officers that he had been physically attacked and sexually assaulted in his apartment (located in the 700 block of Broadway Avenue E.) around 1:30 a.m. Sexual Assault and Crime Scene Investigation detectives responded to investigate and to process the crime scene for evidence.

The suspect is a stranger to the victim. He is described as a Hispanic male, 30-40 years old, medium build, with short dark hair and beard. He was last seen wearing a black jacket, a red t-shirt with a white logo, blue jeans and black gloves. The suspect used a knife during the course of this crime. He should be considered armed and dangerous. Anyone with information is asked to call 911. Anonymous tips are welcome.

This is an active and ongoing investigation. Information is preliminary and subject to change.

East Precinct officers have increased their patrols in the area of this crime.
All rape and sexual assault is heinous and shocking, but male rape definitely strikes a chord with the gay male community. It's also frequently unreported with many victims too ashamed to contact police or receive medical treatment and counseling. Gay men also frequently have the same stigma as many female rape victims: "They were asking for it" based on perceived appearance and lifestyle, especially the old adage, "You can't rape a gay man" which presumes all gay men are open to any sexual encounter at any time. Of course, this is nonsense but the perception of gay men as 24 hour sexual omnivores continues to persist, both within our community and to the world at large. No one deserves to be sexually assaulted, regardless of sexuality, gender, mode of dress or behaviour. 
And, if anyone has information pertaining to this case, please contact the Seattle Police Department.
We'll keep you posted, and stay safe.