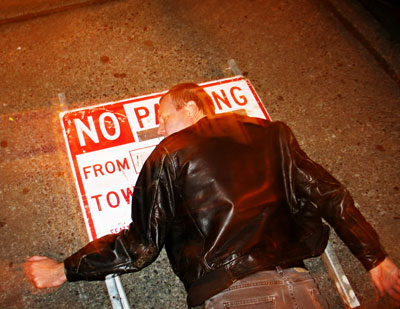 When it comes to the holiday season, we are all drunks, lovers, sinners and saints and that is the pure reason what appeals to us as primal animals in the kingdom. There comes a time when this animal must take a sabbatical from life, but will life allow time for a sabbatical for a fierce animal out on a prowl? No, life will not allow it – even when you go and trip over a plant and twist your foot leaving you gimpy and crippled. How am I to dance my little tail off this week at ElektroPOP with a twisted foot, but with a sane mind? Not to mention out of this entire headache of pain, does one's mentality start to go batty when you try to remember what happened during those drunken hours last week at that one after-party. My brain hurts from all the thinking and analyzing. Ouch! Please make the insanity stop before the fiend faire attacks.
"This baby is like a Prozac fallen from the dark, dark heavens from up above" –quote from Absolutely Fabulous
Whatever the reason is, I'm addicted to the LOGO series, "A-List: New York" and "A-List: Dallas". This is due to the generation I come from. I do come from the generation where watching MTV's "Real World" chain was a highlight in high school. Lately I've been asking around if Seattle has an "a-list gay" crowd and like another question I ask aloud, I answer my own question with my thought spreading about like wildfire. There is no one "a-list" because everyone has an "a-list" group of friends – Seattle just calls these people "besties". The show is like a print or stamp of our community at large, which has construed to the public as being only one entity in each city. First it was Drag Race and now this show has invaded my head – the insanity will never cease and my life will forever be a revolving lifetime movie filled with drag queens, club promoters and a little voice within telling me to take a break, but that will never happen.
MORE musings after the JUMP!
Who or what defines a sinner? Is it the higher power, or is your neighbor? I feel like sin is in the eye of the beholder and that one word that people talk about, which lays within us to make good and decent decisions and good character, is "faith". Temptation is a dirty little word but just so happens to be something so pure and pleasurable in our community. I'm talking about church and religion, because that's just not in my nature. We all face this problematic aspect in our nightlife culture and it gets more rough the older you get.
For many of us music has a large impact in not only our passion, but our daily lives. Sometimes its very hard for us to truly say what's on our minds – so we naturally we turn to the people who carry so much courage and strength for guidance and affirmations of our actions, our fears, our accomplishments and our journey. For me, my musical artist hero's this week are Storm Large, Christina Aguilera, Alicia Keys and Dramarama. What an eclectic range of hidden prose that inspires and shows us that what we are doing today is something in the right direction. I asked myself at that moment, "Without musicians, without art, would there be a culture to belong to?" My music playlist goes through a wide range from Storm Large to Iggy Pop, Christina Aguilera to Britney Spears and from Hedwig and the Angry Inch to Tick, Tick BOOM! Then there is Aerosmith and Greenday – the ultimate rock battle, and let's not forget about Coldplay, Bjork, Dramarama and Queen. Sometimes I really do need my intake of Coyote Grace and a little touch of The Cars. Whatever my mood calls for, there is always a growing list of artists that keep my mojo going.
How many cocktails does it take for us to become alcoholics? Where are our lovers hiding? Are we really sinners in the underworld and why are saints only there during the good times in our lives? Now for a little announcement for all you drag race fans and supporters and this piece of news just might excite you to the depths of the earth, filled with joy and excitement. It gives me with great joy that Seattle Gay Scene will be on the red carpet for the premiere of RuPaul's Drag Race Season Four and who am I bringing with me to give that glitz and glam to blog live on the red carpet? The one and the only Mama Tits "Busty McGee" / "Stella Standing". We'll be giving you eleganza, nerve and in your face journalism at our finest in Los Angeles come this January 2012. Holla!
(Visited 1 times, 1 visits today)