Hello dear readers,
Since the Italian and I are in the midst of another move, I thought I would pull some recommendations from the Betty Crocker Recipe Library. Perfect dishes to bring to your upcoming holiday parties. So here are some good one to impress all you friends once you arrive with these in hand!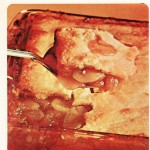 Deep Dish Apple Pie – from the Men's Favorites Section of the Library
Pastry for 9-inch one- crust pie ( Below)
1 ½ cups of sugar
½ cup of flour
1-teaspoon nutmeg
1-teaspoon cinnamon
¼ teaspoon Salt
12 cups of thinly sliced pared apples
2 tablespoons of margarine
Heat the Oven to 425. Prepare pastry. Stir together sugar, flour, nutmeg, cinnamon and salt; mix with apples. Turn in ungreased baking pan – casserole dish 9X9x2; dot with butter. Unfold pastry over fruit; fold edges under just inside edge of pan.
Bake 1 hour or until juice begins to bubble through slits in crust. Best Served warm. 9 servings.
If you don't want to by premade pastry dough here is a recipes for the dough.
Pastry for 9-inch On crust Pie: Measure 1 cup flour and ½ teaspoon salt into  bowl. Cut in 1/3 cup plus 1 tablespoon shortening thoroughly. Sprinkle in 2 to 3 tablespoons cold water, 1 tablespoon at a time, mixing until all the flour is moistened and dough almost cleans side of the bowl (1 to 2 teaspoons water can be added if needed)
Gather dough in ball; shape in flatted square on lightly floured cloth-cover board. With floured stockinet-cover rolling pin, roll dough in 10-inch square. Fold pastry in half; cut slits near center.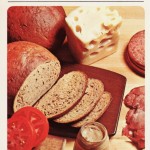 Pumpernickel Bread
3 packages active dry yeast
1 ½ cups of warm water 105 to 115 degrees
½ cup of molasses
4 teaspoons salt
2 tablespoons shortening
2 table spoons caraway seed
2 ¾ cups of rye flour
2 ¾ to 3 ¼ cups flour corn meal
Dissolve yeast in warm water. Stir in molasses, salt, shortening, caraway seed and rye flour. Beat until smooth. Mix in enough white flour to make dough easy to handle.
Turn dough onto lightly floured board. Cover; let rest 10 to 15 mins. Knead until smooth, about 5 mins. Place in greased bowl; turn greased side up. Cover; let rise in warm place until double, about 1 hour. Punch down dough; round up, cover and let rise again until double, about 40 minutes.
Grease backing sheet; sprinkle with cornmeal. Punch dough; divide in half. Shape each half into round, slightly flat loaf. Place loaves in opposite corners of baking sheet. Cover; let rise 1 hour.
Heat Oven to 375 degrees. Bake 30- 35 minutes. Makes 2 loaves.
* If using self – rising flour, omit salt.
(Visited 1 times, 1 visits today)