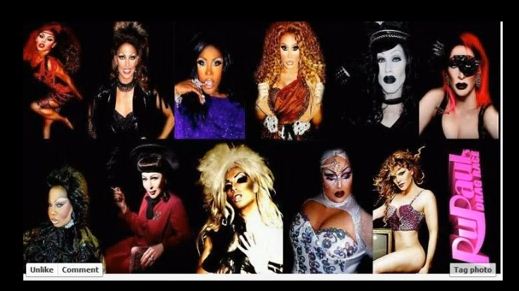 Last year at this time, MANY people knew exactly WHO was in RuPaul's Drag Race Season 3, not to mention the order of elimination and the eventual winner (Raja) MONTHS before the show premiered in January. Apparently, Logo put the fear of god, (or lawsuits) into this year's crop of contestants for Season 4 because there's been less leaks. At this point, I should tell SpoilerPhobes to STOP reading and don't make the jump with me…but, I will tell you we're only going to talk about people who MIGHT be on the next season…won't be divulging any speculation about winners or process of elimination. (Though I will spill one interesting rumor: the winner will be actually determined by the audience voting via phone to choose the winner…if that's true, I think that's great because RuPaul always picks the duller of the two choices, in my opinion.)
Want some Drag Race dish? Then JUMP!


Some dude (?) named "teddyy15" posted this homemade video on YouTube listing six contestants for this upcoming season. At the end of the video, there's a screen cap with photos of 11 different possible contestants. Don't know what his source is, but folks have been doing some poking around to identify the suspects and check out their Facebook pages to see if any of them have mysteriously left town for a few weeks in the last couple of months. Here's the list of possible contestants:
In the video:
1) Phi-Phi O'hara
2) Chad Michaels (very well known Cher impersonator)
3) Madamme LaQueer
4) Kenya Michaels
5) Dita Ritz
6) Latrice Royale
Others rumored to be among the contestants:
The Princess
Willam Belli (well known performer/actor seen in the "Ticked Off Trannies" film. He denies being in Drag Race 4)
Sharon Needles
Alaska Thunderfuck
Detox Icunt (well known L.A. performer. A bit wild for Drag Race, though)
Hmmm….the mix of contestants fits their usual casting mode…there's a big girl, a Puerto Rican, an Asian, a Vegas style impersonator, comediennes, Ball type queens….
Now, the question remains, is any of this true?
For more poo, check out WeHo Confidential…but only if you like Spoilers!
(Visited 1 times, 1 visits today)