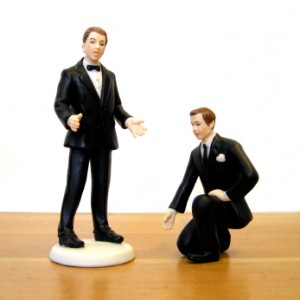 SB-6239, the Washington State legislation to allow same sex marriage in the state was filed today with 23 sponsors attached and with the support of Governor Christine Gregoire. The bill needs 25 votes to move out of the State Senate. Several undecided senators including a number of Democrats have not yet declared support for the bill.
And, Senator Ed Murray cautions "popping the champaign corks"; there's a lot of work to be done.
From The Stranger:
"People are calling me and congratulating me," said Murray. "There's nothing to celebrate yet. Cal Anderson tried for eight years to get the one vote we needed to pass the civil rights bill in the senate. It took me eleven years to get the vote we needed to pass the civil rights bill—it took that long to find one vote in the senate. And we are two or three votes short right now. It's time for people to stop popping the champagne corks and get to work."
What can you do?
Contact your local representative and urge them to support the bill if they already haven't done so. Donate your time and money to the marriage equality campaign: Washington United for Marriage. Urge other people to do the same.
Don't just start planning the celebratory parties and thumbing through Modern Bride planning your summer nuptials.
The Fat Lady hasn't even started warming up yet.
Update: The Stranger has posted the names and contact info the 6 undecided State Senators. If you live in those districts, CONTACT them and URGE them to vote YES on SR-6239.
Sen. Joe Fain (R-47), Sen. Brian Hatfield (D-19),
Sen. Mary Margaret Haugen (D-10), Sen. Andy Hill (R-45),
Sen. Jim Kastama (D-25), Sen. Paull Shin (D-21)
Tags: SB-6239, Senator Ed Murray, Washington State Marriage Equality