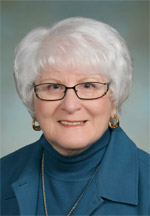 State Senator Mary Margaret Haugen, (D-10th District) released an announcement at noon today that confirmed she is supporting the marriage equality bill in the state senate, making her the 25th and deciding vote to pass Senate Bill 6239.
"I know this announcement makes me the so-called 25th vote, the vote that ensures passage. That's neither here nor there. If I were the first or the seventh or the 28th vote, my position would not be any different. I happen to be the 25th because I insisted on taking this much time to hear from my constituents and to sort it out for myself, to reconcile my religious beliefs with my beliefs as an American, as a legislator, and as a wife and mother who cannot deny to others the joys and benefits I enjoy."
Senator Haugen's statement was released on the opening day of deliberations in the State House in Olympia on the bill which would make Washington the 7th state in the U.S. to grant full marriage equality to same sex couples. Currently, same sex couples can register as a domestic partnership with "anything but full marriage" rights in the state.
The bill, which is supported by Governor Christine Gregoire, already has enough votes in the House (House Bill 2516) to pass the bill. Twenty five votes were needed in the Senate to pass the bill. If both the House and Senate bills are passed in this legislative session and signed into law, same sex Washington couples could marry as soon as June. However, it is also likely a referendum initiative could make it to the November ballot challenging any marriage equality bill passed by the state. But, recent polling indicates that such an initiative would have a difficult time passing in the state; an October poll conducted by the University of Washington revealed 55% of Washington voters would vote to support marriage equality, with 38% opposing.
More as it develops.
Information: KiroTV.com and SeattleTimes.com
(Visited 1 times, 1 visits today)