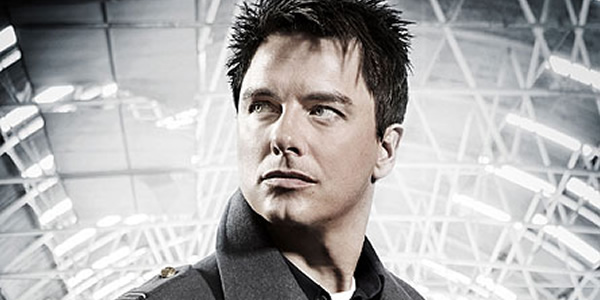 Everyone's favorite bisexual time traveler, actor John Barrowman best known for his role as Captain Jack Harkness in Dr. Who and Torchwood, has just booked a leading role in a new television pilot according to The Hollywood Reporter. The out gay actor who originally got his big break in the UK, is set to star in "Gilded Lilys", a soapy new period drama from "Grey's Anatomy" creator Shonda Rimes:
The drama, from Grey's Anatomy creator Shonda Rhimes, revolves around the opening of the first luxury hotel in New York City in 1895 and tells stories of love, treachery and disdain between the classes set against a backdrop of vicious family rivalries, scandalous secrets and conflict and co-mingling of the classes.

As first reported by TVGuide.com, Barrowman will play Julius Ashford Lily, the charming son of the Lily family, who has reigned over New York's elite for decades but a recent family scandal has undermined their fortunes both financially and socially.
Remember, this is just a PILOT and it may never make it to air, but Shonda Rimes is a very big deal in TV and most of her pilots DO make it to a full series order. It also doesn't hurt that this show is obviously jumping on the success of the mega hit, "Downton Abbey" both in the UK and here in the States on PBS.
If Shonda was smart, she'd make Julius gay or at least bi to please all his many LGBTQ fans…but, we should understand if that doesn't happen. Mr. Barrowman might be ready to break out of that typecasting.
PLEASE LET HIM BE GAY!!! WE WANT HIM TO WEAR TURN OF THE CENTURY CLOTHES, THEN TAKE THEM OFF TO HAVE STEAMY EDWARDIAN MANSEX!!!!!
Tags: Gilded Lilys, John Barrowman