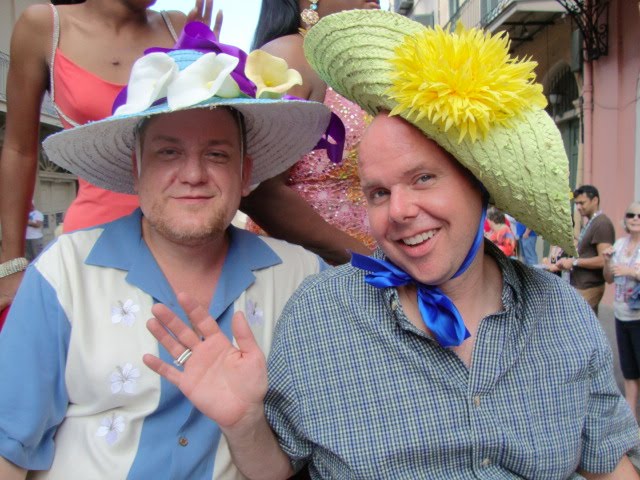 There are Easter options for our community today and none of them have anything to do with church.
(Wrong website for that…)
Here's some events happening today, some of them with an Easter theme and some of them not. I think SGS's plans are to celebrate Easter with Mama Tits and Crew at "Mimosas With Mama" at The Grill On Broadway and we'd love to see you there…or, at any of the other festivities out and about.
Pride Idol @ Neighbours Nightclub. A citywide singing event produced by Seattle Out and Proud 8pm.
Dina Martina: Ample Wattage @ Rebar. Promises to be an excruciatingly hilarious yet totally indescribable evening of entertainment that assaults the senses like no other 2pm, $20-$25. 21+
12 Minutes Max @ On the Boards. A showcase for new performance, gives regional artists the chance to test out new ideas with Death of a Salesman deconstructed, improvised absurdity, fur on a trampoline, and more 7pm, $8.
Mimosas with Mama: Drag Brunch @ The Grill on Broadway. Weekly brunch and show with some of the hottest drag queens in Seattle featuring the one and only Mama Tits, Seattle's divine diva Ursula Major, the fabulous Tipsy Rose Lee, and the lovely Vera Vera Ahndahvahl 2pm-4pm, $20 includes the show, The Grill's famous brunch buffet or a menu item and one complimentary Mimosa.
Moisture Festival: The world's largest Comedy/Varietè festival of highly skilled performance mixed with many bizarre talents, often humorous, with no limit to the imagination.
Easter Bottom 40 @ Cuff Complex. From Seattle's first queers only DJ Collective, ranging anywhere from disco, soul, electro, italo, house, funk, tribal, indie, acid, R&B, nu-disco and techno from all generations, but never inches to the top of the boring billboard charts w/ DJ Nark & Amateur Youth 6pm, Free before 8pm. 21+
Disco Sundays @ Lobby Bar with DJ Disco Vinnie, complete with vintage videos 7pm-10pm. 21+
Disco Resurrection @ The Eagle. Disco, nibbles, and birthday cake w/ DJs Dana Dub & Up Above. 21+
Easter Egg Hunt @ Wildrose. Prizes are drinks, bar tabs, t shirts, and the grand prize egg will have Wildrose Pride Beer Garden Tickets! The hunt happens at 1:30pm. Brunch and Happy Hour prices from open to close. 21+
World's Tiniest Teadance @ Pony with DJs El Toro & King of Pants. Dance to the best in trash disco, camp classics and vintage club cuts starting at 4pm, No Cover. 21+ *******AND, it's "World's Tiniest Teadance's" 2nd Anniversary!!!!*******
Easter Bonnet Contest @ CC Attle's. Get out your glue gun, your glitter and your Easter grass. "Grand Bonnet Parade" will commence at 4:00pm. 21+
Noche Latina @ Neighbours. Weekly Latino Night with host Gordo 10pm-2am. 21+
Karaoke @ RPlace at 8:30pm. Happy Hour ALL day starting at 2pm. 21+
"Sing, Win & Save" to raise money for Three Rivers Rescue. Drag Queens ready for pictures with your pet, yummy snacks and treats for you and your pup, Karaoke hosted by Jenn & Collin, raffling of prizes, puppy kissing booth and adoptable pet resources.
Purr Brunch Menu $10.50 10am-2pm includes mimosa or juice. Happy Hour All Day. 21+
Madison Pub: Free pool, peanuts & $1 off pitchers. 21+
Soul Food Sundays @ Jai Thai $5 cover, $5 brunch menu 6p-8pm, $3 drinks. Old school soul, new school R&B, hip hop, booty shake, reggae & Detroit House 6pm-12am. 21+
Tags: Easter