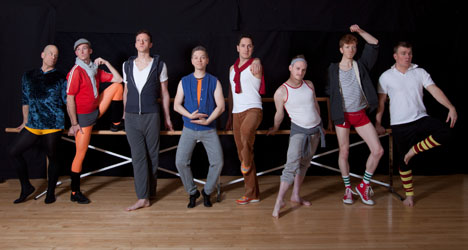 Captain Smartypants, the smaller spin-off group of the Seattle Men's Chorus, has their panties in a bunch…about Broadway showtunes!
The beloved musical ensemble is coming to the Erickson Theatre Off Broadway this month for two weekends of shows, including some "naughtier" late night revues that are purportedly "rated R for Ribald"! Their new show, "A Panty Line" is subtitled "Because Broadway isn't Gay enough!" and features their original take on some Broadway show standards:
For over a hundred years, Broadway has been delighting, inspiring, and irritating people all over the world. No subset of humanity has been more attuned to the songs, the stars, the hits and the flops than gay men. Captain Smartypants (CSP) takes this premise to task with A Panty Line: their twisted take on some of the best, some of the worst, and some of the funniest moments from The Great White Way. Songs from Cabaret, Into the Woods, The Music Man, Gypsy, Mame, Oklahoma,Company, Sweeney Todd, TOMMY, Chicago, Spamalot, Wicked, Jersey Boys, Rent, Hairspray and a dozen more will be featured, each in their own particular Smartypants style. In addition you will see some never-before-seen Broadway hybrids, such as Sweeney Poppins, The Lion King and I, and My Fair Lady Gaga. You will also see world premieres of the mini musicals Exorcist! and Downton! as well as parodies of "The Ladies Who Lunch," "I Put a Little More Mascara On," and "All I Care About is Love."

In addition to the main show CSP will also present a late-night cabaret at 11:00 PM on May 19 and 26 showcasing some of their naughtier repertoire and featuring comedian Lisa Koch and the musical styling's of Sensible Shoes, as well as a number of well-formed burlesque performers. This late-night cabaret will be for adults only (rated R for ribald)
"A Panty Line" runs Fri & Sat, May 18 & 19, and 25 & 26 at 8pm with their more "family friendly" show; tickets available HERE!
For the more risque show, which performs Saturdays, May 19 & 26 at 11pm, go HERE!
(Visited 1 times, 1 visits today)