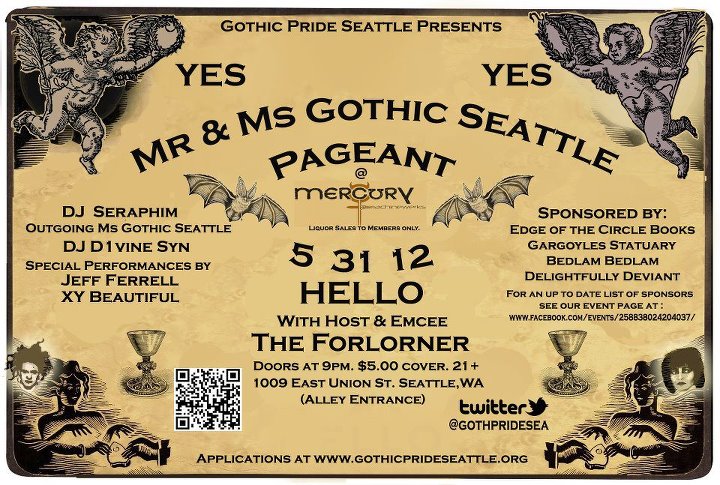 I know there are many gay goths out there, but I mainly posted this because j'adore this AWESOME poster for the Mr./Ms Gothic Seattle Pageant happening May 31, 2012 at The Mercury. Ouija board imagery makes our hearts go flutter flutter!!!
Here's the poo:
 Join us on Thursday, May 31st at The Mercury@machinewerks for the 2012 Mr & Ms Gothic Seattle Pageant, hosted by Gothic Pride Seattle, with Emcee The Forlorner! Special performances by Jeff Ferrell and XY Beautiful! After the pageant, DJ Seraphim and 2011 Title holder D1vine Syn keep you dancing to the best Goth/Industrial/EBM to the wee hours!

$5.00/21+

Think you have what it takes to be the next Mr or Ms Gothic Seattle? Check out the details and download the application here:
http://www.gothicprideseattle.org/wp-content/uploads/2012/03/2012Pageantapp1.pdf

Liquor sales to members only.

Not a member? Don't worry. RSVP here to get on the guest list and enjoy our hospitality!
Don't have a clue as to the whereabouts of The Mercury @ Machineworks? It's at 1009 E Union, over in the Lifelong AIDS  Alliance/Po Dog/IHOP side of Pike Street.
Just look for the sullen, black clad folks with excessive black eyeliner and a general sense of doom and gloom, and follow them. (I keed, I keed…)