Remember the '80s when one of the few communities OK with LGBTQ people were goths? Yeah, no one under 27 does. Yet the goth community here is hanging on by a thread, partly due to the demise of Club Noc Noc (may it rest in peace).
So when I saw on Facebook that there is to be a Gothic Film Festival, I was pretty happy about it. It's to be this coming Sunday, October 19, at the Grand Illusion Cinema in the U District.  Same place that'll be showing Little Shop of Horrors on the 31st, coincidentally. Tickets are selling fast! It shall begin with array of shorts and music videos, and culminate with the feature presentation of The Anatomy of Monsters. Certainly hoping to see some original goths there. Yanno, the people who *actually* dress creatively rather than just slap on some black, some eyeliner, and boots, and know nothing of the culture. Does that sound pretentious? Bet your ass it is. Because I sorely miss goth culture; it seems we're all scattered to the winds these days on the backs of raven wings. (Poetic, right?) Though I did see plenty at the last VNV Nation concert.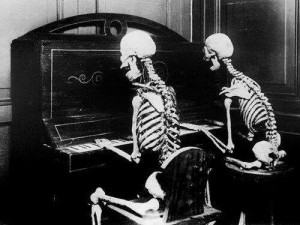 Anyway. Wine will be offered during the intermission (oooh, maybe there'll be Halloween wines!). Maybe some folks will get together ideas for a new Noc Noc? I hope this little festival gets to expand next year. So come out of your cave on Sunday and enjoy a little dark fun and humor. What else are you doing while waiting for The Goth New Year (i.e. Halloween)?
Look for me. I'll be the one in black, drinking pinot noir.
(Visited 1 times, 1 visits today)