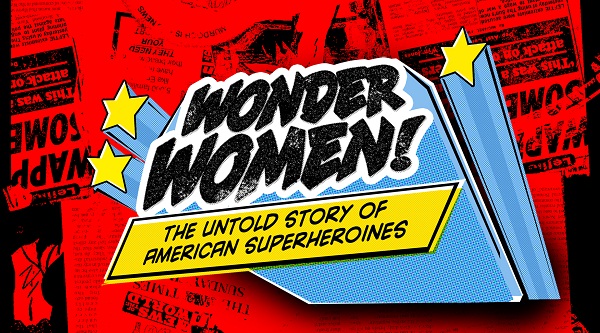 The box office for SIFF 2012 opened last week and folks have started snapping up their tickets and passes for the most ginormous film festival in the history of the world. And, all during the festival, we'll be showcasing films that interest us, many of them LGBTQ themed, (but not all) and snagging interviews with some of the filmmakers and talent that will be descending upon SIFF 2012.
We're gonna start things off by looking at a film that should appeal to EVERYONE…after all, who doesn't adore Wonder Woman? Straight men and lesbians lust for her, and straight women and gay men wanna BE her, so she's an equal opportunity object of lust and admiration. (Yes, I'm generalizing here, so calm the hell down…I don't want to BE Wonder Woman, but I do crave those bracelets and that invisible plane…)
"Wonder Women! The Untold Story of American Superheroines" is a new documentary from filmmaker Kristy Guevara-Flanagan takes a look at the biggest, baddest female super hero of them all, Wonder Woman, and her evolution from DC Superstar to Camp Icon via the classic 1970's television series starring Lynda Carter. From the film's website:
WONDER WOMEN! THE UNTOLD STORY OF AMERICAN SUPERHEROINES traces the fascinating evolution and legacy of Wonder Woman. From the birth of the comic book superheroine in the 1940s to the blockbusters of today, WONDER WOMEN! looks at how popular representations of powerful women often reflect society's anxieties about women's liberation.WONDER WOMEN! goes behind the scenes with Lynda Carter, Lindsay Wagner, comic writers and artists, and real-life superheroines such as Gloria Steinem, Kathleen Hanna and others, who offer an enlightening and entertaining counterpoint to the male-dominated superhero genre.
"Wonder Women" screens at SIFF from May 26-28, 2012 with three separate screenings in Everett, and at The Egyptian and Harvard Exit cinemas on Capitol Hill with the filmmaker scheduled to be present. For tickets and more info, head to the SIFF website.
Check out the trailer:
(Visited 1 times, 1 visits today)