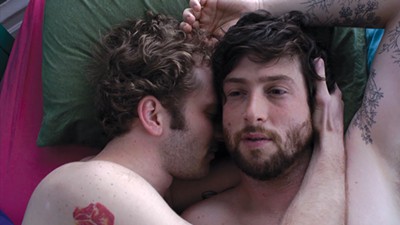 Gay People in Seattle is having their big end of summer social/cocktail party at Q this Wednesday from 6pm to 9pm and it's a great way to meet other GLBTQ professionals and have a drinkie poo…or four. Networking CAN be profitable, plus it's always a good idea to hang out with people who have jobs and nice clothes. Besides, you know you need to pump up your LinkedIn contact list…
On top of all that boozing and networking, Three Dollar Bill staff members will be around to chat up the upcoming Seattle Lesbian & Gay Film Festival which is happening October 11-21, 2012. The festival website is up and tickets/passes are on sale! The lovely Three Dollar Bill-ers will be around at Q and GPiS to answer any questions you might have about the Festival and what films/programs you must not miss…like the Opening Night Gala film, "Struck by Lightning" written by and starring "Glee's" Chris Colfer….or, "Bear City 2″….or, the zexy, zexy "real sex but it's not a porn film" from director Travis Matthews, "I Want Your Love".
Check out GPiS and Three Dollar Bill.
(Visited 1 times, 1 visits today)