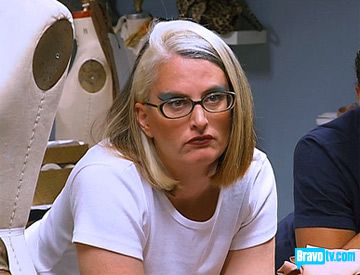 Old Skool Project Runway fans, including the ones who have drifted away over the years due to the fact that the show got progressively sucky after it moved to Lifetime and Bunim-Murray took over as producers, will gasp with fear, delight and dread with the news that the original PR Villainess, Wendy Pepper, is going to be back for Project Runway: All-Stars Edition II.
Will she play the same hard ball game that she played in the first first season of PR? Is she as delusional as ever? Only time will tell…
She's joined by some other nutcases and divas including evil Ivy Higa from Season 8 and the Orange Poofter/Drama Queen Joshua McKinley from Season 9. Suede, Peach and Casanova are also back; check out the rest of the line-up at Tom & Lorenzo.
Happily, the robotic Angela Lindvall is NOT returning as host; she's been replaced by "Super Model" Carolyn Murphy…whoever she is.
And, you don't have to wait long for the caca to hit the fan. Season 10 is still on the air but "PR: All Stars II" will begin immediately after that season ends, on October 25th on Lifetime.
It'll be a heavy few weeks of homocentric reality tv…"RuPaul's Drag Race All Stars" starts that week as well.
Start your engines…and, get aufed.
(Visited 1 times, 1 visits today)