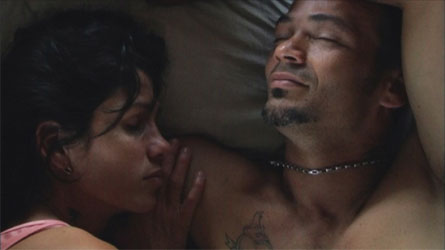 Yes, the 17th annual Seattle Lesbian & Gay Film Festival kicks off this coming Thursday, October 11 at Cinerama with the Seattle premiere of "Struck By Lightning" starring (and written by) "Glee" actor Chris Colfer. And, the festival kicks into high gear the following day, Friday the 12th with multiple screenings at the Egyptian and Northwest Film Forum for the next week (then moving to Pacific Place and Central Cinema for the final weekend). Tickets and passes can be purchased now online, (or in person at Gay City through Wednesday.)
We've already talked a lot about "Struck by Lightning" so we're going to move ahead and begin spotlighting other noteworthy films playing the festival, on a day by day basis, and today we're gonna yak about Friday's offerings; there are 5 of them including "Bear City 2: The Proposal" another film we've shown a lot of love to, so let's focus on another film playing that day. (Go here for a full calendar of Friday, the 12th's film line-up.)
"Habana Muda" has the distinction of being the first film up to bat on Friday, playing at 5:45pm at Northwest Film Forum, and it's also one of the most unique films in the festival as it focuses on the life of a man far outside the LGBTQ mainstream.
In this extraordinarily personal documentary, we meet Chino, a handsome, working-class deaf man [living in Cuba] who labors at odd jobs to eke out a living for his wife Anaylis and two children. As long as he provides for the family, Anaylis is fine with Chino's long-distance relationship with his financially supportive hearing boyfriend José in Mexico. When marriage between Chino and José  starts to be seen as the best option for all, miscommunication and culture clashes arise and this tangled love triangle slowly unravels in surprising and confounding ways, revealing questionable motives and unique complexities that will shatter your preconceptions.
You might need to read that synopsis twice…though this film is a documentary, the "plot" of "Habana Muda" sounds like it's straight from a Pedro Almodovar film. This very unique love triangle with a very unusual leading man could also be a plot thread in a very liberal telenovela…but, it's a true story from filmmaker Eric Brach who spent three years making this film, largely in Havana, Cuba. In this clip from the film, Chino and his wife Anaylis have a very frank conversation, entirely in sign language, about Anaylis's demand that they use condoms when having sex.
This screening of "Habana Muda" is co-presented with the group Deaf Spotlight and the film will be both captioned and ASL interpreted.
This fascinating and unique film is a must see…check it out.
Tags: Deaf Community, Habana Muda