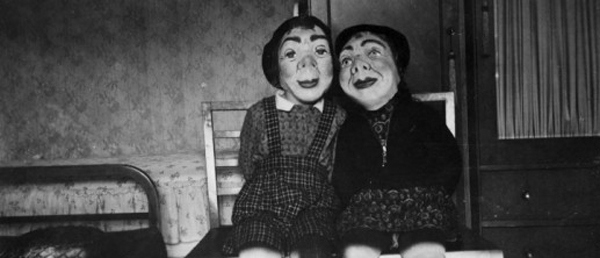 And, for many of you, your "treat" will consist of a fun and nubile "trick" but we won't judge you on your Halloween inspired sluttiness…
As we said earlier, the biggest Halloween events tended to be stacked up over the weekend, but there are still plenty o'options for fun on the actual day itself…the biggies for tonight include the 22nd annual Costume Contest at The Grill on Broadway (yes, they are an advertiser, but it would be considered a big event regardless…) Hostess Mama Tits and DJ Disco Vinnie will be on hand plus yours truly as a judge. Be there by 9:45pm to sign up for the $1000 grand prize costume contest.
The Sisters of Perpetual Indulgence-Abbey of St. Joan are also holding their big annual costume contest/party, "Sister Dawna's Nightmare" at R Place and it ALSO has a $1000 grand prize…plus, the presence of the lovely Sisters. Aren't traditions grand?
Pretty much every bar/venue on the Hill is doing SOMETHING tonight…you're pretty safe if you wear some sort of costume. BUT, please BE safe tonight as well, in all senses of the word. Wear condoms. Don't drink and drive. Be careful running around on the slick streets. Also, street crime can be an issue on Halloween; make sure you're not walking drunkenly down dark alleys by yourself. There HAS been an increase in crime lately and we've heard a distressing rumor that RuPaul Drag Race star Jujubee was physically assaulted by some assholes on Saturday night while she was in town performing at R Place. We've tried to get some official confirmation on that from Jujubee herself, but to no avail.
Still, we want you all safe and sound when tomorrow morning rolls around, so be careful out there!