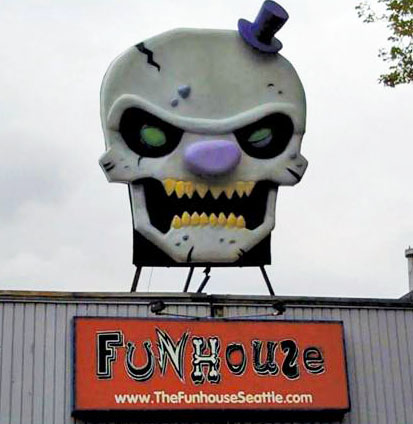 The Funhouse sign, photo courtesy of Lainy Bagwell

After 9 years of entertaining the punk-loving world, The Funhouse will close it's doors tonight, Halloween October 31st.
I began going to The Funhouse when my old roommate (and now ex-common law husband [only for fun kids, not for real!])  Brian Foss & a few others, purchased the bar in 2003. Now, you know how when it's your friend's bar, your friend's band, your friend's kid, you have to act like you like them when you really don't? Well The Funhouse is a bar I have genuinely loved going to. They have live music, a super fun staff, and good stiff drinks.
The Funhouse was originally opened as Texas Tavern in the late 1930's. Years later it was purchased by a new owner and renamed Zach's. Brian began booking shows for Zach's before he took over the bar with new co-owners who then turned  it into The Funhouse.
Brian and his co-workers have built the Funhouse into a Seattle institution, with bands from all over the world coming to play here.
The Funhouse is known for many things, one being that they are the only club in Seattle that kept the cover to $5 (unless they have a traveling band then they charge a few extra bucks to give the acts gas money.) Brian began good practices and has run a solid business that keeps local and touring bands wanting to come back to play here again and again.
Brian and I used to go to see live bands several nights a week when Seattle had so many clubs to choose from. There was the OK Hotel, Crocodile Cafe, Off Ramp, Rock Candy, the list goes on. Over the years we have watched almost all of them close their doors due to new club code rules enforced by the City, rising rents and buy outs from business owners turning the bars into condos.
Yet the Funhouse stayed afloat and kept the tradition of what those clubs used to be, a place for bands to play to a close fun crowd with a cover that everyone could afford.
And the Funhouse has been more than just a place to see live bands, it's been a hang out, a spot for the regulars newcomers and a point of interest for the tourists that would stumble upon it after their visit to the Space Needle. The Funhouse has also been a proud supporter of the annual Pride Parade and festivities (serving as an unofficial refuge from the craziness at Seattle Center for the SGS crew for a few years!), and has hosted many benefit shows over the years for people in need.
And then there was the patio, oh how I loved that patio. Brian will tell you my love of the patio
since that's where I spent the majority of my time when I was there, rain or shine.
The bamboo was planted for privacy, the picnic benches adorned with big ash cans and the tent that made it possible to hang out there in any weather. The patio was a great place to meet people. You could strike up random conversations with strangers, and make a new friend over a smoke and a drink.
It was where everyone congregated in between bands and after the show had ended. It was where we watched the fireworks on holidays, had bbq's and saw several one on one basketball games. (Dear basketball hoop, you will not be missed. I myself was almost clocked in the head on a few occasions while I watched others get clocked in the head, and saw many a beers get knocked out of people hands. Tsk tsk.) Despite the basketball hoop, we always had a good time on that patio.
It never occurred to me that what happened to so many of the other clubs around town would happen to the Funhouse. There were meetings and many questions and people looking into getting the bar historical status, but none of it took. The property has been sold and yet another crappy condo will go in its place.
The Funhouse definetly made it's own history that will live on in many stories that we'll all continue to tell. Remember that one night at The Funhouse when…
But fear not for Brian is a savvy fella and in time, we will all be greeting each other again on a new patio at Brian's new bar. Until then you can check out Brian's radio show Sonic Reducer every Saturday night on KEXP. And, Brian's DJ skills are currently available for hire! He will come spin punk/anti-Christmas tunes at your holiday party! Email Brian at  myfatassrecords@gmail.com to book him.
If you would like to check out The Funhouse website for details on their Halloween show, go to http://www.thefunhouseseattle.com/

(Visited 1 times, 1 visits today)