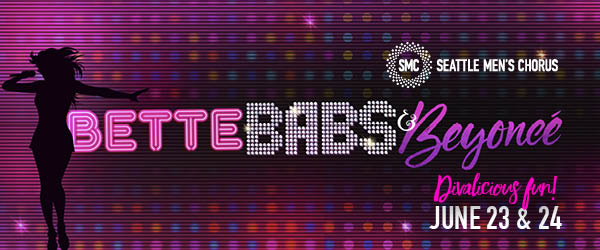 Is Bathhouse Betty everything you wish you could be?
Does your heart belong to Yentl?
Yoncé all on your mouth like liquor?
Get ready, honeys, because next week there's more than one Queen B to worship.
In honor of Pride weekend, the Seattle Men's Chorus will be performing an all-new compilation of the best music from Bette Midler, Barbra Streisand, and Beyoncé Knowles. Fans of all ages, orientations, and genders will be treated to über-hits like "Wind Beneath My Wings," "Don't Rain on My Parade," and "Single Ladies."
As if these three matriarchs weren't enough, you'll get even more than just The Divine Miss M, Funny Girl, and Sasha Fierce. Other queer icon divas will be represented in song, including Diana Ross, Katy Perry, and the timeless Cher herself.
Founded in 1979, the Seattle Men's Chorus remains the largest LGBTQ-identified men's chorus in the world, governed by the not-for-profit organization Flying House Productions.
Is this year's theme perhaps pandering to the stereotype that gay men are obsessed with pop divas? Irreverently. Is that a little reductive? Without a doubt. Does that make this music—made famous by strong, brilliant women and performed by one of Seattle's most talented choral groups—any less delightful? NOPE!
Divas have long been a staple of the queer community for men, women, and non-binary folks alike. Look no further than Madonna's "Express Yourself" or Lady Gaga's "Born This Way" for queer anthems that will influence generations to come. These platforms of sexual independence and celebration have helped launch LGBTQ culture into the public eye and shown the world that yes, we do exist; yes, we deserve equal rights; yes, we're worth celebrating.
Between important Pride actions like fundraising for queer justice organizations, marching in solidarity, and volunteering for activist causes, you've earned a night to let your hair down and enjoy some uplifting music. So call up Miss Otis, get your freakum dress on, and send in the clowns!
You can catch the show at McCaw Hall for Pride weekend on Friday June 23rd and Saturday June 24th at 8pm. Tickets range from $25-$78 and are available for purchase here.
(Visited 4 times, 1 visits today)