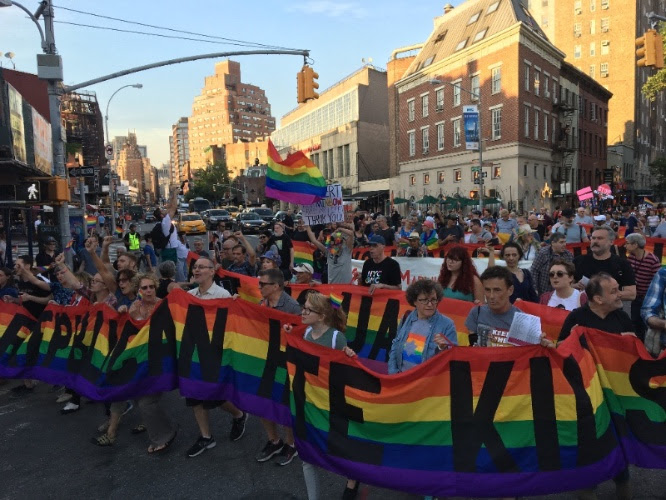 New York City Memorial Rally and Protest March
Honors the Late Gilbert Baker, Rainbow Flag Creator
HUNDREDS TOOK TO THE STREETS of New York City on June 14, Flag Day (also Trump's birthday), to honor the memory of LGBTQ Rainbow Flag creator Gilbert Baker, who died in late March. The protest march, targeting the Trump administration's anti-LGBTQ policies, included banners created by Baker, reading "Republican Hate Kills" and "Don't Buy Trump's Lies." The march was preceded by a memorial rally in front of the famed Stonewall Inn, where speakers included When We Rise author and The NAMES Project AIDS Memorial Quilt creator Cleve Jones and NYC City Councilmember Corey Johnson. The ceremony ended with a raising of the Rainbow Flag in Hudson River Park.
Facebook Page: www.facebook.com/GilbertBakerMemorial
Gilbert Baker Website: gilbertbaker.com
(Visited 2 times, 1 visits today)