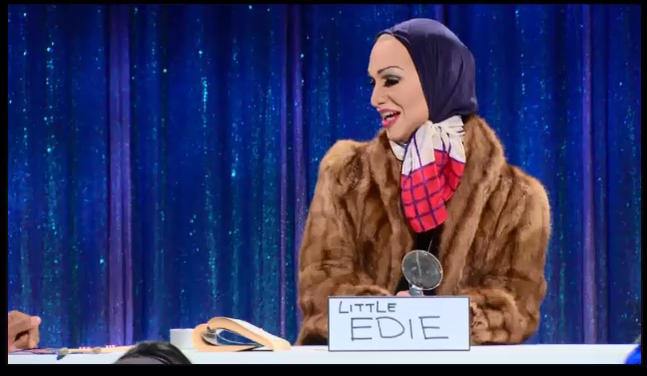 Alas, Snatch Game is finally on! It's the episode that tends to separate the grist from the grain, and we see who's actually got it. It's gonna be a rough week for some of these heifers.
Contestants return to the workroom after the previous week's elimination, and Jinkx makes the VERY keen observation that Rolaskatox isn't immortal, because Roxxxy was (deservedly) in the bottom last week – frankly, not the first time she's found herself on the bottom, I'm sure.
Mini-challenge! Groups of three are issued Snuggies (called by a forgettable generic name… cuddlers?) that they're individually obliged to turn into something wearable for a "red carpet" look. Then guest judge Ian Drew from US WEEKLY will determine "who wore it better"… Frankly, I'm not confident that Ian Drew is the best authority on style, but I digress…
As they're styling it up, Ivy gets a chance to throw some funny shade at Alaska, and it gives us a chance to see an example shade thrown in an amusing way – not in the cunty way. See, it's possible! On team Zebra print, Detox wore it best (really?), on team Giraffe print Roxxxy takes the prize (also, not the cutest), and the pink solid goes to Alyssa, but this gives Jinkx a chance to create a funny Olsen-twin-esque character, which Alyssa reads her for… seriously, that's a bad thing? God forbid something be thought out. This begins a trend of queens being proud of their ignorance on any number of topics, and really puts a fine point on something that's been the major conflict on Drag Race since Season One, Episode One – the ongoing battle between the "fishy" queens and the characters… but as far as memorable queens go, how many of those fishy sorts do we actually remember over the years? Just sayin… I'll watch Coco Peru and Lady Bunny any day. And have for a couple decades now… hmm…
The Main Challenge? SNATCH GAME! Cue Jinkx:
The conversation begins about what characters they're doing, and of course Alyssa wants to do Katy Perry – who has the same character curse attached to her as any previous attempt at Gaga… all look, and no personality to spin on. Alaska is doing Lady Bunny, who could either be genius or tragedy (especially after Ivy served some funny, albeit pantomimed Bunny last week) and Jinkx is going to give us Little Edie Beale – needle scratch on record. Not shockingly, some of the contestants don't know who she is… but Roxxxy is confident that playing Toni Braxton's "only-famous-because-of-a-basic-cable-reality-show" sister will be memorable. Damn…children. Seriously, you people don't know Little Edie? Okay, maybe you didn't see the 1975 documentary Grey Gardens, but did you see the 2009 movie with Drew Barrymore and Jessica Lange? Or the Broadway play? Or the touring production? At least go to ACT in March and see it when it's there…
Here's an important thing to remember – the ability to LOOK like a celebrity is a lovely, and useful skill. You can make a fine living pretending to be Cher (as Chad Michaels has proven) or Jessica Simpson, but when you're also trying to "act" in their voice and perform the entirety of their character, there's a whole other set of skills that most queens never bother to develop, because they don't have to. But if a drag queen is actually paying attention, she'll know that being able to be funny is essential. I'll offer RuPaul herself as Exhibit A. After all…
"Snatch Game challenges your improv skills, your wit, and your impersonation skills. Without these three skills, a drag queen may as well not call herself a drag queen."—Jinkx Monsoon
That, my friends, is how you throw down a gauntlet.
RuPaul walks around the work room to meet with the queens. Much is being focused on Little Edie's relative obscurity, compared to the bastions of fame that are Ke$ha and Janet Jackson. Ru gets to Lineysha who wants to do Michelle Obama – seriously? – almost exclusively because she thinks she can get the look down. Again, there's more to Snatch Game than the look – have any of you actually seen the show before? Have you seen Snatch Game? Jesus! Prepare, bitches!
Lineysha reconsiders her Michelle Obama decision, and contemplates Celia Cruz… another potentially bad idea. Talk about obscure among the masses…
We meet each of the contestants in their Snatch Game personas, and RuPaul tosses out an easy joke line for them to improv back to her. Most were lackluster, with a couple exceptions. Here's the breakdown on the Snatch Game: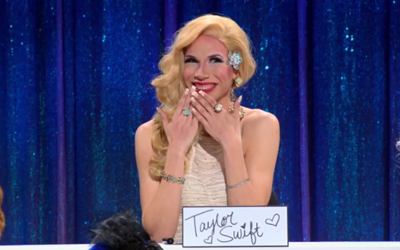 Jade's Taylor Swift was predictably as boring and witless as her look. She played it safe again. She's just about done.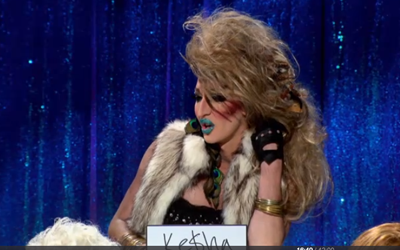 Detox as Ke$ha could have been awesome, but the desperate "peeing" thing just didn't work. Her comedic timing was WAY off.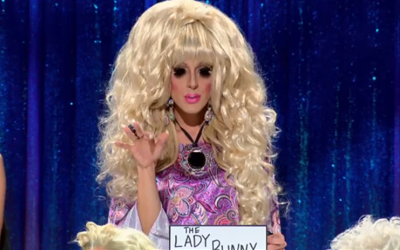 Alaska as Bunny? Yes. Crude humor was on point, even without Bunny's airy voice.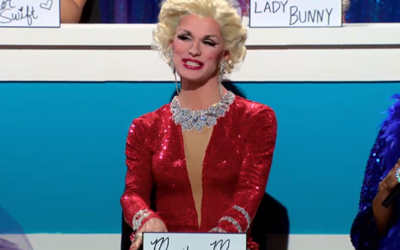 After Ivy dropped an EASY politician fucking joke, it was all over. Jinkx's attempt to keep the Kennedy joke in the air couldn't save Ivy's Marilyn Monroe.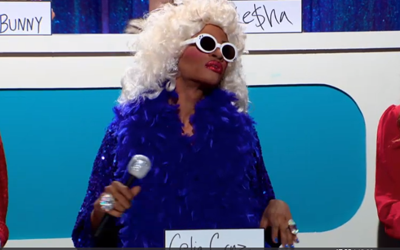 Lineysha's Celia Cruz reminds me of when frat boys do "drag" in an attempt to be funny.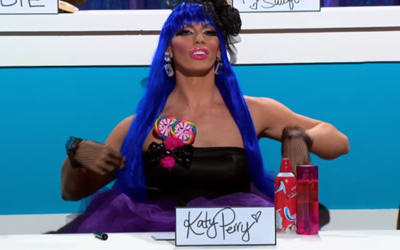 Alyssa was dreading this challenge, and for good reason. Zero comedic timing, and an appalling Katy Perry.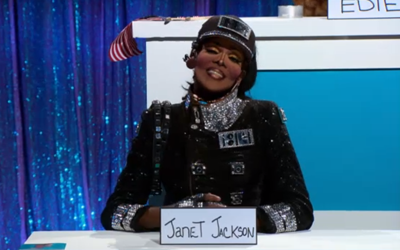 Coco's interpretation of Janet Jackson looked good, but much like Alyssa, her comedic timing was non-existent. All she's concerned about is the look, and not worried about how her performance works out. Her forced costume change didn't work in context. An act of desperation like a 3-year-old looking for attention.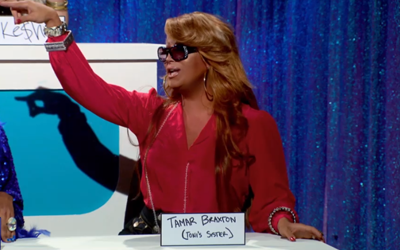 Admittedly, I didn't know who Tamar Braxton was, but Roxxxy is pretty funny. Good comedic timing, and good physicality.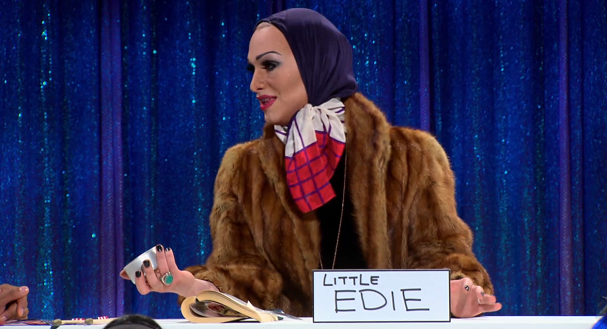 But, let's get real. Jinkx Monsoon's interpretation of Little Edie was a flawless and hilarious. Fully committed to her character at every turn, including a look that was solid (if perhaps a bit too pretty…) She brought the spotlight back to her with aplomb, making a couple hilarious jokes about the relative obscurity of her fellow panelists (oh, irony…) and ignored Coco's attempt to read her back…at least as far as we saw. Take note future RPDR auditioners, be prepared to top this. Smart queens win, dumb ones stick with flat, nuance-free imitation.
Runway comes and the queens serve their best, and most literal, fishy looks. I was one of few that actually LIKED Detox's jellyfish dress. I did love that Jade spent a good amount of time coming for Alyssa, then decided to walk that runway dressed like Alyssa from the previous week. Coco looks like a cheaper Nicki Minaj, and Alyssa looks like she's in maternity fashion. Lineysha is looking hot…but i really don't think that'll be enough.
Judgements come – Alyssa mercifully has immunity. Ru demands that she tweet an apology to Katy Perry's fans for her lackluster imitation. Jade and Coco are also safe, for being boring.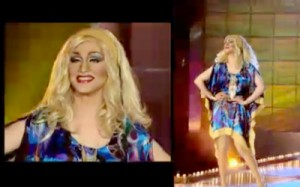 Top Three? Roxxxy, Alaska,and Jinkx (naturally)… Bottom? Lineysha for her horrifying Celia Cruz, Detox for phoning in Ke$ha, and Ivy for really not making Marilyn happen. In spite of Jinkx's (relatively) modest hair, and "boho-chic" scarf dress, she handily takes the victory for Snatch Game.
Detox and Lineysha lip sync, and Detox pretty much hands Lineysha her ass on what should have been an easy Cher song, "Take Me Home". Well Lineysha, it's been a treat, and you are gorgeous, but… see ya!
Next week, a live singing challenge? Oh ladies… Jinkx will beat your asses again. Get used to it.
RuPaul's Drag Race is on LogoTV every Monday night. Check your local listings for airtimes.
(Visited 3 times, 1 visits today)