So, I kinda skipped recapping the first episode, because, well, 1) I was catching up on photos from the premiere in LA, and 2)who cares! It's the first intro to all the queens, but I was sad to see Penny Tration go. She was a super class act, and if she just could get the words down to that hideous Miley Cyrus song that no one over 30 cares about, she'd have mopped the stage up with Serena's head.
But, on to week two, and the trailers have been fraught with drama and anticipation! Monica Beverly Hillz has a secret! What could it POSSIBLY be??? She's a real woman? She's an android? She's an alien?
The show opens right after Penny's elimination and Serena Cha Cha cleans the mirror. As they all discuss the sadness, Miss Serena show how very 21 she actually is, asking them all "Were you rooting for me?????" Ugh. Stop seeking approval – just be fierce. Jade the Shade has some snark – we already know Jade hates her, but frankly, kinda over the whole "Jade Jolie" experience – you're boring. We're over it. Next.
Ro-laska-tox? Seriously? Oi. Looks like a new Heathers is emerging. At least I like all these girls.
On to the Mini-Challenge! The girls have to prove their lip-synching abilities by ONLY using their lips, and singing behind a RuPaul shaped glory hole (see above!). Round One, Alaska and Jinkx Monsoon's lips are unmistakeable, and do a really awesome job. Somehow Serena Cha Cha walks away with that victory, though. Round Two, it's all about Detox – too perfect. Round Three, Ivy Winters is the clear winner with her adorable tooth gap.
The three winners are deemed "team captains" for the main challenge, wherein they're being asked to lip-sync dialogue, instead of a song… eminently more challenging, frankly, because if you don't have it perfect, you're fucked. AND, they're lipsyching memorable scenes from previous scenes of UNTUCKED – way to save money World of Wonder! Nicely done! No need to pay rights when you own the content!
Teams are chosen up and the last two standing are Honey Mahogany and Jade Jolie. Ivy Winters picks Honey, leaving Jade for Serena's team – strategy much? Put two that can't stand each other on the same team, and watch them kill each other. Jade is utterly offended at being picked last. Girl, get used to it. I doubt that's the first time you were last picked for a team.
Team Serena has Season 3 with a scene involving Raja and Delta Work, Mimi Imfurst, Mariah and Shangela, with Serena as Raja (hmm…), Jade as Delta Work (shady…), Jinkx as Mimi Imfurst (can't wait for that…) Roxxxy as Mariah (totally…) and Alyssa as Shangela (kinda perfect… apparently Alyssa was the first to drag out our dear Shangela.) Jinkx working out that Mimi makeup is too genius for words. Loves it.
Team Detox gets Season 4 with Alaska ably playing Phi Phi O'Hara (awesome!), Detox playing Sharon Needles, Coco Montrese as Lashauwn Beyond, and Monica Beverly Hillz serving up some Jiggly Caliente (adorbs!). Alaska begins the parade of shade by asking for orange paint. My money is instantly on this team.
Team Ivy gets Season 2 with Ivy Winters as Morgan McMichaels (adore!), Lineysha as Tyra Sanchez (snore x2), Honey Mahogany playing Mystique Summers, and Vivienne Pinay serving up Tatianna (I kinda love Vivienne, but really loathed Tatianna). By the way, why does RuPaul insist on saying Ivy Winters name that way? It's funny, but I'm wondering if I'm missing some significance.
On to rehearsing the scenes. Jinkx's Mimi is sharp as hell – love her portraying a belching, classless Mimi. The lampshade on her head is all a bit too much – Jinkx snaps a bit because the other girls are rushing the rehearsal while she's attempting to manage the lampshade, and Alyssa is being a little too bitchy. LEAVE JINKX ALONE! There's a whole city up here that'll cut a bitch!
On to the scene with Raja and Delta. Seriously Jade, a fat suit? Too easy. By the way, if I have to hear Serena go on about her art school training, I'm gonna hurl. Kudos to Jinkx for not talking about herself that way. It makes sense for Serena though, she's young, and the extent of her experience in life has been in school. I get it, but it's still gross. Even if you are insecure, butch the fuck up.
I'll give it to Lineysha, her portrayal of Tyra Sanchez is good, at least in the look, but she seems to be preoccupied with her head, and starts this bowing flail that looks like she's been overtaken by the holy spirit, or at the very least with her giant, hideous hair. But, she has managed to really bring about the Tyra-ness of it all in her vacant face. Alaska's version of Phi Phi has a Kabuki quality about it that I am LIVING FOR! Fucked up makeup, insane breast contour… perfection.
Coco Montrese's LaShauwn Beyond hair fountain is so freakin' cute I can barely deal. Monica is being really weird and disconnected – must be the weight of her MONSTROUS SERCRET!!! What could it be??? Whatever it is, everybody know's something's up. C'mon girl, you think anybody's gonna judge in that room? Wait, scratch that. At least they'll be nice to your face!
On to the runway! RuPaul is wearing… uh… a dress. Not sure what to make of that ensemble. The hair is amazing, though! Kristen Johnson and Juliette Lewis, where have you been? We miss you both – please come back soon and do more than judge reality shows!
Commerical Break! If you haven't seen the Ru-Done-It-Choose-Your-Own-Adventure Video on Facebook, you should check it out HERE. That shit's HILARIOUS! But after you're done reading this, of course.
Girls stomp the runway. Honey, what's up with your tits? Ivy comes out on stilts! A little awkward, but super cute. Vivienne's dress is AMAZING, but I'd love to see it in a longer skirt… kinda fabulous. Alyssa thinks it's Rodeo Drive, but I think she's thinking of something in Dallas – Not LA. Serena's Panamanian Carnivale ensemble is lovely, but kind of a big whatever, then suddenly GRANNY PANTIES – seriously? Jade serves Britney in the Ringmaster Outfit – yawn. Roxxxy's makeup is a little too dark for my taste, but the look is TIGHT! She's not afraid of flesh. Jinkx in a pretty amazing white number (Jamie Von Stratton, you think?), Monica brings out some Dominatrix-ness. Alaska looks fab – very Amy Winehouse, but cleaned up. Detox looks mighty couture in head-to-toe black gorgeousness!
Now to the final videos. Jinkx's Mimi Imfurst is pretty hilarious, this team is tight. As much as I HATE to admit it, Jade's Delta Work is funny – punctuating with that piece of chicken is inspired, but Serena's Raja is miles from watchable – not even close to Raja. Lineysha's Tyra is kind of perfect, language barrier be damned, and Vivienne as Tatianna is tight as hell. Ivy and Honey as Morgan and Mystique is HILARIOUS – Honey rocks the now infamous "I'm From Chicago, bitch!" line like it was her own. Detox and Alaska as Sharon and Phi Phi is funny as hell, and their own take on it in the end takes it over the top… you just have to see it. I can't bear to write it down.
Team Ivy Winters is on top – with Lineysha ultimately taking the victory. Well, she was good, but not sure if I'm totally on board for that… Vivienne, Roxxxy and Jinkx gave equally compelling performances.
Judges get to comment – c'mon Michelle! What you gotta say?
Santino calls Roxxxy Chewbacca in drag, Kristen quickly smacks him back, because Roxxxy is AMAZING in that sparkly fringe situation. Jinkx wins for best quote of the night when called out for her thirsty hair, with the reply, "I tried to tease it, but I just pissed it off." garnering a solid laugh from RuPaul (always a good sign!). Monica gets called out for not bringing Jiggly to its full possibility – seriously girl, Jiggly is a walking cartoon! – which brings up THE BIG SECRET! That's she's a TS woman. It's a tough road, girl, but I don't think she's too far in the process – hopefully they wouldn't disqualify her for that. Detox gets called out by Kristen Johnston for her "been there, done that" attitude – I'm glad someone said it. I LOVE Detox, and I totally understand that veneer of over-confidence that can be mistaken for aloofness. But shake it off lady!
Judges discuss in private, and Michelle wonders out loud if Jinkx's nose is real… the lighting did make it seem, well, a bit more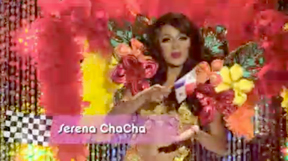 pronounced than in real life. And Kristen declares in no uncertain terms that Jinkx is "certainly the best actress up there, she's phenomenal." Duh, Kristen. Duh.
COMMERCIAL BREAK! We DID watch part of THAT SEX SHOW, too. Not great. Hopefully it'll find its way.
The bottom two? Not surprising, Monica Beverly Hillz and Serena Cha Cha (again!) and Monica stomps the hell out of that stage, sending Serena (mercifully) packing.
Apparently, the teams also had to do a team lip-sync (revealed during UNTUCKED) – I wanna see the whole thing. That shit looks HILARIOUS!
You can see this week's episode here, or click on over to the LOGO site:
(Visited 8 times, 1 visits today)