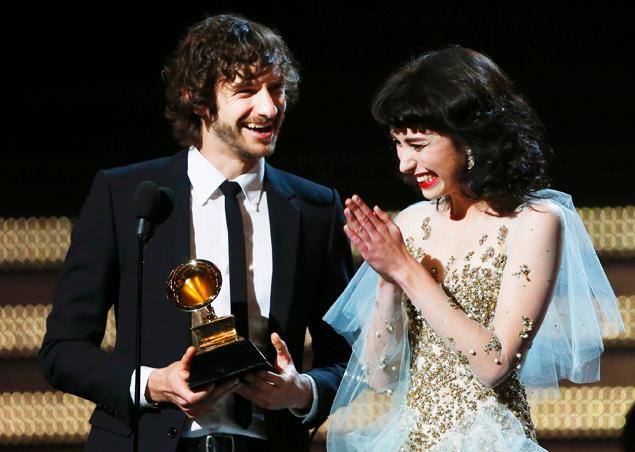 Oh, how I love the Grammys. It's the time of the year where I pull out my inner asshole and nitpick at this 3 ½ hour spectacle. So here we go. First all. I'm a bit confused of why LL Cool J was the host again this year. Is it because he did such a dynamic job last year that they just had to bring him back? Or is it because he happens to be on tv show on the same network? Yeah. LL brought nothing to the show and less to the duties of a host.  Your job is to entertain me darn it. Yes, that's what the performers are there to do, but is it not the job of the host to bring some spunk and entertainment to the show as well? The host is the driver of this ride and I was just bored. So the show begins with more oversaturation of the perky Taylor Swift. Then we had to see her 25 more times throughout the show. Cause for whatever reason the cameras decided to cut to her every time a new performer came onto the stage. So we could watch her dance, then sing along, then dance and sing along. While she is very adorable, I want Taylor Swift to go on a long vacation.  Pleeeeaaaasseeee…..
Hi Elton!  I was elated to see Elton John on the show, but sad to see that little boy he performed with. What a treat it would have been to see him perform one of his own songs, but he made it all up to us with the Levon Helm tribute that was chock full of awesome with Mavis Staples, T Bone Burnett, Elton John and Alabama Shakes. Holy crap they were amazing!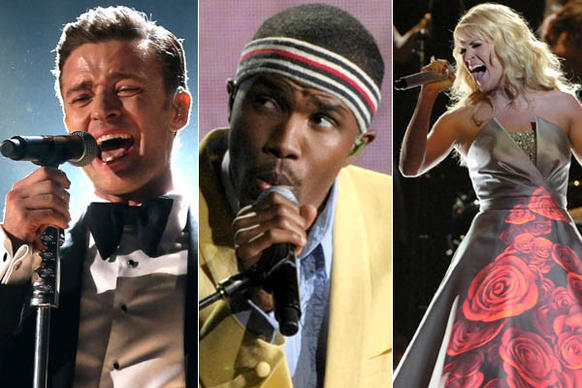 Justin Timberlake… Outstanding. Really.
What a wonderful performance with a beautiful orchestra, just a classy classy show. Hopefully he'll tour with his upcoming new album; guaranteed it will be an amazing show!
Frank Ocean.
While I'm happy he won some awards, his performance was…hmmm. I don't even know what the hell was going on there. The video of him running that was playing below him standing still and singing, with a yellow suit, and a sweatband. And his Forrest Gump song? Are you sure? I kept waiting for the punchline, for Frank to say "Psych, here's the real song". This is as close as we got to our Nikki Minaj of 2013 performance, except way less interesting.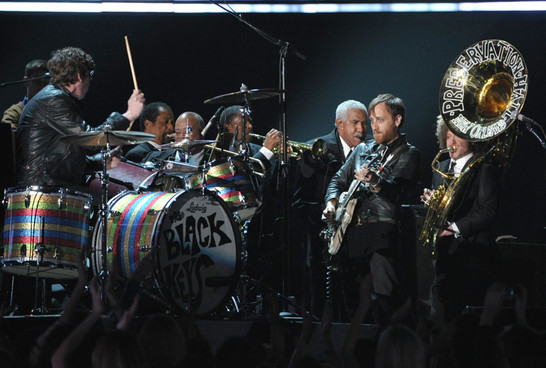 The Black Keys to me are one of the greatest bands ever formed. Ever. So they win the Best Rock category, sure. This category has always been questionable. They were up against Coldplay and Mumford & Sons. What? Are these bands rock? No, but the Grammys have never known what to do with anyone that's not pop or country so I guess this is where they will all continue to live.  At least The Black Keys won, as they were the closest band to rock in there. And their performance with Night Tripper, Dr John and the Preservation Hall Jazz Band was really something else. It was all these things that might not work together, but did, and really well. I really wish that Maroon 5 would take a hike, forever. I really cannot stand this group. Adam Levine sounds like  he swallowed a dirty high pitched frog. Why do people like these guys? Yeah, yeah, he's good looking, but that is just not enough. They are just bad and I don't know why I have to continuously be tortured by their presence. Ugghhh.
The only saving grace of this was when Alicia Keyes came on and momentarily turned into Sheila E, which is pretty awesome. She had the misfortune of singing with Adam Levine, but thank goodness she drowned him out for most of the song. Here's some of what I call "The Special Moment" of the show:
So glad the orgasm shampoo commercials are back. Gross.
Rihanna, I'll spare you from the all too obvious Chris Brown jokes and move onto that guy that was singing with her. He's in a nice suit, and a knit hat? Was it snowing in there? And the set decor with the random pillars that were placed on the stage looked like they were just there to fill some space. She looked as lovely as always though and while I'm not a reggae fan, the Bob Marley tribute they did was pretty great.
Jay Z, Frank Ocean, and The Dream.  They give their acceptance speech and the music starts to  cut them off, but then Jay Z starts talking and the music stops. I've never seen them do that for anyone, chances are Jay Z pays their bills.
J Lo's dress. It could have been something, but it just looked weird, like her stylist had an accident with a pair of scissors backstage and they just decided to go with it.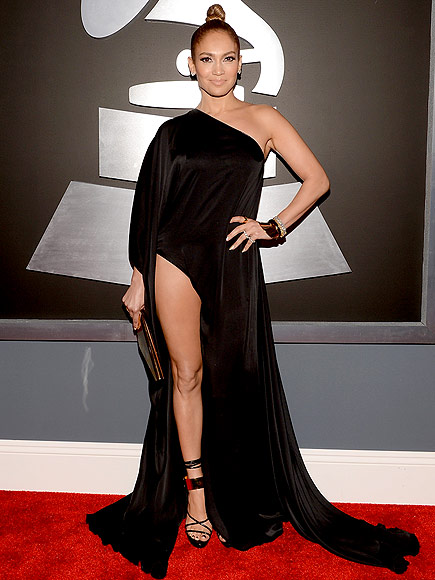 Johnny Depp, why are you still dressing like a pirate? I'm really confused.
Then Katy Perry's boobs came out to present an award.
This little Hunter Hayes boy, the country version of Justin Bieber with purposeful bedhead and deep thoughts painted on his piano. I tried hard to keep my dinner from coming up.
The Dick Clark "tribute", was no tribute at all. While we all made fun of the fact that he never aged, he was an innovator for the music industry and gave so many performers their first shot on tv with American Bandstand. LL Cool J took this opportunity to turn the "tribute" into "look I was on American Bandstand and how awesome am I". I was horrified that the word tribute was even used for that sad sack of a segment. Couldn't believe it.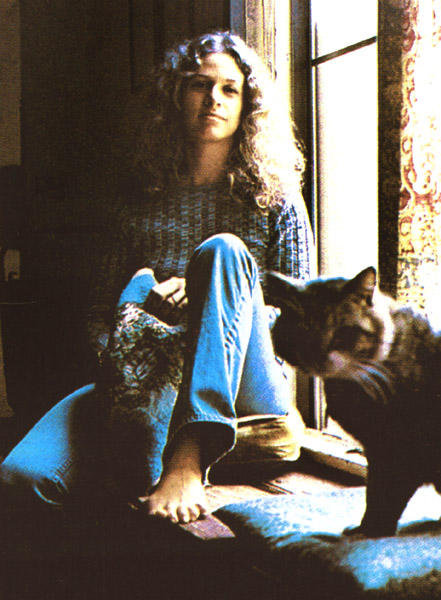 One of the biggest things that sticks in my craw is why have the Grammys moved the Lifetime Achievement Award ceremony to earlier in the day so we can't see it? I miss that segment. Sure it takes some time away, maybe we have to skip one crappy performance that we should have skipped anyway. A couple of minutes on a retrospective, a couple of minutes on a thank you speech and a one song performance. If you're really honoring these people, show them some respect and give them a proper ceremony. The recipients this year were Patti Page, who has passed on, but they still could have spent a couple of minutes on her career. But Carole King is still here, still performing, and still writing. She has written some of the most famous songs ever recorded in music history and is a freakin' icon. Why couldn't she come out and perform her own song instead of Kelly Clarkson? The girl has a lovely voice, but I don't understand when the performer is still well and active why not stick with the original. And Kelly Clarkson only did a portion of a song. That's another Grammy thing that has to stop. Singers performing a half of a song. Again, some genius came up with this idea to save time, but I find it insulting to the artists and just a teaser for the audience. I need to take over this show!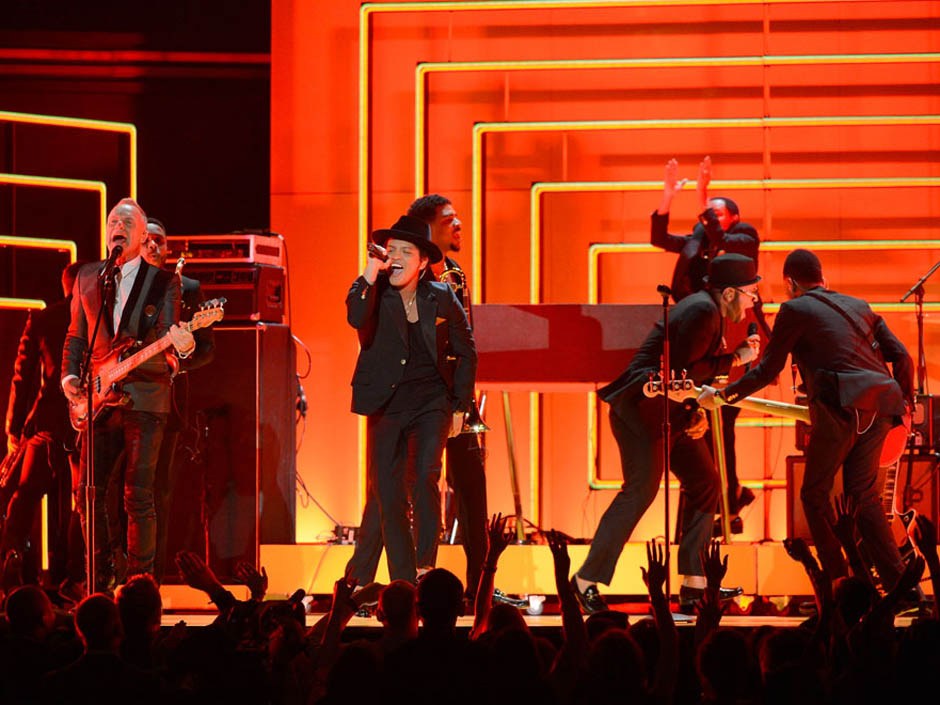 Bruno Mars is really one of the greatest performers to come around. His band is tight, they dress sharp, the choreography is great and they just put on a hell of a show.  And when Sting  came onto the stage, it blew me the fuck away. Bruno and Sting's voices just meshed beautifully. They did a great easy transition into "Walking On The Moon". This was incredibly cool.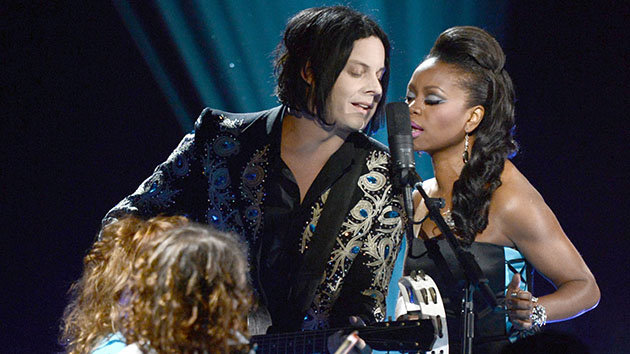 Jack White and that hot girl. They sang really freakin' good together. Jack, keep this girl around!
After their song, Jack White hopped over to the other side of the stage and just plain ole' killed it. That's a proper rock performance if I've ever seen one! I'm really liking him more and more as time goes on, and especially him as a solo artist with a backing band. This is what he should stick with.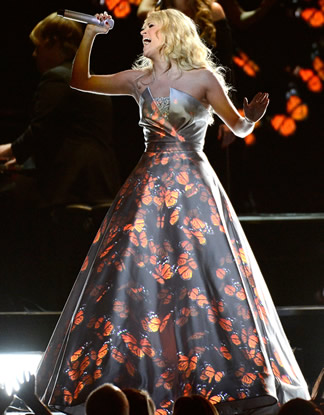 Wow Carrie Underwood! I'm not a country fan, but that "Blown Away" song is really good. I loved the performance with the first part of the song performed acoustically and the remainder with an orchestra. It was unique and so well done.
And then there was the dress. I knew something was gonna happen with that dress. Of course I thought tiny people or monkeys would come crawling out from underneath cause that thing was way too big to just sit there while she sang. I did not predict the light show that was gonna happen on that dress though. I kind of liked it for the first minute or so, but then I was just over it. I don't know why, I just was. Then all I could think was it must have been hard to stand that still for 5-6 minutes while singing. Hmmm.
Oh Prince. He will always be one of the great loves of my life (loved him since 1985 yo!). But I have to admit I laughed when he first came out onto the stage. Not in a mean way, I guess because I was caught off guard that he had his sunglasses on and a cane. I should never be surprised by him or what he wears, yet I still am. Maybe that's a good sign that he'll never bore me…I still love him so. He did take off his glasses which I was pleased to see, and all was well. The "Record of the Year" category was the first nomination (that we saw) for Goyte that night and I was so pleased to see him win. Goyte gave a lovely speech honoring all musicians that make music. How awesome is that?! (I still want Maroon 5 to go far far away!).He deserved that award and deserved the honor of receiving it from Prince. Can you imagine? Before he reads the winner Prince says "I love this song" which, if I was Goyte would make me crumble to the floor. THEN, Prince hands him  the award. I would have just passed out, right there on the stage. And it wouldn't have been a big deal because everyone would have understood why.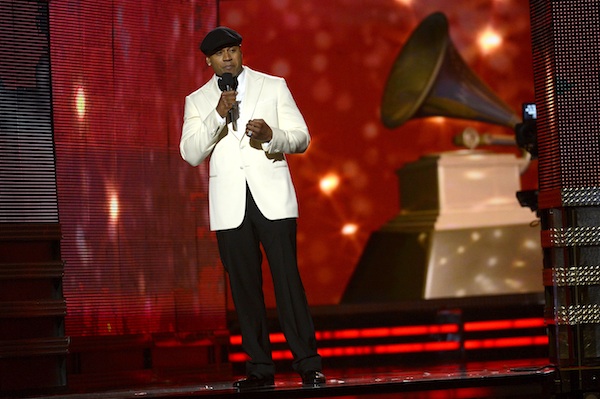 And lastly, LL Cool J's performance closed the show. That was super tacky and fuck the director that allowed it. Here's something we need to do away with, the host performing anything but jokes! And that Rap/Rock song? It sounded like it was from 1995 and sucked so bad that I couldn't even believe it was happening. THEN he did a part of the Beastie Boys song "No Sleep Til' Brooklyn"! I would have spit in his soup had he been near me. The only thing that saved my television from sailing out the window was that Chuck D was in the band. He's a god to me, and despite him associating himself with that painfully bad performance he will always be forgiven, cause he's awesome, and he's Chuck fuckin' D. LL managed to turn this year's Grammys into his comeback. It's like he wanted to show the kids and remind us that he's not just an actor, but a rapper too. Well I got news for you LL, while you were awesome in late 70's and early 80's, you weren't THAT awesome. I personally have never heard one person say they wish that LL Cool J would rap again. We were pretty satisfied with what you put out back then. You moved on and became an actor, and we're ok with that. Actually I think we prefer it. So with that, how about you make a career comeback on your own time mister and not on mine! (Whew! That felt good!)
So overall the 2013 Grammy's had some great performers and performances but I would have loved to have seen more of what I like to call "what the fuck is that" acts. Nikki Minaj, trainwreck that that girl is, I will NEVER forget that crazy ass shit she did last year. I want more of that! This year was too tame, we need a little more wacky to go with our mellow because that's what makes these awards show worth watching!
Tags: The Grammy Awards