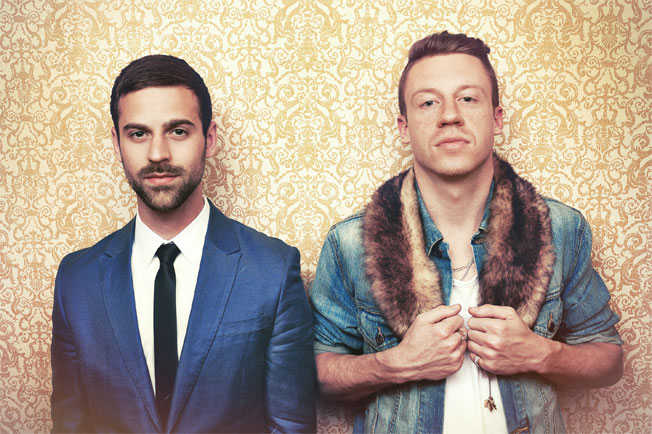 All sorts of rumors are slithering out about tonight's (Sunday, January 26) live airing of the Grammy Awards and most of them seem to be centered on Seattle's own Macklemore & Ryan Lewis, who are up for 7 awards including multiple nominations for their hit "Same Love" which has become an anthem for marriage equality. The big poo seems to be:
34 couples: gay, straight, of all races will be married LIVE onstage during the performance of "Same Love"
The ceremony will be officiated by Queen Latifah.
Queen Latifah, perceived by many to be a closeted lesbian, will publicly out herself during the number.
Madonna will either: 1) Co-officiate with Latifah on the ceremony, or, 2) join in on the singing, or, 3) completely replace Mary Lambert, the co-writer and co-performer on the song.
The choice of number 3, is hopefully not true because the idea that Madonna would usurp Seattle native Mary Lambert, an out lesbian, during her moment in the Grammy spotlight have most of us outraged…
We're guessing that some of these are happening…there will be a ceremony, Latifah is officiating and maybe Madonna is joining in at some point.
We wouldn't hold our breath on Latifah coming out.
And, Granny Madonna had best not replace Our Mary on the song or there will be hell to pay…
And, the best of luck to Mackelmore & Ryan Lewis and the adorable Mary Lambert. We hope they win ALL the Grammys.
The Grammys air on CBS and stupidly, NOT live for the West Coast. Unlike the Oscars which are aired live, only the East/Central time zones get live Grammy coverage, despite the fact the Grammys are held in Los Angeles. Stupid. The show "starts" at 8 pm. No idea when "Same Love" is being performed.
We're also guessing many area bars will be showing the Grammys on their televisions.
Tags: Macklemore & Ryan Lewis, Mary Lambert, Same Love, sgsapp, The Grammy Awards