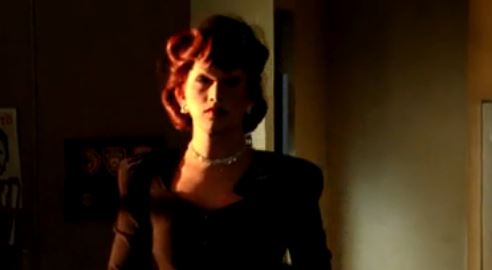 Our very own Miss Jinkx Monsoon/Jerick Hoffer is ALL over this trailer for the BLUE BLOODS episode he filmed a couple weeks back, which apparently airs THIS Friday, January 31, 2014 at 10 pm,  on the geriatric network, aka CBS. Jerick's the top billed guest star and he's apparently the main attraction in the trailer….our little "RuPaul's Drag Race Season Five" winner is moving on up in the entertainment world.  Check out the trailer:
But, "TIFFANY CASE" as a drag name???!!!??? Really? How camp….and, lazy writing. That would have been a cute name…when Hitler was in diapers. And, note that "Tiffany Case" is the name of the murder victim. Jerick's character is named "Tallulah/Dennis" and the episode title is "Manhattan Queens". Here's the press release from CBS:
Series Star Donnie Wahlberg Directs Blue Bloods for the First Time

"Manhattan Queens" — Danny and Baez investigate the murder of Tiffany Lamp, a popular drag queen from a reality television show who was found murdered in a local park. Meanwhile, Erin reexamines a drug case scheduled for trial after she is abducted by the accused man's mother, on BLUE BLOODS, Friday, Jan. 31 (10:00-11:00 PM, ET/PT) on the CBS Television Network. Series star Donnie Wahlberg directs BLUE BLOODS for the first time.
Oooooh….and, does Jinkx get it ON with Donnie Wahlberg and his HAWT bubble butt??!?!?!?!?!?!? (Note: Donnie also DIRECTED this episode!)
(I won't even comment on the presence of Miss Selleck in this trailer…rolls eyes. But, I do wonder if it brought back fond memories to TS of ye olden days on the Islands filming "Magnum" and hitting the drag shows in Honolulu….)
We'd hunt down Miss Monsoon and ask for details about the experience, but Jinkx/Jerick is off in Australia with Major Scales doing THE VAUDEVILLIANS all over the Oz continent. It's summer down there right now,  so they're dealing with some TORRID heat!
Lucky them. We'll just have to keep warm by watching this hot episode of BLUE BLOODS.
Maybe, Jinkxy can become a semi-regular??!?!?
(Visited 8 times, 1 visits today)