Hometown music heroes Macklemore & Ryan Lewis nabbed 4 of the 7 Grammy Awards they were nominated for last night at the 56th Annual Grammy Awards in Los Angeles winning Best New Artist, Best Rap Album ("The Heist), Best Rap Song (for "Thrift Shop") and Best Rap Performance (for "Thrift Shop"). The Seattle natives lost Album of the Year to French electronica group Daft Punk and Song of the Year to Lorde for "Royals".
And, while most of Seattle was pleased about the Grammy wins for Macklemore and Lewis, some rap fans weren't pleased that white artists swept the awards in the Rap category, with others insisting that Macklemore is more a pop act than a rap act. Apparently, Macklemore himself tweeted that he was surprised they won for Best Rap Album over Kanye West and Kendrick Lamar.
But, the highlight of the evening for Seattle and for the LGBTQ audience worldwide, was the live performance of "Same Love" the song that became an anthem for marriage equality last year and was nominated for Song of the Year. The much rumored about number included Queen Latifah who married 33 couples of various genders live during a break in the song, and the presence of Madonna who fortunately didn't replace the song's soloist, Seattle singer Mary Lambert. The touching number had people in the audience at the Staples Center in tears, as well as many at home and received much praise from the community on social media.
As for Madonna, many people were confused by her unnecessary presence during the song…her moment singing a few bars of her old song, "Open Your Heart" before joining Mary Lambert to sing along with her on the melody of  "Same Love", wasn't really needed. And, there was concern about Madonna's appearance. The 55 year old singer used a cane on stage and vocally, was not very strong. The cane was attributed to Madonna injuring herself during a dance rehearsal last week.
Sadly, Queen Latifah didn't have any big "announcements" to make but we think she was metaphorically winking at the camera as she married all those couples. Also, they announced 34 couples but apparently only 33 were wed…who chickened out?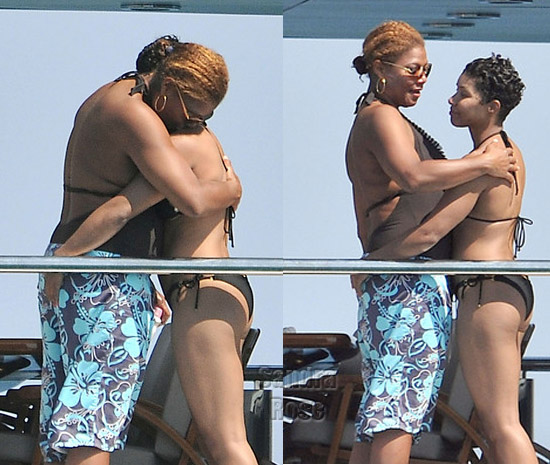 As for the adorable Mary Lambert, she looked and sounded terrific; her red sequin gown was beautiful. We doubt if she'll wear it in her upcoming show at The Showbox, this Saturday, February 1st, but we can always hope! (Tickets still available for the show! ONLY $15!!!!)
And, big congratulations to Mackelmore and Ryan Lewis on their wins at the Grammys…do they get a ticker tape parade? A key to the city? All the virgins they can eat? A bucket of Ezells?
Go here for a full list of winners.
Tags: Macklemore & Ryan Lewis, Madonna, Mary Lambert, Same Love, sgsapp, The Grammy Awards