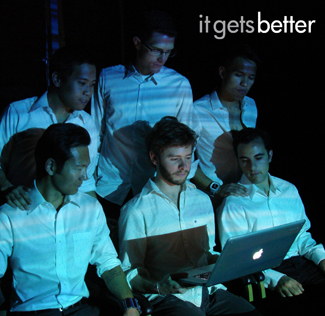 The constant evolution of Dan Savage and Terry Miller's "It Gets Better Project" continues to amaze us. Starting as a grassroots effort from partners Dan and Terry to record video messages from gay adults supporting gay youth dealing with the complications of coming out in homes and communities where they aren't necessarily accepted, the project quickly became a major social media revolution that led to national awareness about gay youth and bullying, and subsequent projects that have included a book, Emmy Award winning television specials. The spirit of the "It Gets Better" movement continues to thrive with a stage project that will debut this Saturday night, February 23rd at Seattle's historic Moore Theater in collaboration with the Gay Men's Chorus of Los Angeles (GMCLA), the University of Washington Chorale and Seattle Theatre Group. Here's more skinny:
It Gets Better theater project is the upbeat, exciting, and funny narrative and musical that includes moments of pain and pathos from the "It Gets Better" you tube videos and project, started by Seattle's Dan Savage. The work explores what "better" means for LGBT youth through stories, songs and multimedia on an array of challenging themes. With its unqualified support of all young people, It Gets Better creates and unites allies in solidarity against the pervasive (and growing) climate of bullying and teen violence.

A 6-member cast of the Gay Men's Chorus of Los Angeles (GMCLA) has partnered with the UW Chorale, from the University of Washington, and over the course of a one-week residency, these artists has collaborated with other local performers, citizens, and educational and government institutions in building a community performance responding to the issue of bullying in local schools, culminating to the staged musical program at The Moore Theatre on February 23rd.
Tickets are still available for this event at the STG website. And, check out this video from STGtv with Dan Savage discussing this project:
(Visited 1 times, 1 visits today)