February 21, 2013

•
by
Seattle Gay Scene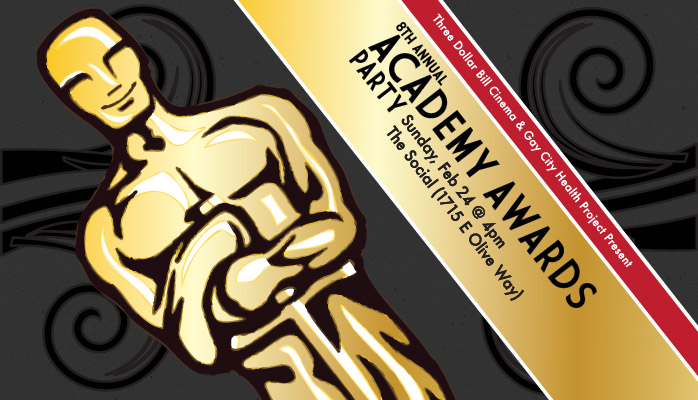 It's Oscar Season and the Big Day for Hollywood is this Sunday, February 24 starting at 4pm with pre-show fun. As usual, it's on ABC, but if you don't want to watch it at home, or haven't been invited to a friend's Oscar watching party, you can always head to Gay City Health Project and Three Dollar Bill Cinema's big annual Oscar watching bash…at The Social.
If it's open for business.
UPDATE: The WSLCB will allow The Social to be open for the Oscar Party on Sunday! We've received word from Gay City that it's a go...GET YOUR TICKETS and support Gay City/Three Dollar Bill! Ogle the Oscar Go Go Boys!
Yes, our favorite disaster of a night club was chosen to host this year's event due to a number of factors. The previous venue for the event for the last several years, the obviously superior Cinerama was not available and since one of The Social owners, the Pterodactyl Group's Laura Olson is on the board at Three Dollar Bill, she offered up her flailing, "it was gay, but the gays didn't like it, so now it's a tacky straight club that's causing huge problems in the neighborhood including a shooting and it's in danger of losing its liquor license" business as this year's party central for Oscar watching.
The problem is, the Washington State Liquor Control Board is displeased with The Social and its ownership, and there is nasty fighting going on between the WSLCB and Pterodactyl Group. Capitol Hill Seattle has the full story but what it boils down to is, The Social has inexplicably been operating on a temporary license since opening in May of last year and the Board is apparently not inclined to grant it a permanent license based on alleged incidents at the club and the huge number of complaints from both commercial and residential neighbors that include noise issues and problems with traffic control, littering, public drunkeness, crowd control and vandalism. (Check out the comments at CHS…most of them are from angry neighbors).
The Pterodactyl Group has responded to these charges from the WSLCB by actually suing the state board, which is rather a bold move from a company that primarily earns its money from selling booze in its various clubs and eateries that include Po Dog and Auto Battery. We've heard there was a hearing scheduled yesterday about the situation but haven't discovered what the outcome was. Update: As noted above, the WSLCB allows The Social to be open for the Oscar Party. The Social was shut down by the WSLCB last weekend; we've heard through sources that the Oscar Party does have a back up plan if the club remains shuttered…the party would move to another Pterodactyl owned venue. If the Three Dollar Bill/Gay City event moved to the Group's Grimm's/the Woods space on 11th, it would ironically put the party one door down from Purr/SGN's annual Oscar Party.
As for the Three Dollar Bill/Gay City Oscar Party, it sounds like the usual amount of fun and we hope it comes off. Both groups are important members of our community and they deserve to be supported. This year's party features the divine Robbie Turner and Andrew Tasakos as hosts and the usual array of glittery go go Oscar boys, raffles and fun o'plenty. You can still get tickets to the event, regardless of locale, over here. Here's hoping this year's event comes off without a hitch AND they're able to have next year's event at a much more suitable location free of any drama.
After all, the Oscars aren't about drama…they're about who wears what on the Red Carpet.
(Visited 2 times, 1 visits today)
Related Posts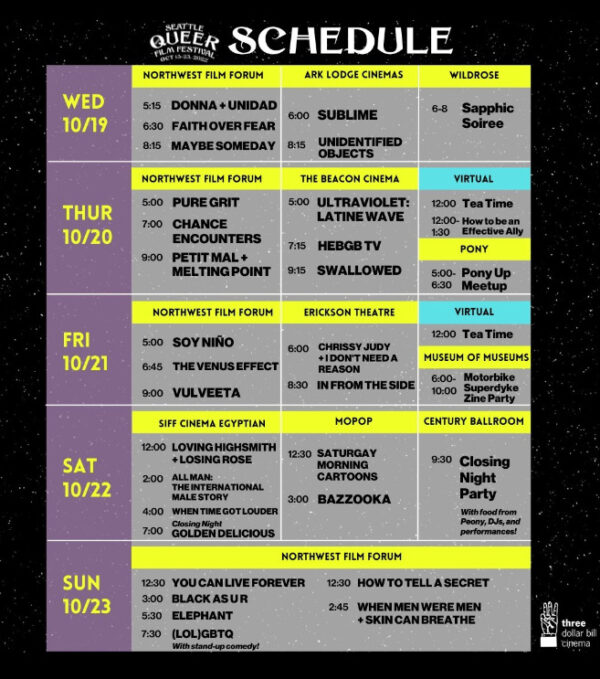 *Resist. Protest. Obstruct. Inform. • *Seattle Cinemaland • Arts • Arts & Entertainment • Arts News • Capitol Hill News • Community • Community Events • DJ Dance Party • Film • Film Events • Film Festivals • Geek • MoPOP • News • Nightlife • Pop Culture • Queer Film • Queer News • Seattle Lesbian Gay Film Festival • Seattle Lesbian Scene • Seattle News • Seattle Queer Film • Seattle Transgender Scene • Stuff to Do • Three Dollar Bill Cinema • Trans* Arts & Entertainment • Trans* Events • We Love The Nightlife • Weekend Calendar • Women's Arts • Women's Events
There are all sorts of good films, programs and events
...