April 18, 2013

•
by
Seattle Gay Scene
It's a slight head scratcher but the Balagan Theatre has announced their line-up for the 2013/14 season which begins in September, and….it looks like it's going to be an all-musical kind of year. They announced a couple months back that Seattle native, but Broadway transplant, Louis Hobson was returning to town to become Balagan's new artistic director..Mr. Hobson is best known for creating the role(s) of the doctors in the award winning musical, "Next To Normal". It was also announced at that time that Balagan's first production of the season would be an intimate, "chamber sized" rendition of the insanely beloved show, "Les Misérables" starring Mr. Hobson. Given the fact that Balagan's current season included three musicals and one play, the currently running (and superb) "August: Osage County", it seemed like Balagan was definitely swinging into emphasizing musical theater over straight drama direction.
The news release yesterday seems to confirm that…in addition to "Les Misérables" which will run September 6 through the 28 at the Erickson Theater on Capitol Hill, Balagan's current home base, the company will stage two more musicals before the end of this year, and at least one more musical and a yet to be named show in 2014. And, the second show of the season is a real doozy…the notorious stage musical retelling of Stephen King's classic horror novel and subsequent iconic film adaptation by Brian DePalma of "Carrie: The Musical". Musical theater aficionados of disastrous shows are all well aware of this well documented flop which prompted the title of a book on the subject of bomb musicals, "Not Since Carrie" (highly recommended reading for all musical theater nerds…). "Carrie" began its musical life in 1984 with workshops before advancing to a fully staged production in the UK and an eventual Broadway run in 1988. While many of the songs were praised, some awkward staging and an inability to convincingly portray the many special effects required for the show, doomed it to failure but "Carrie: The Musical" lived on. Heavily reworked, the show was remounted off-Broadway last year with many of the problems worked out, and the lush score emphasized and improved upon and the show earned strong reviews. Finally, after much demand, the creators of "Carrie: The Musical" have authorized the show to be produced nationally and Balagan snagged the rights to the Northwest premiere staging of the show.
Balagan's "Carrie" will run October 11-26, 2013 but not at the Erickson…it was also announced this spring that Seattle Central Community College was resuming control of the Erickson after leasing it to Balagan for the last two years; the college wishes to utilize the space for classes and academic work but will continue to rent out the Erickson to independent groups when available, with Balagan getting a priority to book the space. For "Carrie", the Balagan will once again team up with Seattle Theatre Group, and similar to the two group's co-production of "Hedwig & The Angry Inch" starring Jerick Hoffer back in January, "Carrie" will be staged at The Moore Theatre in downtown Seattle. Additionally, Balagan's only announced show (so far) for 2014, "Jerry Springer: The Opera" will also be at The Moore and a co-production with STG. That show will run January 10-26, 2014.
The final Balagan show for 2013 will be back at the Erickson, and it's also a lulu, just not one as famous as "Carrie"…"A Very Merry (Unauthorized) Scientology Pageant" is from the creators of the hip off Broadway hit show, "Bloody, Bloody Andrew Jackson" and it's a sizzling parody of all things Scientological…
In a humble manger, surrounded by parents, barnyard animals, and angels, precious baby L. Ron Hubbard is born. Wait, WHAT?!? A Very Merry (Unauthorized) Scientology Pageant takes the jubilant, candy-colored scene of a traditional Christmas pageant and gleefully turns it upside down for a satirical dissection of the actual teachings of The Church of Scientology. A cadre of Seattle's funniest actors play a cast of children who reenact the story of the evil alien prince, Xenu; portray starry Scientologists like John Travolta and Tom Cruise; and use stick puppets to explain the e-meter, used to monitor the human psyche.
"A Very Merry (Unauthorized) Scientology Pageant" will run November 22 to December 21, 2013…we're not sure, but it might have to become a yearly holiday tradition like ACT's "A Christmas Carol".
The final show of Balagan's season will be announced at a special fundraiser/party on June 3, 2013. Season Tickets for the 2013/2014 season are on sale now. You should grab them while you can…we know a lot of people are aching to see the bloody wrath of Carrie White set to a bouncy tune.
Crossing fingers it's an all-drag version…we want to see Jerick "Jinkx Monsoon" Hoffer as Carrie; Ben DeLaCreme as mean girl, Chris; Robbie Turner as nice girl, Sue; Mama Tits as the gym teacher and Mark Finley as the crazy mother Margaret…That would be AWESOME! Plus, all their "dirty pillows" are hand washable!
(Visited 1 times, 1 visits today)
Related Posts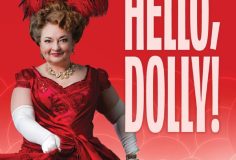 *Seattle Theaterland • #Theater and Stage • Arts & Entertainment • Seattle Area Theater and Stage Preview • Stage
Compiled by Miryam Gordon from press releases. Musicals seem to
...