Shockingly, there are plenty of tickets still left to see the opening night of Aqua's BARBIE WORLD tour at Seattle Theatre Group's Paramount Theatre on Sunday, November 12th
Has Barbie Fever already subsided?!?!?
Has Kenenergy taken over the world?!?!?
Is there some way I can blame Swifties?!?!?!? (I hope so….)
Irregardless (it's now a 'real' word! I swear!) of all this blarney, what it really means is that you can still snag tickets to enjoy Scandinavia's ***5th most beloved pop music band! Go here: https://www.stgpresents.org/calendar/14621/aqua
In an exhilarating blast from the past that's set to resonate across the nation, AQUA, the Danish dance-pop powerhouse, is poised to embark on their eagerly awaited "Barbie World Tour" across the United States this fall. Fresh off the sizzling success of their sold-out headline shows at New York's Irving Plaza and Los Angeles' The Belasco this summer, the trio is poised to embark on an eagerly awaited nationwide tour, recapturing the hearts of fans across the country.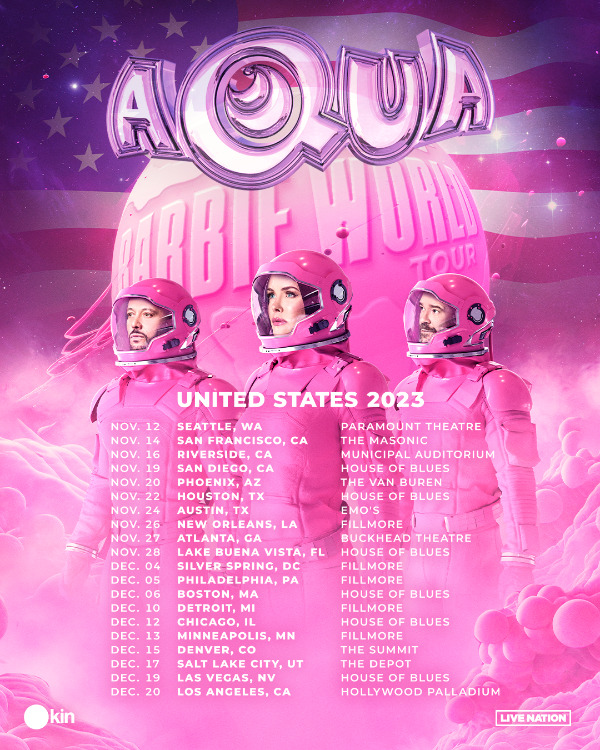 AQUA's indelible mark on the musical landscape was forged back in 1997 with their debut album Aquarium. A collection that birthed hits like "Turn Back Time," "Doctor Jones," and the iconic "Barbie Girl." The latter, a sensation whose catchy lyrics and vibrant charm had billions worldwide playfully echoing "I'm a Barbie Girl in a Barbie World". With a music video that encapsulated the whimsy of the era, "Barbie Girl" soared to chart-topping heights, etching itself into the cultural lexicon as an inimitable classic.

Reclaiming their position in the limelight, AQUA's astounding journey continues with the revelation of their "Barbie World Tour." With a remarkable 38 million albums and 7 million singles sold to their name, the group's signature tunes remain the soundtrack of a generation. The "Barbie Girl" music video, having surpassed a billion views on YouTube, stands tall as a testament to the song's enduring resonance, even asserting its presence on Instagram Reels.

Marking its debut on November 12th in Seattle, the "Barbie World Tour" will embark on a captivating cross-country journey, hitting iconic venues along the way. Brace yourselves for a kaleidoscopic explosion of 90s wonder, where glitter, pink and pulsating beats reign supreme.

In the wake of AQUA's recent American triumphs, securing a ticket to the "Barbie World Tour" is poised to be a scramble to remember.
***Perhaps up for debate but we'd rank it as:
ABBA (duh)
A-ha
Roxette
Ace of Base
Aqua
If you include Iceland under the Scandinavian banner, then The Sugarcubes could bump Aqua to number 6.
Drøfte.
(Visited 39 times, 1 visits today)