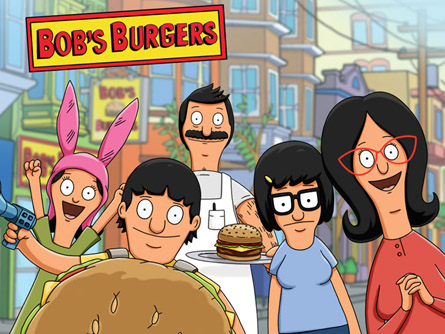 There are two brilliant animated shows on television right now and neither features the talents of a "Simpson" or the contributions of Seth MacFarlane…but, they both feature the zexy voice talents of comedian H. Jon Benjamin. "Archer" is one of those amazing cartoons and the other is "Bob's Burgers" and Mr. Benjamin and the entire cast of "BB" is heading to Seattle's Neptune Theater in the University District this week for two big shows on Wednesday & Thursday, May 8 & 9.
The quirky comedy about the schlebby Belcher family who live above their greasy hamburger diner in an ill-defined East Coast city, has become a cult favorite as part of Fox's Animation Domination block of animated shows on Sunday nights. Renewed for a fourth season, the show was also recently purchased to air repeats on Adult Swim, beginning this summer.
"Bob's Burgers Live" sounds like a crazy idea; after all, it's a cartoon. But, the cast of "BB" are all brilliant comedians and similar live readings/performances of cartoon shows have been a big hit at San Diego's Comicon. Joining Mr. Benjamin will be co-stars, Eugene Mirman, (son Gene); Kristen Schaal, (conniving youngest daughter Louise); Dan Mintz, (deadpan eldest daughter Tina) and John Roberts as Bob's pushier than thou but well meaning wife, Linda. The cast will perform material from the show, introduce clips and answer audience questions. We're also guessing that the language might be a tad bluer than your average "Bob's Burger" episode…at least, we hope so.
Tickets for both shows are still available at the Seattle Theatre Group website. It's an all-ages show but the Neptune does have a bar for the 21+ crowd.
All five of the actors are funny as hell and professional stand-up comedians so it should be a killer show. Highly recommended.
(Visited 1 times, 1 visits today)