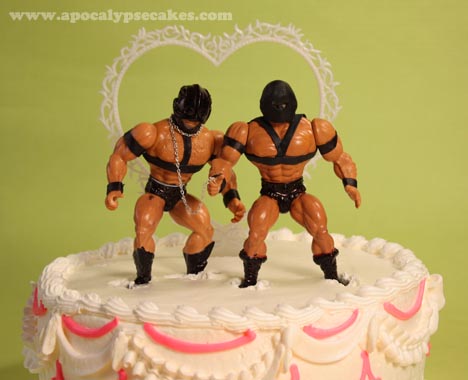 So many of our coupled friends have already tied the legal wedding knot since the passage of marriage equality in Washington State in November, that we sometimes forget there are still a few of you out there who haven't jumped the broom. For those of you struggling with venues, cake options and the the never ending fight over who will wear the Vera Wang, there is help available…
The 5th Annual Seattle Gay & Lesbian Wedding Expo is this coming Sunday, May 19, 2013 from 1pm to 4pm at the Crowne Plaza Hotel, 1113 Sixth Avenue in Downtown Seattle, and a buttload of wedding experts will be on hand to help you pick the correct fondant, cummerbund, DJ, and floral bouquet for your Special Day.
Soon to be announced: The 1st Annual Seattle Gay & Lesbian Divorce Expo at a venue to be announced.
Hey! We're not being negative or snarky! You get legal marriage, you're also gonna get legal divorce!
It's a community property state…girls and gurls need to know who to call to get the best deal and what vacation spot to relax in after the turmoil of your failed 8 month long love affair. WHERE do you go to spend that alimony!!??
(Visited 1 times, 1 visits today)