French director Alain Guiraudie's latest film, L'Inconnu du lac won Best Director in the Un Certain Regard sidebar of the Cannes Film Festival last month, and also picked up the "Queer Palm" for best LGBTQ film. The French language film will be known as "Stranger By The Lake" in English speaking markets; no word on an American premiere, but the film's critical acclaim will undoubtedly get it some play at film festivals and art house cinemas in the US. "Stranger" is opening in France and other French speaking territories this week, but the film's themes and contents have alarmed conservatives in France, and the film's poster has triggered outrage and censorship.
From Deadline Hollywood:
In the Parisian suburbs of Versailles and Saint-Cloud, a series of promotional posters was pulled at the request of the individual town halls, ad agency JC Decaux told AFP. The mayor's office in Saint-Cloud said it had been "harassed" by phone calls and emails about the poster since it went up last week. Versailles says it did not contact JC Decaux, but a rep told French media it was understandable that the image "could shock people who find themselves disarmed by posters in the street that address sexuality."
Same sex marriage was approved in France in May, but French conservatives are still resisting the move to equality; Versailles and Saint-Cloud are both old money conservative suburbs of Paris. The rather arty poster for "Stranger By The Lake" abstractly depicts sexual shenanigans between men at a cruisy beach resort. The sexually explicit thriller involves murder and a dangerous sexual relationship between two men; the frank nature of the film and the fact that it depicts promiscuous and illicit public gay sex has rattled conservatives…and, made it a must see film for many fans of queer cinema.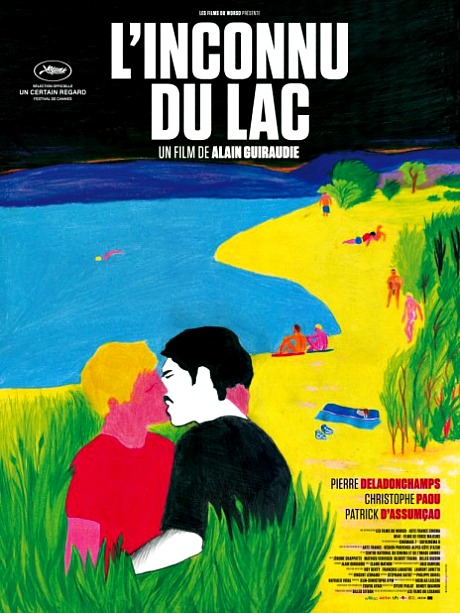 Frankly, that poster is gorgeous and the film looks terrific…go here to read a review.
Dear Three Dollar Bill Cinema….please tell us that it's going to play the Seattle Lesbian & Gay Film Festival in October!
And, check out the NSFW trailer over HERE. It's not hardcore, but there is male nudity.
(Visited 1 times, 1 visits today)