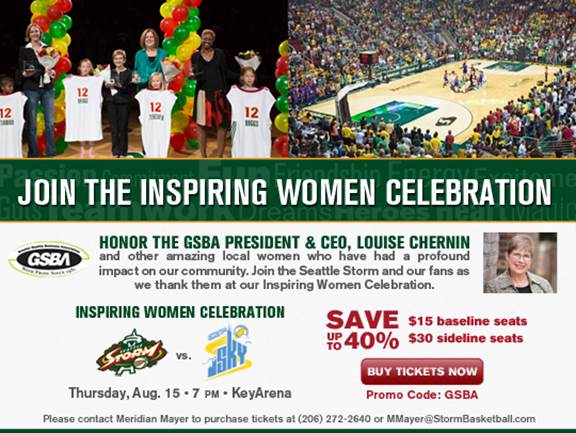 Seattle's championship winning women's basketball team, The Seattle Storm, will honor 4 inspiring Washington women tonight at their game at Key Arena.
Former Washington State Governor Christine Gregoire, GSBA President Louise Chernin, local educator Kaaren Andrews and former University of Washington basketball player Melissa Erickson will all be honored at a ceremony during halftime at tonight's game versus the Chicago Sky.
From the press release from the GSBA:
The Seattle Storm has announced that Louise Chernin, President & CEO of the Greater Seattle Business Association (GSBA), is a recipient of the Inspiring Women award for 2013. The other three honorees are: local educator and principal at Interagency Academy Kaaren Andrews, former University of Washington basketball player Melissa Erickson and former governor Christine Gregoire. A celebration of the Inspiring Women honorees will be held at halftime of the August 15 Storm game vs. Chicago.

"Once again, we have amazing women we are honoring in Kaaren, Louise, Melissa and Chris," said Storm President & CEO Karen Bryant. "Their experiences and successes are truly remarkable and we are glad to have the chance to celebrate them."

Louise Chernin is the President and CEO of the Greater Seattle Business Association. She has led GSBA to become what is now the largest LGBT chamber in the United States with more than 1,000 members. Chernin was named by the Puget Sound Business Journal as one of the top 20 most influential women in Puget Sound.

"I work with remarkable people and live in a city and state in which there is such a strong commitment to equality for all," said Chernin. "The Seattle Storm has played an important role in our journey for equality by inspiring our youth and most especially our young girls and women to break down barriers, dream big and be all they can be. Thank you Seattle Storm for this honor."

These four influential women will be honored at halftime on Thursday, Aug. 15, when the Seattle Storm takes on the Chicago Sky. Go to 

StormBasketball.com

 to get your tickets to this game to help recognize four inspirational women from our community.
(Visited 1 times, 1 visits today)