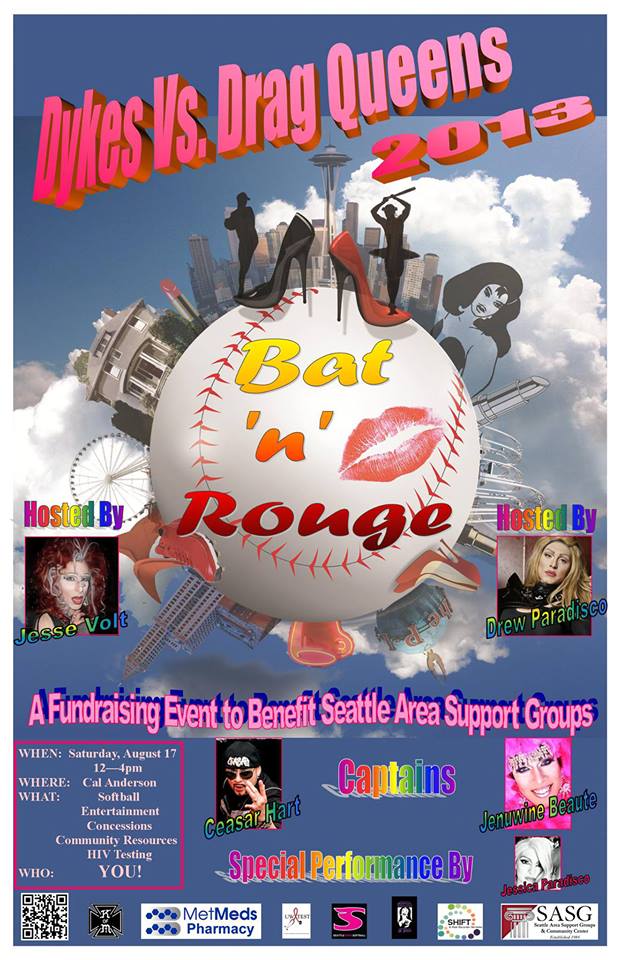 It's August so that means it's time for the big annual fundraiser for Seattle Area Support Groups…BAT 'N' ROUGE is the ridiculously fun softball event where some fierce drag queens face off against some fierce dykes. 
Who doesn't love drag queens with bloody knees getting the crap kicked out of them by some power lady loving lady jock types?
(Or, vicey versa…)
Jesse Volt and Drew Paradisco are your hosts and Jenuwine Beaute and Ceasar Hart are the team captains. Jessica Paradisco will be performing; DJ P-Bear does the music thang and there's a whole lot going on besides playing with balls…tons of entertainment, concessions and even HIV testing. The brawl starts at Noon on Saturday, August 17 and lasts until 4pm and it's all going down at Cal Anderson Park. It's Free and Family Friendly but it's also a fundraiser so bring some COINS/BILLS…it's to help out SASG who do all sorts of terrific things for the community like sponsor support groups for recovery from drug/alcohol abuse and many services for the HIV/AIDS community.
Hopefully, this icky grey drizzle weather will be GONE by then, so we can enjoy this event in the sunshine we deserve!
Tags: Bat N' Rouge, Cal Anderson Park, Dykes vs Drag Queens, Fundraisers, SASG, Seattle Area Support Group, sgsapp, Softball