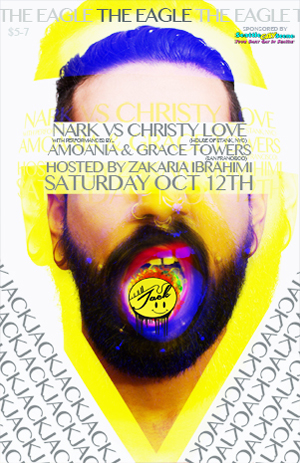 In the beginning, there was Jack, and Jack had a groove. And from this groove came the groove of all grooves. And while one day viciously throwing down on his box, Jack boldy declared…"Let there be HOUSE!"…and house music was born.
–Special Saturday Edition!–
Special Affair…
* NARK VS. CHRISTY LOVE
Christy Love (House of Stank, NYC) wants to whip us down one beat at a time, everyone is in for some punishment tonight during this tag-team house-off.
Special performances from…
* GRACE TOWERS (SF)
Grace Towers, fierce bearded hell on heels, you might want to watch out for this one.
* AMOANIA (SF)
Our lady of the night returns to us, and she ALWAYS has something major up her sleeve, welcome home Amoania proper.
Hosted by-
* Zakaria Ibrahimi
Bearded lady is in fact in full effect tonight.
Photos by Nark Magazine, Jello Shots by Bill Cosby, Gogo boys created by moms everywhere.
WORK A LOOK.
SATURDAY 10.12
THE EAGLE
10PM-LATE
$5-$7
21+ w/ID
. ACID . HOUSE . TECHNO . DUDES . JACK .
— — — — — — — —
Sponsored by Seattlegayscene.com
Tags: Amoania, Christy Love, Grace Towers, Jack, Nark, The Seattle Eagle