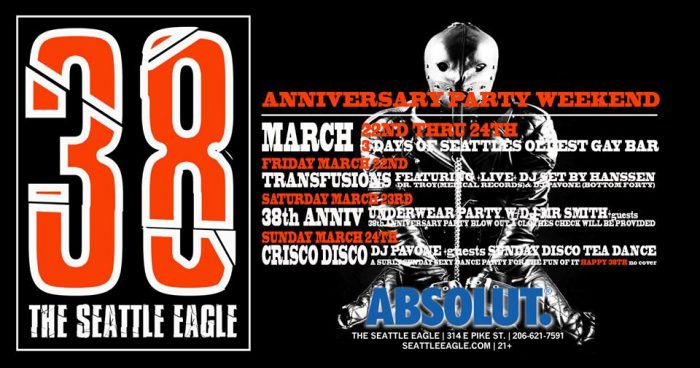 The Seattle Eagle is turning 38 which means it's now officially (because I say so) a hot daddy and they have a full line-up of events this Friday, Saturday and Sunday. 
Tonight, March 22nd, they kick off with TRANSFUSIONS with special guest HANSSEN followed by their 38th Anniversary Underwear Party featuring long time favorite DJ Mr. Smith and then on Sunday, they wrap up with CRISCO DISCO with DJ Pavone and Guests.
More poo below and you can check out some Seattle Eagle history in this post from a few years back, written by longtime Eagle customer, Randy Henson, including such delicious tidbits that the Eagle started out as a space named "Chateau" which featured a fire pit and bean bag chairs (yikes!) then became the "J&L Saloon" and finally, by the mid 80s, evolved into the Seattle Eagle, aka "The Dirty Bird".
Friday Night March 22
Transfusions celebrates the Seattle Eagle's 38th Anniversary with special guest Hanssen! Dr. Troy and DJ Pavone will be on the warm ups and downs for this special night of techno shenanigans.

Saturday March 23 
come out to celebrate 38 years of THE EAGLE! It's an underwear party night with a clothes check at the door, come out and celebrating the Eagle and general homo'ness.

Special guest DJ's
DJ MR SMITH and DJ ALTR+guests

Hosted by an assortment of raging spirit animals of the Dirty Bird
Let's Left The Doors off their Hinges
Clothes Check Available at the Door
Bring out your jocks and gear or whatever gets you in the mood

Sunday March 24
38th Anniv CRISCO DISCO W/DJ PAVONE +guests
SUNDAY MARCH 24TH 8PM-2AM
…………………………………………………..
IN CELEBRATION OF SEATTLE ELDEST BAR IN TOWN WE WILL BE OFFERING HAPPY HOUR PRICES ALL DAY ALL NIGHT
$3 GOOSE IPA
$6 ABSOLUTE COCKTAILS
$5 WELLS
IN HOMAGE TO THE 70S SF BAY WILD DISCO SUNDAYS IN THE CASTRO
DJ PAVONE WILL DRUMMING UP THE ITALIA 70'S 80'S AND SOME TRUE FUNK AND SOUL GEMS SO GET OUT YOUR PLATFORMS AND LET YOUR FREAK FLAG FLY
NO COVER AND ALL THE DIRTY AND RANDINESS ONE CAN MUSTER UP UP ON A SUNDAY NIGHT OF DEBAUCHERY

LETS BLOW THE LID OFF THIS PLACE!!!!!

THE EAGLE
314 E PIKE ST
(Visited 5 times, 1 visits today)