January 14, 2014

•
by
Seattle Gay Scene
The Seattle Police Department has released photos of the alleged arsonist responsible for the January 1, 2014 fire at Neighbours Nightclub. OR, perhaps we should say this is a "Person of Interest"….'cause they're walking around a nightclub with a gas can. You know. Like you do. From the SPD Blotter:
Detectives in the Arson/Bomb Squad are asking the public for assistance in identifying the man depicted in the images below.  Just after midnight on January 1st, 2014, a fire was set in the stairway at Neighbours Nightclub in the 1500 Block of Broadway.  There were approximately 750 patrons and staff inside at the time.

Detectives are attempting to identify the person in the photos (taken from video surveillance cameras inside the club) so that he may be interviewed.  Detectives are asking that anyone who recognizes this man contact the Arson/Bomb Squad.  Further, anyone who was present at Neighbours on New Year's Eve and may have had contact with this man are urged to contact detectives. Also, detectives are asking people who were present in Neighbours to review any photos or video they took on New Year's Eve to see if they may have captured any images of this man, and if they did to please contact Seattle Police Arson/Bomb Squad detectives at (206) 684-8980.
If you know this clown, call the cops.
As for the awful photos, do we need to hold a fundraiser so Neighbours can buy some new surveillance cameras? Apparently, the ones they have now are old timey enough to have filmed Gone With The Wind.
Also, we have to say it: No one noticed a dude walking around with  bigass gas can? Really? Granted, it was New Year's Eve and everyone was drunk/high but still…c'mon. If you see weird shit, DO SOMETHING ABOUT IT!!!
In other news, KUOW posted this lovely piece about Brady Walkinshaw, our newly appointed representative from Washington's 43rd Legislative District. The 29 year old Princeton graduate who grew up in Whatcom County was appointed to fill out the term of Ed Murray, the newly elected mayor of Seattle and former rep for the 43rd, the Capitol Hill legislative district. Mr. Walkinshaw is the third out gay man to hold the seat, after Murray and the late Cal Anderson. The KUOW article discusses Mr. Walkinshaw's youth growing up in rural Whatcom County near the Canadian border, where it wasn't always easy being half Cuban, a Democrat and gay in a very conservative community. It's a good article and a great introduction to Mr. Walkinshaw. Check it out.
And, for the handful of people who care about the fate of the location of the doomed/failed gay nightclub THE SOCIAL over on Olive Way, Capitol Hill Seattle has an interview with Steve Cheng who plans on opening a new Chinese restaurant ZHU DANG (pronounced "Zoo Don") in the next few months. 
Zhu Dang — Pig Party, Cheng says for a kind of fantasy progressive political party that he just likes the sound of — will "bring updated Chinese food with a Northwest vibe" to the collection of nightspots growing on E Olive Way.

"We want to focus on flavor above tradition, while still remaining true to the Chinese palate," Cheng said. "Our aim is to create interesting, delicious food with quality ingredients at a reasonable price."

He also wants to create a place for some really big dinners. Cheng plans to put the former footprint of the 8,000 square-foot Social to work as both a restaurant and an 100-person event space where celebrants can host receptions and parties.
Read the whole article HERE.
For those of you with a short memory, THE SOCIAL was one of two disappointing gay-ish clubs that opened in 2012 that quickly failed/bailed on a gay audience. (The other being Q Nightclub). Partners quickly jumped ship or were tossed overboard and the principal owners, Laura Olson and Chris Pardo ended up in a nasty battle with the Washington State Liquor Control Board that resulted in the closing of the space in March of 2013. The Social also had an acrimonious relationship with neighbors who complained about noise and vandalism, and a shooting incident at the club didn't aid in community relations. Rumors have circulated for months about the space, including one that the entire building had been bought and was slated for demolition and new construction. With this news, it appears the building will be around for awhile longer.
The best of luck to Mr. Cheng!
He's gonna need it.
(Visited 1 times, 1 visits today)
Related Posts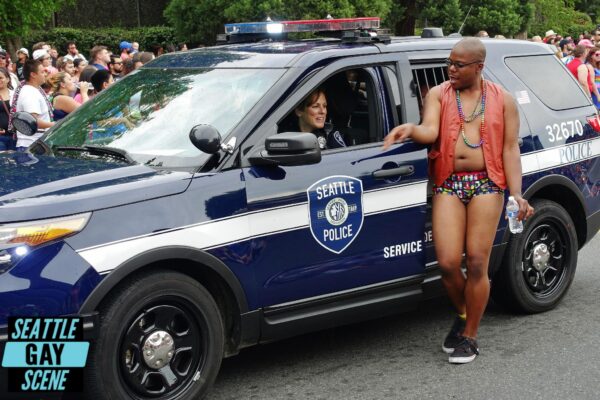 Controversy • Feuds • Gay News • News • Pride • Queer News • Seattle News • Seattle Out and Proud • Seattle Politics • Seattle Pride 2022
I've been waiting for this…every year during Pride there is
...