January 30, 2014

•
by
Seattle Gay Scene
Yes, Seattle's beloved GAY CITY HEALTH PROJECT is primarily about providing vital health services to our community: HIV/STD testing and advocacy, etc but they do so many other things as well, including providing fun, interesting, informative and arty events to attend. Coming up in the next month or so, they have several fabulous events you need to be aware of…and, there's something for everyone on here.
First up and part of Gay City Arts new live performance series in the Calamus Auditorium, is local actor/writer Jennifer Jasper's new solo show, IT WILL KILL THEM which runs Thursday, February 6 through Sunday, February 9.
GAY CITY ARTS PRESENTS:

JENNIFER JASPER'S "IT WILL KILL THEM"

Feb 6 – 8 / 8pm
Feb 9 / 2pm
Calamus Auditorium at Gay City
$15 GA / $12 Student or Senior

Everyone has tried to put Jennifer Jasper in a box. Is she a queer artist? Lesbian? Bisexual? Mainstream? In her signature comedic storytelling style, "It Will Kill Them!" explores the struggle she's had with the need people have to label her. She has been performing improvisational stories of her life for decades. Recently, she had critical success with her one-woman show, "I Can Hear You…but I'm Not Listening."
We're a big fan and supporter of Gay City Arts and this new live performance series. The January production, SYNC OR SWIM from the dance/theater troupe GENDER TENDER was very good and this inaugural season of Gay City Arts is turning out to be a strong one. You are strongly encouraged to check out these performances. For tickets to this month's show and more info, go HERE.
For the Fan Boyz/Girls, there's a special Sci Fi/Fantasy MEET THE AUTHOR event happening on Friday, February 21 in Gay City's Calamus Auditorium space:
A Celebration of Queer Sci-Fi and Fantasy Fiction
Friday, Feb 21 / 7pm
Calamus Auditorium at Gay City

Gay City, Queer Geek! Seattle and Gay Romance Northwest Meet-up are partnering together for a special Gay City Meet the Author event with four Washington State writers who boldly explore star systems and fantasy realms while spotlighting LGBT main characters and relationships.

Join us on Friday, February 21 for Gaylaxy Quest: A Celebration of Queer Sci-Fi and Fantasy for an out-and-proud and out-of-this-world evening of readings by local writers Astrid Amara, Ginn Hale, Laylah Hunter, and Samuel Jarius Pettit. From Lambda Literary-nominated fantasies to taut sci-fi thrillers to racy space romps, each author takes the reader on an exciting, imaginative journey.

The event will start at 7pm and will include readings, a Q&A with the authors, and a post-event reception. The event is free.
Zexy nerds are very much encouraged to show up in skin tight costumes. (Note: that is not a requirement…only wishfully lustful thinking on our tingly parts….)
Finally and a Gay City/Three Dollar Bill Cinema joint effort, there's the big annual OSCAR PARTY. This year's hootenanny is gonna happen at Fred Wildlife Refuge and once again feature the lovely hostess MISS ROBBIE TURNER (no relation to Lana). The par-TAY is happening on Sunday, March 2 and here's EVERYTHING you need to know about it:
Gay City Health Project & Three Dollar Bill Cinema are partnering up once again to present the hottest Oscars event in town, their 9th Annual Academy Awards Party benefit. Join Seattle's swanky glitterati on Sunday, March 2 to support of two prominent LGBT non-profits, and enjoy an exquisitely fabulous Oscars experience hosted by the vivacious Robbie Turner.

The party moves to Fred Wildlife Refuge this year, a gorgeous Capitol Hill event space, and will feature the Academy Awards ceremony projected onto giant wall screens. Everyone will enjoy a glamorous Hollywood experience, with savory hors d'oeuvres, fully stocked no-host bar, Oscar Ballot contest with door prize entries, and, of course, the opportunity to participate in our fabulous Oscar raffle.

This year also features a more exclusive VIP experience, with special VIP tables and table service right – and the best seats in the house! VIP tickets include a reserved table seat, champagne, free coat check, and a fabulous gift bag featuring complimentary Cinerama and Northwest Film Forum passes. There's only 60 VIP tickets available, so act fast.

This is a 21+ only event

DETAILS

Sunday, March 2 / 4pm
Fred Wildlife Refuge (127 E Boylston Ave)

General Admission ($35) includes the broadcast on Fred's giant wall screens, delicious food throughout the evening, a no-host bar with specialty cocktails, and chances to win fabulous prizes.

VIP ($100) includes General Admission benefits plus:

Dedicated VIP table seating with table service
Complimentary champagne
Complimentary coat check
Fabulous gift bag including Cinerama and Northwest Film Forum movie passes

VIP Table ($400) includes General Admission benefits plus:

Reserved VIP table for four with table service
Complimentary bottle of champagne
Complimentary coat check
Fabulous gift bags including Cinerama and Northwest Film Forum movie passes

*Only 60 VIP tickets will be sold!
(Visited 1 times, 1 visits today)
Related Posts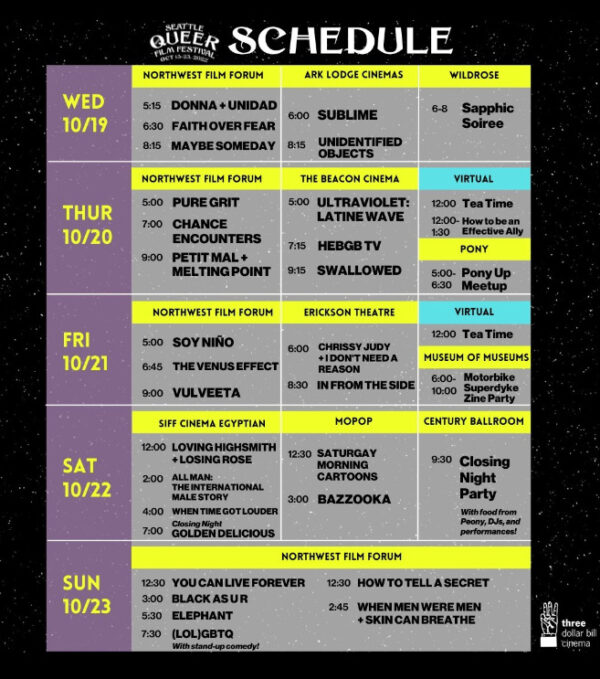 *Resist. Protest. Obstruct. Inform. • *Seattle Cinemaland • Arts • Arts & Entertainment • Arts News • Capitol Hill News • Community • Community Events • DJ Dance Party • Film • Film Events • Film Festivals • Geek • MoPOP • News • Nightlife • Pop Culture • Queer Film • Queer News • Seattle Lesbian Gay Film Festival • Seattle Lesbian Scene • Seattle News • Seattle Queer Film • Seattle Transgender Scene • Stuff to Do • Three Dollar Bill Cinema • Trans* Arts & Entertainment • Trans* Events • We Love The Nightlife • Weekend Calendar • Women's Arts • Women's Events
There are all sorts of good films, programs and events
...