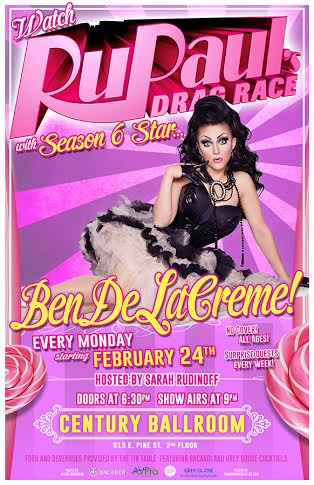 We've been saying it for YEARS…Ben DeLaCreme is one smart cookie. Our lovely drag diva has pretty much from the get go been heavily involved in producing her OWN shows and not working for outsiders. True, there's a guest spot here and there, but for the most part, Ben/BenDeLa has put together and produced all her headlining events: HOMO FOR THE HOLIDAYS, FREEDOM FANTASIA and even simple shows like her bad movie watching events at The Wildrose a couple years back. True, there's more risk involved when you self-produce, but there's also more freedom and a greater potential for more profit. Why work your ass off for a local bar/club and potentially get paid shit and treated as such as well?
And, now that Miss DeLaCreme has appeared on RUPAUL'S DRAG RACE SEASON SIX, those instincts haven't abated and instead of making an appearance at any local venue's RPDR watching parties which will start Monday, February 24, the smart as a fox's whip BenDeLa has cleverly created her OWN RPDR Season Six viewing event…at Century Ballroom/Oddfellows Hall on Capitol Hill!
Here's the skinny…oh, and it's ALL AGES so the younguns can come, too!!!
AND, no cover!!!!!
The gay sports season is finally here!

Starting February 24th join BenDeLaCreme and your hostess, local performance legend and Stranger Genius Award recipient, Sarah Rudinoff, as we watch the girls of "RuPaul's Drag Race" face off to snatch the crown!

Hear all the behind the scenes dirt from BenDeLaCreme as she dishes with Ms. Rudinoff and a bevy of special guests!

Celebrate in the opulent grandeur of the Century Ballroom in the heart of Seattle's Capitol Hill gayborhood.

Take in subtleties of shade you never knew existed with our HD projector and 16 foot screen provided by A V Pro.

Every Monday!
Doors at 6:30
Show airs at 9pm
Come early to snag a table and enjoy delicious food and drink by the Tin Table.
Featuring Bacardi and Grey Goose cocktails.

Century Ballroom
915 E Pine St 2nd Floor
No cover!
All ages!
We're convinced that eventually Ben/BenDeLa will control all entertainment in Seattle/the World.
We totally support that.
(Visited 1 times, 1 visits today)