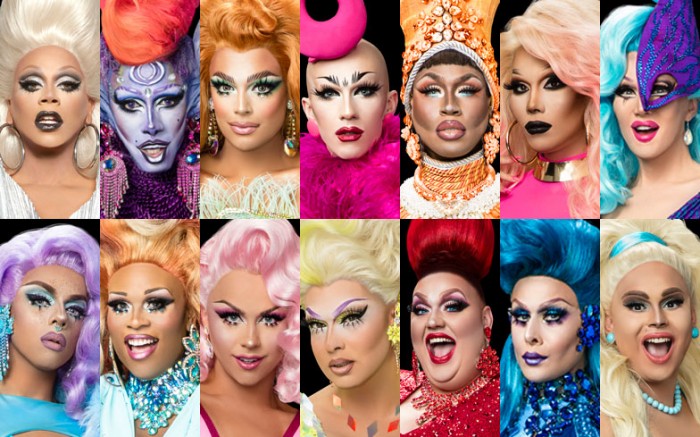 Pretty amazing for a show that's getting a bit long in the tooth! Apparently, the controversial move from barely watched LOGO TV to the slightly more watched VH1 has paid off for "RuPaul's Drag" the competitive drag pageant reality show produced by gay owned production company World of Wonder and starring the iconic drag superstar RuPaul Charles. The show, which just completed its 9th season and its first on VH1 after 8 years on sister network, LOGO (both owned by Viacom) managed to snag 8 Emmy Award nominations today including nods for Best Reality-Competitive Show and for Best Host.  One of those 8 noms was for "RuPaul's Drag Race: Untucked" which airs on YouTube, the behind the scenes show which airs after the main episode. It grabbed a nomination for "Unstructured Reality Program".
It's interesting to note that the premiere episode of Season 9 which featured Lady Gaga was the episode apparently submitted for award consideration…Gaga seems to have been a good luck charm for the show with this personal best haul for Emmy noms.
RuPaul had this to say about the love bestowed on the show:
"I want to thank the academy for honoring the entire cast and crew of RuPaul's Drag Race, my family at World of Wonder, and our champions at VH1," said RuPaul. "It takes a village, people! Their creativity and dedication to telling the stories of our brave and talented queens never ceases to amaze, amuse and inspire."
Meanwhile, the show's producers weigh in as well:
"This season, RuPaul's Drag Race has proven to be the perfect antidote for 'Trumpitis.' Today, we're so grateful that one of its side effects is an Emmy nomination," Randy Barbato and Fenton Bailey, World of Wonder co-founders/producers.
Drag Race was also nominated for Outstanding Costumes, Outstanding Picture Editing, Outstanding Hairstyling, Outstanding Makeup and Outstanding Casting in the Reality Show categories. Two former contestants from the show earned nominations for behind the scene's work. Gabriel Villarreal & Hector Pocasangre were nominated for Outstanding Hairstyling; Villarreal competed on Season 3 of "RuPaul's Drag Race" as "Delta Werk". And, David Petruschin, better known to fans as "Raven" who competed on Season 2 of the show, earned a solo nomination for Hairstyling.
RPDR's competitors for Best Reality Show (Competitive) include: "The Amazing Race" (CBS), "American Ninja Warrior" (NBC), "Project Runway" (Lifetime),  "Top Chef" (Bravo),  and "The Voice" (NBC). RuPaul will compete against a very interesting and diverse list of people for "Host for a Reality/Reality-Competition Program"…including Martha Stewart and Snoop Dogg.
Host for a Reality/Reality-Competition Program
Alec Baldwin ("Match Game")
W. Kamau Bell ("United Shades Of America With W. Kamau Bell)
RuPaul Charles ("RuPaul's Drag Race)
Heidi Klum and Tim Gunn ("Project Runway)
Gordon Ramsay ("MasterChef Junior)
Martha Stewart & Snoop Dogg ("Martha & Snoop's Potluck Dinner Party")
The rest of this year's nominations were led by HBO's new series "Westworld" and a revitalized season of NBC's long running variety show, "Saturday Night Live" which dominated the news and ratings with its successful satires of Donald Trump, played by Alec Baldwin who earned a nomination for his performance as did Melissa McCarthy for playing beleaguered White House spokesman Sean Spicer. Both "Westworld" and "SNL" earned 22 nominations apiece. SNL continues its record of having the most Emmy nominations for a series; this year's haul brought their total to 231 nominations since the show premiered in 1975.
Congrats to all the nominees (entire list here) and may the best….drag queen, WIN! The 2017 Emmy Awards will be announced over two nights…it's likely most of RPDR's categories will be announced on the "Creative Emmy Awards" on Saturday, September 16th on FXX though Best Reality show might be announced on the "big" show where all the acting and best show awards are given out, which will air on Sunday, September 17th on CBS.
(Visited 2 times, 1 visits today)