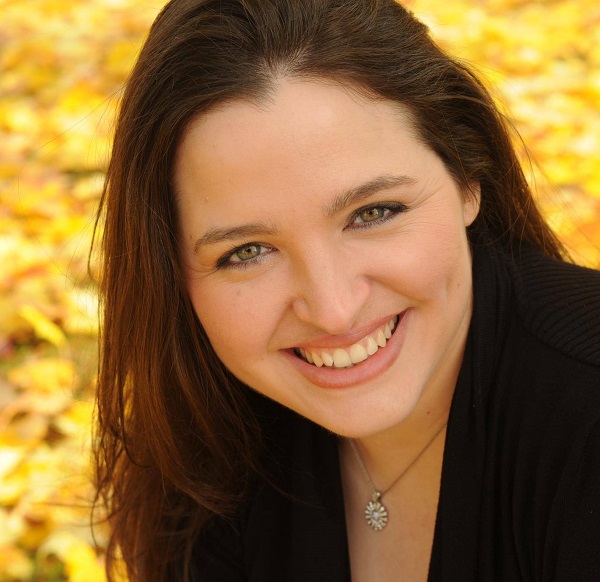 Lyric Soprano Rebecca Peterson is recognized throughout the Pacific Northwest for her performances of opera, classical music and musical theater. A Seattle native, she has concertized extensively in Washington and California, appearing repeatedly with the Seattle Opera Guild, the Ladies Musical Club of Seattle, and Puget Sound Concert Opera, among many others. A huge fan of presenting opera to new audiences, Peterson has also performed for variety shows with Sparkle Leigh and Sister Leigh Love Productions as well as with comedian Jeffrey Robert in his show, West Side Glory.  Self-delusional "male soprenor" and intrepid "reporter" Craig Trolli plays it by ear with her in a note perfect interview.
---
Craig: You are an award winning, traveling Opera Singer that I know from a drag variety show! Did you ever think you'd be able to say, "I know a Tori Amos drag impersonator?!?"
Rebecca: I never would have thunk it! Come to think of it, I never thought I would have met an Albino Dolphin either. 
(Full disclosure: Craig has played an albino dolphin!)
Craig: We've both been involved in productions of The Most Happy Fella! I have something in common with an opera singer!  I played, um, "older boy" and slowly yelled my single line of dialogue…how was your experience?
Rebecca: To clarify, I only performed scenes from the show but I loved it. It was such beautiful music. I am a huge Frank Loesser fan. I had the opportunity to sing Sarah Brown in Guys and Dolls and Smitty in How to Succeed… and would love the opportunity to perform the entire role of Rosabella.
Craig: As an opera-singer-for-hire what type of gigs do you get?  Has someone tried to hire you for something really weird? Have you ever done a singing telegram and just blown them away?
Rebecca: I haven't had too many strange requests. I had one request to sing at a Halloween-themed absinthe party. Sadly, it didn't work out. It sounded super fun.
Craig: I love your mission of bringing opera to new audiences.  Where else do you want to go with that?
Rebecca: I just love the idea of catching someone unawares with an art form they may never have been exposed to before or thought to seek out. I think to a certain extent there is a public perception that opera is an elite art form. Presenting opera in a bar or club really catches people off guard and I love seeing all those virgin reactions. It's just fun! As a performer, to me it's about relating how something makes you feel. More people should see and experience it live.
Craig: You and Sparkle Leigh were in an attempted hit-and-run earlier this year and I'm glad you weren't hurt as badly as we at first feared.  Any thing you can or want to say on the subject?   
Rebecca: Thanks for asking. We were both extremely lucky. To everyone who reached out to show love and support, thank you so much. It meant the world to both of us.
Craig: When did you and others around you become aware of your ability to sing on an operatic level? 
Rebecca: It was very much an accident. I studied jazz in college, (bass was my primary instrument) and it just seemed natural to start singing the melody in the charts I was learning. I did some recordings in the new recording studio at my university and people heard my tracks and were like you should be singing more.
Craig: How did you get started in opera?  Is there a good way to weed out amateur singers who think they might possibly perform opera, like, say, me?
Rebecca: Singing jazz led to Music Theater, which led to opera. I knew there was this whole other part of my voice that I wasn't using which came easily to me. I wanted to explore that more.
To anyone who wants to pursue any kind of singing, I would say find yourself a great teacher/performer, study hard, and believe in yourself. Don't listen to the naysayers.
Craig: Would you ever go on an American Idol type show?
Rebecca: I auditioned for American Idol right out of college and America's Got Talent more recently. I didn't make it in, but I was still glad I did it. You never know until you put yourself out there. Plus, it's another opportunity to perform in less than ideal circumstances, which I think is valuable for any performer.
Craig: It's not every day you get to pick an opera singer's brain, so: what's the best advice you've gotten in vocal lessons and the worst?
Rebecca: I would say some of the best advice I ever got was to be confident in myself, commit to the character and to forget myself. Worst advice? Hm, I can't say that I remember. If it's not helpful, I don't commit those kinds of things to memory.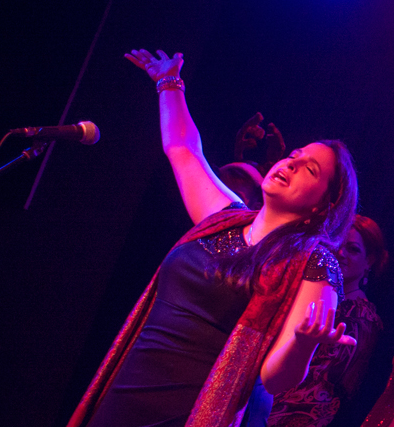 Craig: If I can fake my way through a Josh Groban song, does that mean I have potential…of any kind? (Someone said he liked the way I "handled that high note"…?)
Rebecca: I would love to hear you do Josh Groban!
Craig: I had a voice teacher with a doctorate who said everyone's vocal range can be found on a keyboard, but she hadn't yet found mine.  Do you think it's located under the keyboard, maybe?
Rebecca: You may need to see a specialist for that one.
Craig: During puberty, I was singing along to Mariah Carey, Sarah McLachlan and Tori Amos, and it just seemed logical to me to sing in their range.  Do you think that's why my voice never cracked/changed or got deeper?
Rebecca: Very possible.
Craig: Speaking of Mariah Carey, how come I can chirp kind of like her high notes during or after a drinking binge or during an illness?  It annoys friends but isn't it kind of a "talent"? Do you think I could become one of those "throat singers" who go low and high at the same time?
Rebecca: You should totally make an audition tape for Cirque du Soleil.
Craig: Also: hey, did Mariah make up the whole "whisper range" thing? And do you think she really had a doctor show her an x-ray of her mutant vocal chords?
Rebecca: I don't know about the whole mutant vocal range bit but I do think she sings with whistle tones (or did). I loved her in the 90s.
Craig: Sometimes I'll get tired during a karaoke song if it's high pitched and there isn't a drinking break solo (I'm looking at you, Wuthering Heights), so I wonder: how can I get a second wind and stop going flat?
Rebecca: Honestly, yoga does wonders for breath support.
Craig: I realized recently that all singers on recorded music are using reverb and other studio tricks.  Is there any way a karaoke singer can emulate this without asking the host to hit the echo button or whatnot?
Rebecca: Maybe some vibrato, but not really. Sorry.
Craig: Do you ever slum it at karaoke?  What's your go-to song and do you have to pull back a little?  Do you ever pick a Britney Spears song and just belt it out?  
Rebecca: I don't do a ton of karaoke, but when I do, I almost always do some Bonnie Raitt or Love Shack. But I think my new favorite is Radiohead's Creep.
Craig: Who are your favorite singers, classical, popular and otherwise?
Rebecca: Nadine Sierra, Frank Sinatra, Judy Garland, Anna Moffo, Sia, Bobby McFerrin, Kurt Elling, Carlo Bergonzi, Pavarotti, Annie Lennox, Freddie Mercury, Leontyne Price, Jenny Shotwell (because she does it all, so effortlessly), Lawrence Brownlee (he is such a badass), Michael Cagle (Hell of a performer), Bobby Barnts (voice of an angel, may he rest in peace). Way too many to write down.
Craig: What's a guilty pleasure song that you sing when no one's around?  
Rebecca: Defying Gravity.
Craig: Have you ever shattered glass with your voice?  Is that even possible or is it just a myth?
Rebecca: I wondered about that, too. I know Myth Busters did an episode on it but they couldn't make it happen… oh wait, or was that the one where they tried to cause an avalanche through yodeling? Hm, honestly I don't know if it's possible. I have made plenty of strange objects rattle and vibrate during warm-ups though.  No, I have never shattered glass.
Craig: When you sing, do you visualize the music?  I've read of singers, like Lorde, Laura Nyro and Tori Amos, who see colors.  I see, like, these shelves that I struggle to place my voice on.
Rebecca: When learning a new piece, yes, I see the words. But over time I'm just led to the next phrase like a thought in the characters mind (ideally). I don't see colors. It's interesting that you say you see a shelf. When I first really started exploring my upper extension, I would see a high D on a shelf just above my head on the right. Weird. Now, it just goes there. Visualization can certainly help, but it needs to come from a place of "oh, I've got this".
Craig: I always thought you were supposed to lift your eyebrows when you sing a high note. But I never see Tori Amos' eyebrows move. Why is that, do you think?
Rebecca: I'm not sure why Ms. Amos doesn't use her eyes more. Although, I will say that I think Eddie Izzard was on to something when he said if you're ever unsure about something mid-song, just keep confirming and denying, and you can't go wrong.
Craig: And finally: any advice on hitting that crazy high note in A-Ha's Take On Me?
Rebecca: Yeah, don't put too much weight into it. Maybe start with sirens, like pretend you're 5 years old and running through the backyard pretending to be a fire engine and see how high you can go. Good luck!
---
Craig played a tone-deaf opera aspirant in "Lend Me a Tenor". He performed with Rebecca in both the stage and web series versions of "Always a Mermaid, Never a Merm".  He created the Albino Dolphin and gladly reenacts his horrifying dolphin chirp upon request!
Rebecca will perform at the Seattle San Gennaro Festival on Sunday, September 10th. Check her website for future performances as well.
Tags: Karaoke, Opera singers, Opera Singers Seattle, Rebecca Peterson, San Gennaro Festival, Singing Tips