April 24, 2019

•
by
Michael Strangeways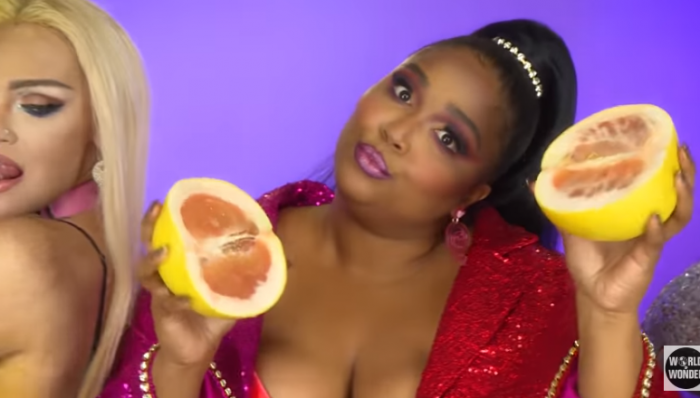 Her new album dropped the other day and it's already a chart topper. Lizzo is THE pop diva queen of the moment and even RuPaul's Drag Race stars are getting in on the act by appearing in a video of Lizzo's fun hit "Juice".
More on Team Lizzo:
Nice Life Recording Company/Atlantic recording artist Lizzo has announced today's release of her hugely anticipated Nice Life/Atlantic Records debut album. CUZ I LOVE YOU is available now for streaming and download HERE.

CUZ I LOVE YOU includes an array of acclaimed new tracks, including "Cuz I Love You," "Tempo (Feat. Missy Elliott)," and the LP's blockbuster first single, "Juice," all available now at DSPs and streaming services. The album has already received some of the year's most ecstatic advance praise, with Entertainment Weeklydeclaring, "CUZ I LOVE YOU is poised to turn Lizzo into a household name…Recorded throughout 2018, the album comes on the heels of three years of painstaking personal and professional work — a fantastic and fierce collection of songs that showcase every nuance of Lizzo's infectious personality and singular vision…CUZ I LOVE YOU captures the bombastic, emotional, radiant confidence that has poured out of Lizzo from the start."

Lizzo will celebrate CUZ I LOVE YOU with the eagerly awaited sold out "CUZ I LOVE YOU TOUR," set to kick off April 24th at The Warfield in San Francisco, CA. All dates on the North American headline trek are sold out, including a tour-closing headline date at New York City's Terminal 5 set for May 23rd. Support throughout comes from Atlantic Records labelmate Tayla Parx. For complete details and ticket information, please visit www.lizzomusic.com/tour.

As if that weren't enough, Lizzo will perform a number of European headline shows along with eagerly awaited sets at a series of global festivals, including Barcelona, ES's Primavera Sound (June 1st), Beekse Bergen, Hilvarenbeek, NL's Best Kept Secret (June 2nd), Boulogne-Billancourt, FR – AFROPUNK FEST Paris (July 13th), Seattle, WA's Capitol Hill Block Party (July 19th-21st), and her hometown Detroit, MI's Mo Pop Festival 2019 (July 27th).

This past weekend saw the first of two epic Lizzo performances at Indio, CA's Coachella Valley Music & Arts Festival, with the next set for Sunday, April 21st. Meanwhile, last Sunday's Coachella set saw Lizzo earn still more international acclaim. "Lizzo has quickly cemented herself as one of 2019's preeminent pop figures," wrote Consequence of Sound. "(Her) set only spanned 12 songs, but every track got the crowd grooving more than the last. The show attracted the most tightly packed audience in the Mojave tent across the whole weekend… Lizzo's energy went unmatched, and, like she proclaimed at the beginning of her set, it's likely that she will be headlining festivals in the years to come — especially if she keeps up her tempo."

Lizzo has marked the arrival of CUZ I LOVE YOU with a number of high profile TV appearances, including performances on the nationally syndicated Ellen DeGeneres Show, NBC's The Tonight Show Starring Jimmy Fallon and TODAY, and HBO's 2 Dope Queens, as well as visits to Comedy Centrals The Daily Show with Trevor Noah, Bravo's Watch What Happens Live with Andy Cohen and ABC's Jimmy Kimmel Live!  Upcoming appearance include E! News' Busy Tonight, set for April 22nd.

In addition, Lizzo has been featured in a remarkable range of worldwide media outlets and national publications, spanning Billboard, TIME, Entertainment Weekly and Playboy to the covers of New York Magazine's Spring Fashion Issue, Allure, and  more.

Lizzo kicked off her incredible 2019 with the release of the smash single, "Juice." The track quickly proved among Lizzo's most acclaimed track to date, with Entertainment Weekly hailing the single as "the latest (and poppiest yet) from the infectiously poised 30-year-old artist, whose ascent in the hip-hop scene has been as rousing to watch as her live performances…Let 'Juice' be your introduction to an uplifting up-and-comer." "From the first moments, it's clear this will be a favorite and become the 'juice' that gets you through the year. Rolling out the track with an electric guitar reminiscent of Katy Perry's 'Teenage Dream,' Lizzo continues to release next-level bangers." "Great news everybody," exclaimed British GQ. "We're just four days into January and we've got the best song of the year, and it just won't get topped." Rolling Stone agreed, declaring, "Four days into the new year, Lizzo released the first great song of 2019. The Minneapolis singer-rapper-flautist specializes in propulsive self-empowerment anthems — feel-good songs about feeling good about yourself — and 'Juice' may be her finest yet, a near-perfect retro-funk nugget that would have felt just right on a mirror-balled dance floor in 1982… If life were fair, ('Juice') would be as big as 'Uptown Funk.'"

"Cuz I Love You" – available for streaming and download HERE – dropped soon thereafter, its spirited companion almost immediately earning over 1 million YouTube views HERE. The track was greeted by equivalent applause as its predecessor, with Rolling Stone noting, "('Cuz I Love You') offers a fiery taste of (Lizzo's) incredibly vocal and genre range." "The song is passionate, full of gusto and ever so slightly unhinged (in the best way imaginable)," raved The FADER, while NYLON enthused, "('Cuz I Love You') lets Lizzo flex her unbeatable vocal range, and we hear her belting to the gods…Lizzo is my new religion, honestly."

Released last month, "Tempo (Feat. Missy Elliott)" – available HERE – prompted still more critical attention, with MTV immediately declaring it "the Song of the Summer…Lizzo's already proven that when it comes to vocal chops and funk prowess, she's top tier. But 'Tempo' is completely different, almost as if it's from a different voice entirely. Lizzo raps here with a snarl and a wink, exclaiming her preference for beats that have some gruff in them. Songs with tempo are meant for those with fuller thighs and blooming personalities. The beat is tailor-made for all kinds of twerking and hip gyration thanks to the rapid clapping and lush electro energy that makes the entire thing feel like one extremely long frenzy." A "wildly hypnotic, raucous new single," raved Rolling Stone. "'Tempo' launches with a Prince-like guitar riff, but that's just a misdirection from the deliciously weird, bass-heavy sound of the rest of the song. 'Slow songs, they for skinny hoes/Can't move all of this here to one of those/I'm a thick bitch, I need tempo/Fuck it up to the tempo,' (Lizzo) seductively delivers on the track's first verse. Elliott amps the energy up for her verse, offering up a raucous, hype delivery." "Truly, a Lizzo and Missy Elliott collaboration is a real-life fable," wrote NPR Music, "a cherished rap icon and a soon-to-be-coronated, years-in-wait talent coming in hot with a track that flows freely with their combined confidence and mic skills. 'Tempo' is that track, a fiery twerk-team anthem full of guitar prowess, a lurching, bass-heavy underbelly, Missy Elliott's trademark tongue rolls and Lizzo coining the word 'accessorary.' It sounds utterly ripe for a Hype Williams visual." Perhaps Pitchfork said it best: "Lizzo is one of a kind. Everything she touches is improved by her mere presence."
(Visited 2 times, 1 visits today)
As the Editorial Director/Co-Owner, Michael Strangeways writes, edits and does about a million other jobs for Seattle Gay Scene, Puget Sound's most visited LGBTQ news, arts and entertainment website now celebrating its 14th year as a media outlet. A semi-proud Midwesterner by birth, he's lived in Seattle since 2000. He's also a film producer who would like you to check out the Jinkx Monsoon documentary, "Drag Becomes Him" now available on Amazon.com. In his spare time, he gets slightly obsessive about his love for old movies, challenging theater, "otters", vodka, chocolate, "I,Claudius", Lizzie Borden, real books made out of paper, disaster films, show tunes, Weimar era Germany, flea markets, pop surrealistic art, the sex lives of Hollywood actors both living and dead, kitties, chicken fried steak, haute couture and David Bowie. But, not necessarily in that order.
Related Posts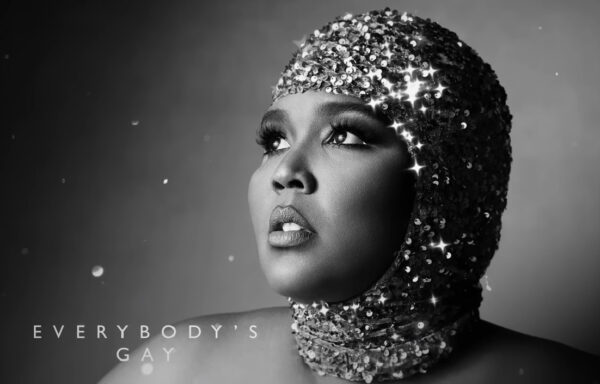 *Seattle Musicland • Arts & Entertainment • Crush Objects • Just Released • Music • Music - Pop • Music - Rap/Hip Hop • Pop Stars
The new Queen of Hip Hop Pop is taking center
...