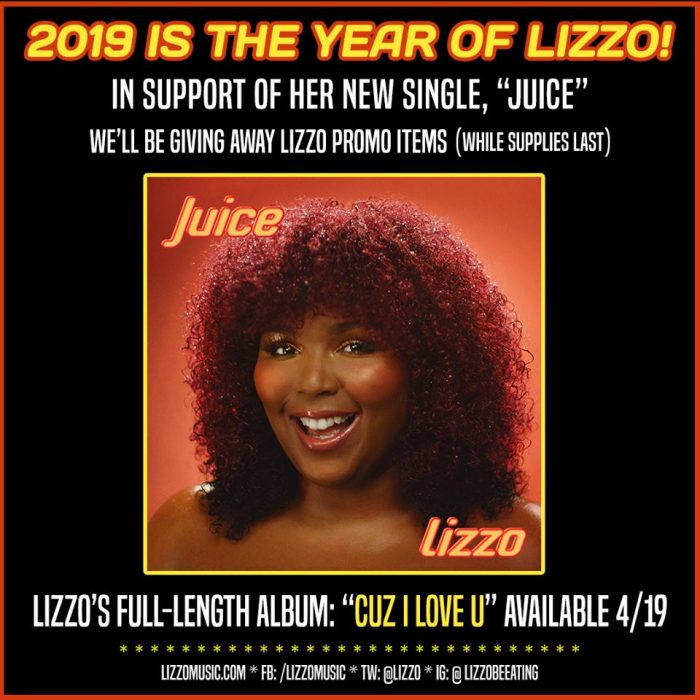 Solo star LIZZO has a hit song ("JUICE") and soon to be released hit album (CUZ I LOVE YOU) out on April 19th and an already sold out tour ("CUZ I LOVE YOU TOUR" ) which hits Seattle's Showbox Sodo on April 28. (They only have re-sell tix available but if you really love her, you'll shell out $150). 
Neighbours Nightclub and Lounge is also celebrating Lizzo this weekend with giveaways. Via their Facebook:
LIZZO…. Swag and Dvds this weekend…

Great news everybody: Lizzo's already dropped the best song of the year.

Pop's sexiest songstress is the queen of the summer pop hit, yet she's always the bridesmaid and never the bride. Which is why Lizzo deserves credit for giving us the naughtiest pop track in years.
Obviously, the swag/dvds are only available while supplies last. Check out Neighbours this Friday night with DJ Billy the Kid from 9pm to 4am and on Saturday night, same time, with DJ Randy Schlager. OH, and remember it's 19+ from 2am to 4am!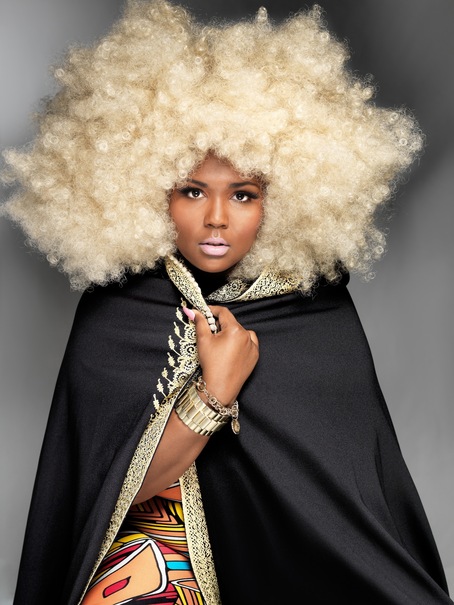 SOLD OUT "CUZ I LOVE YOU TOUR" GETS UNDERWAY APRIL 22nd IN SAN FRANCISCO

 

EAGERLY ANTICIPATED FESTIVAL PERFORMANCES

INCLUDE COACHELLA ON SUNDAY APRIL 14TH & 21ST

 

"JUICE" AVAILABLE NOW AT ALL DSPS AND STREAMING SERVICES

 

CUZ I LOVE YOU ALBUM ARRIVES EVERYWHERE ON FRIDAY, APRIL 19TH

 

Nice Life Recording Company/Atlantic recording artist Lizzo has unveiled the title track from her hugely anticipated full-length debut album.  "Cuz I Love You" – co-written and co-produced by Lizzo and X Ambassadors – is available now at all DSPs and streaming services; an official companion video premieres today via YouTube HERE. CUZ I LOVE YOU arrives on Friday, April 19th. Additionally, Lizzo unveiled the cover art for CUZ I LOVE YOU earlier this week via Instagram.

CUZ I LOVE YOU is available for pre-order now HERE, with all pre-orders receiving instant grat downloads of "Cuz I Love You" and the LP's blockbuster first single, "Juice." A special CUZ I LOVE YOU T-Shirt Bundle – joined by an exclusive Lizzo T-shirt – is available now HERE.

Lizzo will celebrate CUZ I LOVE YOU with her upcoming sold out "CUZ I LOVE YOU TOUR," set to get underway April 22nd at The Warfield in San Francisco, CA. For complete details and ticket information, please visit http://lizzomusic.com.

As if that weren't enough, Lizzo will perform eagerly awaited sets at a series of global festivals, including Indio, CA's Coachella Valley Music & Arts Festival (April 14thand April 21st), Barcelona, ES's Primavera Sound (June 1st), Beekse Bergen, and Hilvarenbeek, NL's Best Kept Secret (June 2nd).

Lizzo kicked off what is already an extraordinary 2019 with the release of her acclaimed new single, "Juice," available now via all digital music retailers and streaming services. The track is joined by a new companion visual, streaming now at Lizzo's official YouTube channel HERE following its YouTube Live premiere last month. That same day also saw "Juice" played every hour on the hour on MTV Live and MTVU, along with two screenings on the Viacom Times Square billboard screens.

What's more, Lizzo marked the impending arrival of CUZ I LOVE YOU with a number of high profile TV appearances, including performances of "Juice" on the nationally syndicated Ellen DeGeneres Show (streaming HERE) and NBC's The Tonight Show Starring Jimmy Fallon (streaming HERE). Lizzo is also currently featured on the cover of New York Magazine's Spring Fashion Issue.

"Juice" has quickly proven Lizzo's most popular track to date, with close to 3x as many first week streams as any of her previous releases. What's more, "Juice" was greeted with a range of worldwide radio play and unprecedented rave reviews, with Entertainment Weekly hailing the single as "the latest (and poppiest yet) from the infectiously poised 30-year-old artist, whose ascent in the hip-hop scene has been as rousing to watch as her live performances…Let 'Juice' be your introduction to an uplifting up-and-comer." "From the first moments, it's clear this will be a favorite and become the 'juice' that gets you through the year. Rolling out the track with an electric guitar reminiscent of Katy Perry's 'Teenage Dream,' Lizzo continues to release next-level bangers, making us all impatient as we wait for her next album." "Great news everybody," exclaimed British GQ. "We're just four days into January and we've got the best song of the year, and it just won't get topped." Rolling Stone agreed, declaring, "Four days into the new year, Lizzo released the first great song of 2019. The Minneapolis singer-rapper-flautist specializes in propulsive self-empowerment anthems — feel-good songs about feeling good about yourself — and 'Juice' may be her finest yet, a near-perfect retro-funk nugget that would have felt just right on a mirror-balled dance floor in 1982… If life were fair, ('Juice') would be as big as 'Uptown Funk.'"

"Juice" marks the latest in a recent string of extraordinary singles that includes "Boys," "Fitness," and "Truth Hurts," all available now for individual streaming and download. All three are joined by companion visuals, streaming now at Lizzo's official YouTube channel HERE.

2018 was yet another amazing year for Lizzo, as she was featured on several "Best Of" lists for her hit track "Boys," including Time's "10 Best Songs of 2018," Pitchfork's "100 Best Songs of 2018," and Paste's "50 Best Songs of 2018" and more. "Fitness" was also included in Paper Magazine's "Top 100 Songs of 2018." Highlighted also by a stellar live performance at Lollapalooza – Lizzo was named #1 on Time Out's "The Five Best Things We Saw At Lollapalooza on Friday" – as well as a remarkable show at New York City's MoMa PS1 Warm Up 2018 and multiple high profile appearances during New York Fashion Week. The year also saw a stunning range of media attention, spanning cover appearances on Galore and Teen Vogue's "Pass The Mic Music Issue" to feature interviews including Rolling Stone, the New York Times, V, Glamour, and Allure, which named Lizzo among its "Beauty Disruptors: 12 People Changing the Beauty Industry for the Better."

COCONUT OIL, Lizzo's hugely acclaimed Nice Life Recording Company/Atlantic Records debut EP, was released in October 2016 to unanimous critical acclaim and popular success. COCONUT OIL is highlighted by the hit single, "Good As Hell," also featured on 2016's BARBERSHOP: THE NEXT CUT (ORIGINAL MOTION PICTURE SOUNDTRACK). Rolling Stone singled out the track in its "Best Pop Albums of 2016 So Far," explaining that, "Despite these albums, pop still remains a genre for singles. Lizzo's boisterous 'Good As Hell,' produced by omnipresent 2016 producer Ricky 'Wallpaper" Reed,' is a straight-no-chaser shot of self-confidence with a call-and-response chorus."

CONNECT WITH LIZZO

LIZZOMUSIC.COM FACEBOOK TWITTER

LIZZO   CUZ I LOVE YOU TOUR
Tags: "Juice" (single), CUZ I LOVE YOU, Lizzo, Neighbours Night Club, Nice Life Recording Company