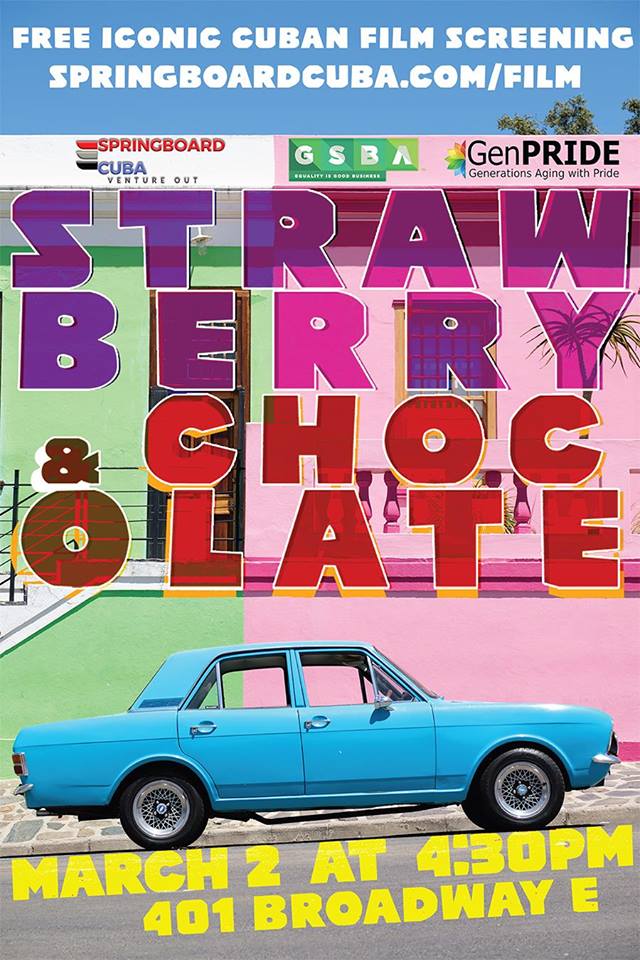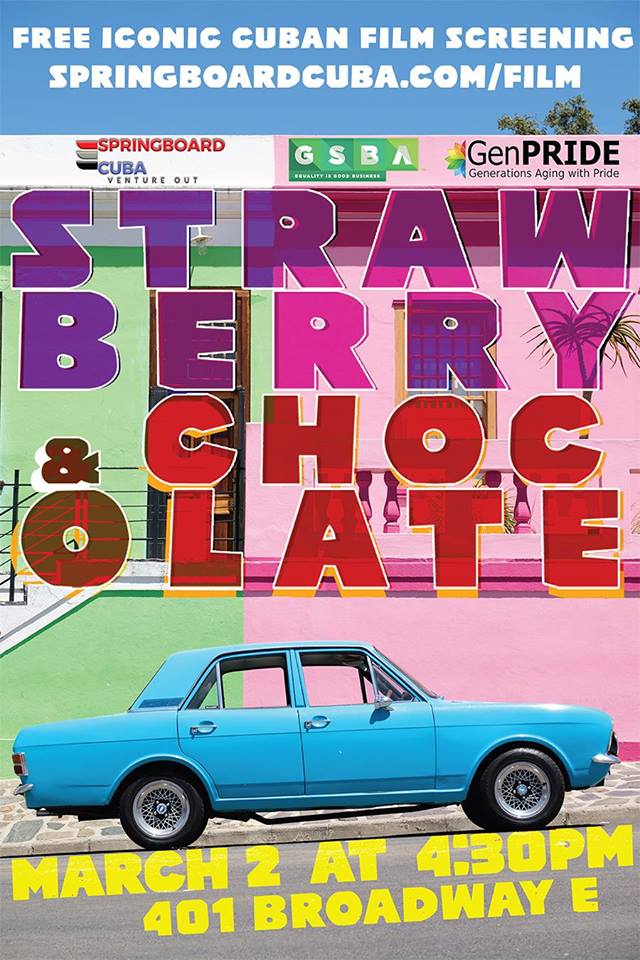 LGBTQ life doesn't end at 40.
Or, in the case of some vapid types, 30.
It's not all disco, sex and drag queens.
Here's two fun film screenings happening this weekend for the "older" folks and both are being put on by the group GENERATIONS AGING WITH PRIDE the nifty non-profit with the mission statement:
"Generations Aging with Pride empowers older LGBTQ adults to live with pride and dignity by providing programs and services that enhance belonging and community, eliminate discrimination, and honor the lives of older members of our community.
They have a slew of great events and programs (check them out on their website) including FREE screenings of two terrific movies happening this weekend. 
On Saturday, March 2nd check out the Cuban film Strawberry and Chocolate at 4:30pm at Generations Aging With Pride, 401 Broadway E #223:
Set in Havana, Strawberry and Chocolate is a lighthearted portrayal of a friendship between two men, one gay and one straight, one fiercely communist and the other stridently independent. The film was the first major Cuban film to feature an openly gay lead character. Upon its release in 1994, it quickly won over critics for its powerful story-telling and themes of understanding and acceptance.

We hope you will join us March 2 for this event. Please RSVP today!

PLEASE ONLY RSVP ON THEIR WEBSITE, TICKETS ARE FREE BUT SPACE IS LIMITED
https://www.springboardcuba.com/film
Then, on Sunday, March 3rd there's a 2pm screening of the Oscar winning film, Moonlight :
Join us on Sunday, March 3 @ 2PM as we have our first Midday Matinee! We'll be showing Moonlight by Barry Jenkins. This is a free event, and a age friendly event for our LGBTQIA+ community.

#Moonlight takes a look at three defining chapters in the life of Chiron, a young black man growing up in Miami. His epic journey to manhood is guided by the kindness, support and love of the community that helps raise him.

There will be popcorn and snacks provided by QFC.

RSVP HERE: https://secure.lglforms.com/form_engine/s/90j56NqDlaYTqdq-7ZcqNg
(Visited 1 times, 1 visits today)