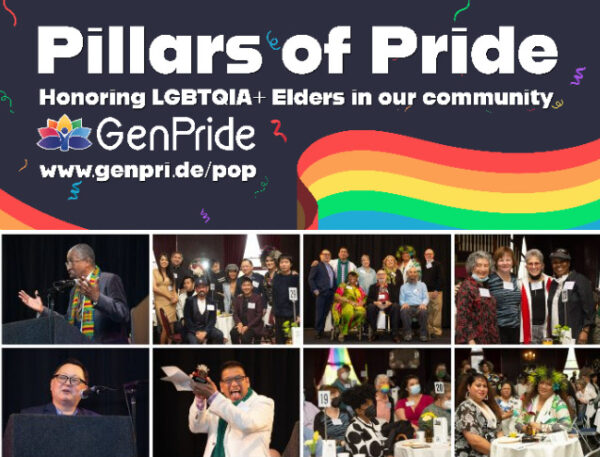 Gen Pride's PILLARS OF PRIDE event and fundraiser was a huge success this past Sunday, May 15th at Century Ballroom on Capitol Hill raising over $50k. The non-profit group provides programs for Seattle's growing LGBTQ+ community and is currently actively working on raising $2m towards the construction of an LGBTQ+ Center to be located in the under construction Pride Place which will provide housing for low income queer seniors.
The new housing is located on Broadway, between Pike and Pine Street on Capitol Hill in the heart of the city's traditional LGBTQ+ neighborhood. GenPride is a partner on the project with Community Roots Housing. The new building is scheduled to be completed in 2023.
The Sunday event is the first of what is proposed to be an annual event that will have the double duty of fundraising while honoring elder community "pillars" for their leadership. The 12 people honored for the first event:
Aaliyah Messiah – nominated by POCAAN
Arnaldo Inocentes – nominated by Pride ASIA
Bill Thieleman – nominated by Seattle Choruses
Breanna Anderson – nominated by Ingersoll Gender Center
Domenico Minotti – nominated by Gay City
Jorge Aguirre – nominated by Entre Hermanos
Karen Fredriksen-Goldsen – nominated by GenPride
Louise Chernin – nominated by GSBA
Lynda Greene – SouthEast Seattle Senior Center (SESSC)
Malie "Tiare" Chanel – nominated by UTOPIA
Martha Zuniga – nominated by Entre Hermanos
Peter Shalit – nominated by GenPride
More info and a chance to donate to the Pride Place project.
A huge thank you to everyone who contributed to a successful first-ever Pillars of Pride! We enjoyed coming together in community and celebration. With entertainment from the Seattle Men & Women's Chorus group the SuperTonics, a keynote address by George Dicks, and the extraordinary Aleksa Manila as the emcee, the 150+ guests were treated to a special afternoon. A special thank you to our Honorees that were nominated by GenPride and partner agencies, all of our attendees, volunteers, speakers, and community leaders who joined us on Sunday.
We also have video of the event available, including inspiring speeches from our honoree at genprideseattle.org/pop#eventvideo
(Visited 9 times, 1 visits today)