It's long been in the works…providing affordable housing for senior LGBTQ Seattle citizens. It was part of the mandate for the old Seattle LGBT Center 20 years ago and more recently Capitol Hill Housing tried to get a project off the ground near 14th and Union. After that project derailed, Capitol Hill Housing (which recently rebranded as Community Roots Housing) teamed up with the local GenPride community group which offers services for Seattle's LGBTQ seniors for a new housing complex in the heart of Capitol Hill, Seattle's traditional LGBTQ neighborhood.
That project, which will be for those 55+ in age, is finally ready to break ground this Friday, September 10th at a ceremony at the location of fhe new project. PRIDE PLACE, a 118 unit building with community and health services onsite, will break ground at 1519 Broadway, known as the Eldridge Tire Building and located next door to long time gay dance venue, Neighbours Night Club. Construction will begin later this fall and the site will also include 3800 square feet of commercial retail space at street level.
GenPride will be in charge of the 4400 square foot senior community and health service center in partnership with other LGBTQ non-profits.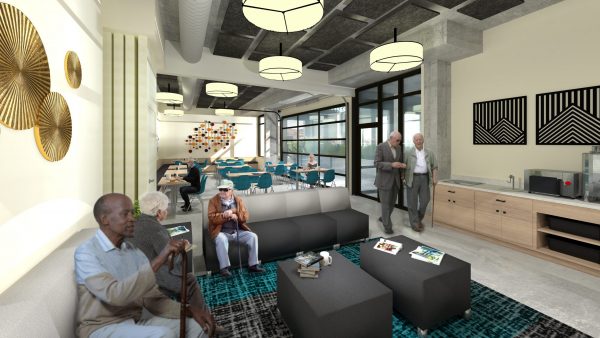 The original location for this project was going to be further north on Broadway adjacent to the Capitol Hill Light Rail Station but in a deal made between this project and Sound Transit and Seattle Central College, lots were "swapped" between those partners with Seattle Central College gaining a property that would better fit in with their future expansion needs and Pride Place moving closer to the main Pike/Pine Corridor and center of current LGBTQ life on the Hill.
The project has a price tag of a whopping $52 million and is being funded through public and private investments. GenPride has a goal of $4.7million to fund the new senior center with $2.7m already raised and a balance of $2m still to be met from further fundraising.
From the press release:
LGBTQIA+ seniors face a unique set of challenges and health disparities as they age: they are more
likely to experience poverty, are at higher risk for illness, are less likely to have the support of children
or family, and often face discrimination and difficulty finding culturally competent care.

"This groundbreaking represents an enormous milestone for the local LGBTQIA+ community," said
Steven Knipp, executive director of GenPride. "It is the culmination of nearly a decade of hard work by
people who recognized the need to support our elders who fought and won the rights we enjoy today,
as well as create a place for generations to come."

Rents at Pride Place will be affordable to households earning 30 to 60% of the area median income. For
instance, in the case of a one-person household, this means rents catering to an income range of
approximately $24,300 to $48,600, or $27,800 to $72,400 for a two-person household
The event will be held live at 3pm on Friday, September 10th but you can also watch it via Live Streaming via GenPride's website, www.genprideseattle.org/prideplace
Pride Place is Breaking Ground!
We are breaking ground on Washington state's first-ever LGBTQIA+ affirming and affordable senior housing community located in the heart of Capitol Hill, Seattle. You can watch a live video stream of the historic Groundbreaking Ceremony from the comfort and COVID-safe environment of your own home. Follow the link below to watch all the action on Friday, September 10, at 3 pm (Pacific Time), brought to you by GenPride and Community Roots Housing!
Friday, September 10, 2021 at 3 PM
Emcee: Aleksa Manila

Speakers:
Karen Fredriksen-Goldsen, Professor UW School of Social Work
Lorena González, Seattle City Council President
Joe McDermott, King County Councilmember
Emily Alvarado, Director, Seattle Office of Housing
Jamie Pedersen,43rd District State Senator
Nicole Macri, WA State Representative, 43rd District
Brooke Belman, Sound Transit
Chris Persons, CEO, Community Roots Housing
Shalimar Gonzales, Solid Ground CEO & Community Roots Housing Board Chair
Steven Knipp, Executive Director, GenPride
(Visited 10 times, 1 visits today)